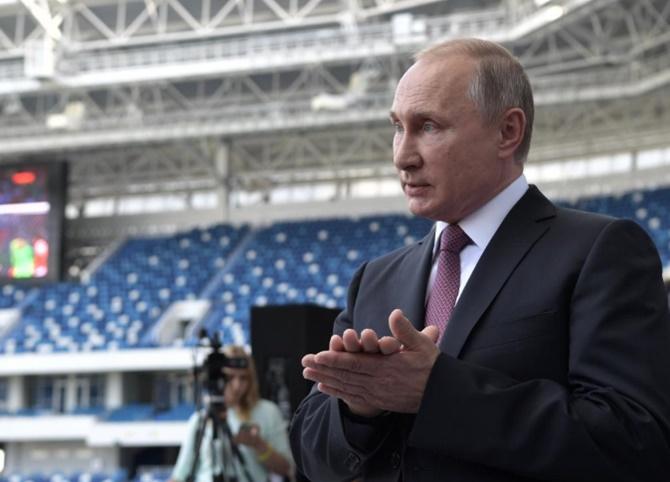 President Vladimir Putin said on Friday that Russia could stake a claim to host future summer Olympics games, but had not yet lodged a formal bid to do so, Russian news agencies reported.
Russia hosted the winter Olympics in the Black Sea resort of Sochi in 2014 and has just finished hosting the FIFA soccer World Cup.
The International Olympic Committee has already chosen the hosts for the next three summer Olympics up to 2028.
Putin says Russia's World Cup stadiums should remain soccer venues
Russian President Vladimir Putin said on Friday that the country's 12 World Cup venues should be mainly used for soccer, and not transformed into concert halls or exhibition centres.
Russia hosted the World Cup in 11 cities in June and July without any major security or discriminatory incidents, receiving praise from fans and global soccer governing body FIFA.
The country's efforts are now turning to ensure that the venues and infrastructure built for the month-long tournament do not fall into disuse.
Speaking at a meeting of government and sports officials at the World Cup stadium in Kaliningrad, Putin said the government would financially support World Cup venues for another five years to ensure that they can operate independently by 2024.
"You mention exhibitions, concerts, tourism and a commercial space. That's alright, the stadium needs to be full," Putin told Kaliningrad governor Anton Alikhanov about the region's plans for the stadium's use after the World Cup.
"But ideally we need to strive for every stadium to have a team and every team to have a stadium. Otherwise it will not be a stadium. It will be a concert hall."
When Russia won the right to host the 2018 World Cup, Putin pledged that the stadiums built would become the homes to vibrant soccer clubs.
Out of the 12 stadiums used at the World Cup, only six were fully new and commissioned for the tournament, while others were renovated or being built anyway. Six of the 12 stadiums are home to Russian Premier League clubs and there are plans to make another into the national soccer stadium.