The discontent with the Indian Badminton League has almost come to an end as men's doubles specialists Sanave Thomas and Rupesh Kumar have decided to compete in the franchise-based tournament.
After hinting at a pullout, claiming that their base prices too were slashed without informing them, the two seems to have come to an agreement.
"I spoke to Sporty Solutionz (joint organisers of IBL) and they said it was a mistake that they didn't communicate to us. We decided to play and Rupesh has already spoken to Pune Pistols coach Nikhil. If we don't play it will be disrespect to the franchise, and it's not their fault," Sanave said.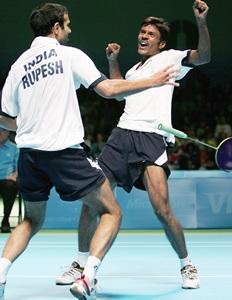 Sanave and Rupesh, who were ranked 13th in the world at one stage of their career, were picked up by Pune Pistols for US $5,000.
"We are three doubles specialists -- me, Rupesh and Arun Vishnu. There is Joachiam Fischer Nielsen from Denmark, who is a good mixed doubles player. We hope to do well for the team," he added.
Rupesh and Sanave expressed their dissatisfaction over IBL organisers decision to slash the base prices of some Indian players.
Commonwealth Games gold medallists Jwala and Ashwini, who were icon players for the event, had earlier blasted the IBL organisers after their base price of $50,000 base tags were reduced to $25,000 after they went unsold at Sunday's closed bidding.
But a change in mind meant the two shuttlers will be part of the event.
"I have spoken to Nikhil Kanetkar and have told him about our participation," Rupesh said.
Image: Sanave Thomas (right) and Rupesh Kumar of India
Photograph: Phil Walter/Getty Images