Hong Kong were crowned Asian sevens champions for the first time in its history after they defeated arch-rivals Japan 28-7 in a pulsating final at the Asian Sevens Series' Mumbai Sevens on Sunday.
It was a winner-take-all scenario as Japan and Hong Kong emerged as the finalists at the third and final ranking leg played before a big crowd at the Bombay Gymkhana Club.
And after many years of reverses, including losing the 2010 Asian Games gold medal match and the 2009 East Asian Games finale to Japan, Hong Kong turned the tables on the Asian juggernaut with an inspired performance scoring four tries to one to clinch the crown for the very first time.
"This is a magnificent victory. It has been two to three years in the making -- to be crowned Asian champions," said an overjoyed Hong Kong coach Dai Rees.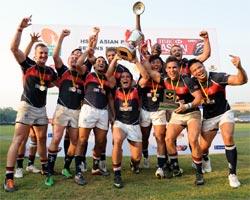 "It is extra sweet as we have lost to Japan so many times in the past in big games, like at the Asian Games gold medal final in Guangzhou (in 2010) and the East Asian Games final (2009). This year too, at the Hong Kong Sevens, we lost to Japan and failed to qualify for the World Series so this win is very satisfying," Rees said.
Hong Kong drew first blood in the Cup final when Alex McQueen touched down early but Japan struck back immediately to level the scores at 7-7. The deadlock remained by halftime but the second half was all Hong Kong, especially after Japan was reduced to six men after Japan captain Yuki Shishimoto was sin-binned. Tries from Jamie Hood, Kwok Ka-chun and Anthony Haynes sealed a comfortable win in the end.
Hong Kong survived an early scare when Sri Lanka pushed them to the brink in the quarter-finals. The islanders, a transformed side under the coaching of former England sevens star Ben Gollings, caused a few anxious moments as they managed to hold a rampant Hong Kong, who had scored nearly 150 unanswered points in three matches on the opening day, to just seven points in the first half.
Winger Tom McQueen was the saviour for Hong Kong as he scored all three tries in a tense 17-12 victory which was greeted with much relief on the sidelines.
"I was fortunate to get the ball in space and just finish it off. Sri Lanka is dangerous and we almost paid the price for under-estimating them," said McQueen.
Hong Kong had a far easier time in the semi-finals as they knocked out Chinese Taipei 54-0 with skipper Rowan Varty grabbing a hat-trick while winger Salom Yiu Kam-shing scored a brace.
Japan's path to the final was also one-sided. The Asian powerhouse hammered an off-colour South Korean outfit 53-0 in the quarter-finals before easing to a 48-0 win over Thailand in the semis.