Indian rowing technical director Nicolai Gioga expects medals in seven events including singles sculls where Dattu Bhokanal will be vying for the gold.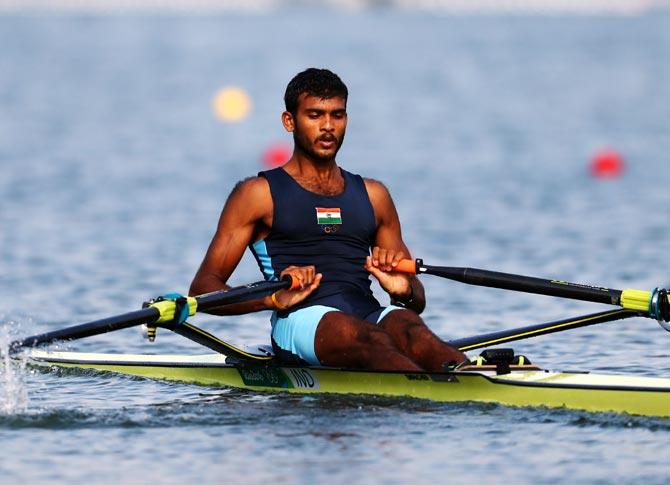 Indian rower Dattu Bhokanal, the favourite to win single sculls gold at the Asian Games, is back to his best after a traumatising period during which he lost his mother.

The strong rowing contingent has not attracted much attention but they can significantly contribute to India's medals tally at the Games.
Indian rowing technical director Nicolai Gioga expects medals in seven events including singles sculls where Bhokanal will be vying for the gold.

His average time has been hovering around the seven minute mark and two weeks ago while training in Pune he also produced the time he clocked in Rio Olympics -- 6:54.96.

At the Incheon Asian Games four years ago, Iran's Mohsen Shadi won the gold with 7.05.66.

"A medal should come considering the times I have been producing but in rowing it is all about the wind. Pune was okay but here you never know about the wind. It stops and them comes from nowhere. So impossible to say what time will be good enough for a medal," said Army man Bhokanal.

He is also in the hunt for gold in the quadruple sculls alongside Sawarn Singh and two others. Singh won a single sculls bronze at Incheon.

A big group of 34 rowers, all from Army barring one, have come to Palembang.
They live like a family and it is easily visible. It was the same set of people who stood by Bhokanal in tough times.

His mother was ailing when he took part in the Rio Olympics in 2016, the only Indian to qualify, and in the same year she passed away. The 27-year-old from Talegaon in Nashik district was devastated and did not touch the rowing boat for a long time.

"It was a tough time then but now it drives me to do something good in my life. I know my mother is watching from above and is praying for gold," said the soft-spoken Bhokanal.

Indian rowing has seen major changes ever since the arrival of Romanian Gioga.

The diet has changed and so have the training methods but there is still a long way to, believes Bhokanal.

"The foreign coach wants performance and he doesn't care if we are in pain. If we were doing 20 km in a day, we are now doing 36-40 km," added the champion rower.

Gioga ensures that the rowers train so hard that they end up hating him.

"Sometimes they have back pain, sometimes butt pain or some pain or the other. I know what to do to increase speed of the boat. But I can only do that if their health is normal. They cannot follow my regime, I destroy them," said the Romanian, who is contracted till Tokyo Olympics.

"We are not looking at the Asian Games. I am preparing them for Olympics. Having said that, these Games are important too. I expect minimum two gold medals and medals in seven events. But the boys need to aim higher (Olympics)," Gioga added.

The rowing competition begins in Palembang on Sunday.