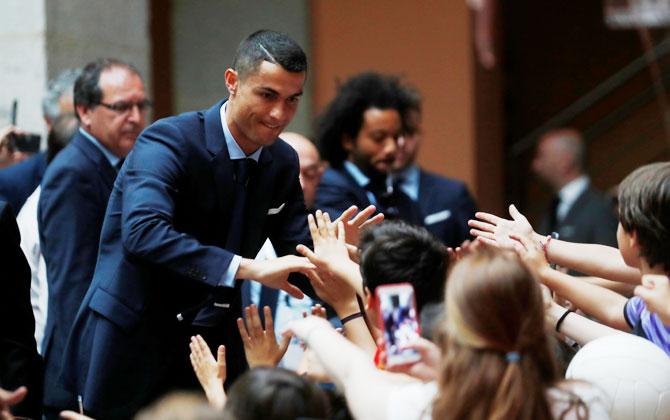 After sealing his move to Juventus, Cristiano Ronaldo leaves Real Madrid following nine eventful, trophy laden seasons at the aristocrats of Spanish football having established himself as their most influential player since Alfredo Di Stefano.
The Portugal forward, now 33, is far and away Real's all-time top scorer and he had a pivotal role in winning four Champions League trophies as well as two Liga titles and two domestic Cups alongside a glut of other trophies.
Yet for all of his 451 goals in all competitions and the silverware he helped amass, Ronaldo's time at the Bernabeu was fraught with moments of high tension leading to Tuesday's announcement that he was joining the Italian champions.
His periodical dalliances with leaving Real and his frequent pleas for attention at times left a bitter taste with a club that has seen many greats pass through, and led to him being booed by his own supporters on several occasions.
The fact he did not enjoy unblighted adoration from the club despite everything he had done for them clearly annoyed Ronaldo, as did the fact that he was not offered new bloated contracts every time he asked for them.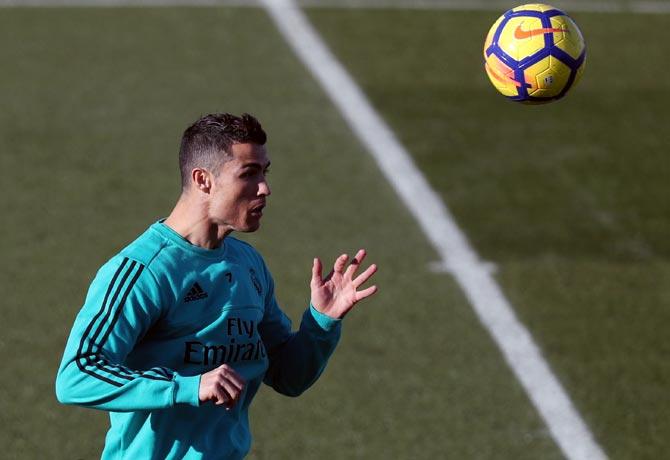 Ronaldo was box office from the day he arrived in the Spanish capital in July 2009 as the most expensive player in the world after an 80 million pounds ($106.13 million) move from Manchester United and having won the Ballon d'Or for the first time the previous year.
A staggering 85,000 fans packed out the Bernabeu and a further 5,000 watched on a screen outside to see him don Madrid's white shirt for the first time and the Portuguese rarely disappointed on the pitch, scoring at least 40 goals in eight of his nine seasons at the club.
To put his prolific strike rate into perspective, Ronaldo toppled Real's previous record top scorer Raul's haul of 323 goals in 308 games, well under half the 741 games the Spanish great needed.
His overall tally was more than double the number of goals Di Stefano managed in 11 seasons at Real, although the Argentine led Real to five European Cup triumphs against Ronaldo's four, scoring in each final, and was largely responsible for turning the Madrid club into a continental superpower.
Ronaldo, though, helped Real re-establish their status as the most feared club on the continent, ending their 12-year wait for the Champions League by winning it in 2014 and then leading their remarkable run to three successive triumphs, taking their European Cup count from nine to 13.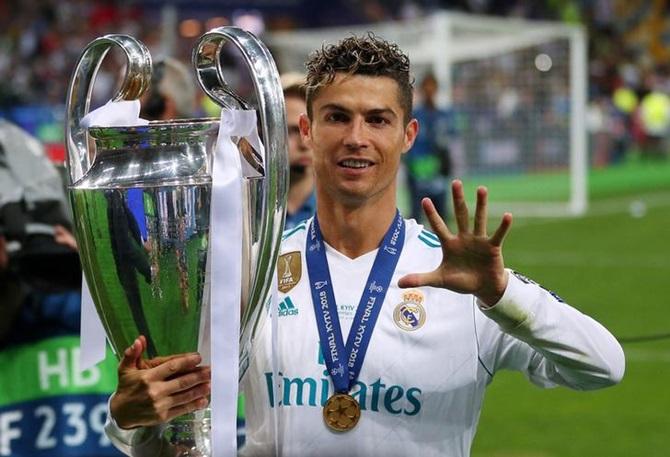 By finishing as top scorer in each of the last six seasons in the Champions League, Ronaldo matched Real's celebrated status in European football's top club competition.
In many ways, Ronaldo and Real belonged together, but they were not always a happy couple.
The first signs of an uneasy relationship emerged when he declared on the pitch in 2012, "I'm sad and the club know why", and they reared their head again after the 4-1 win over Juventus in the 2017 Champions League final when newspaper A Bola said he had decided to leave.
Ronaldo's complaints, said to be centred around Real's reluctance to hand him a pay rise and a perceived lack of support for him in his legal battle against the Spanish tax authorities, got little sympathy among fans or the Spanish media, however.
Their patience wore even thinner when he hogged the narrative after Real had beaten Liverpool in the 2018 Champions League final in Kiev by saying "it was beautiful to play for Real Madrid" and re-aired his dissatisfaction with the club.
It was an unedifying yet strangely fitting end to a glorious yet bumpy marriage between one of the sport's greatest ever players and one of its most storied clubs.
Ronaldo will rightly be remembered as one of Real's best ever players, although he never quite enjoyed the God-like status he craved.