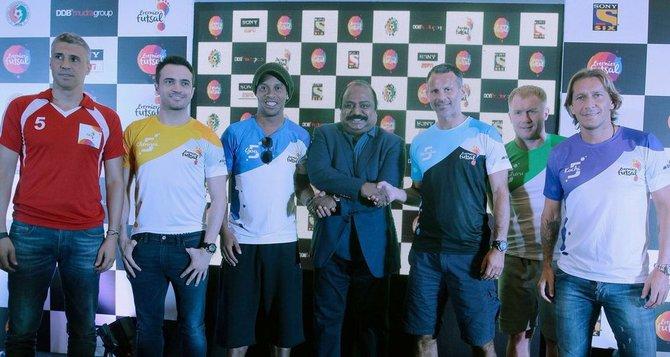 IMAGE: Ronaldinho (third from left) and Ryan Giggs (third from right) with other football legends during a Futsal event. Photograph: Premier Futsal.
Football superstars Ronaldinho, Ryan Giggs and Paul Scholes will showcase their skills in front of Indian fans when the Premier Futsal begins amid hype and anticipation in Chennai on Friday.

The inaugural season of Premier Futsal, touted to be the world's first multi-national league, will kick off with some of most well known footballers rubbing shoulders will some of the leading futsallers in the world.

The first match-day of the inaugural season will see Falcao's Chennai 5's go against Giggs' Mumbai 5's. The second game of the opening day would be Ronaldinho's Goa 5's vs Hernan Crespo's Kolkata 5's.

The other marquee players are another Manchester United stalwart Paul Scholes and former Galactico Michel Salgado. Falcao or Alessandro Rosa Viera is known as 'Pele of Futsal'.
Friday's opening ceremony will see a live performance from music maestro A R Rahman, who produced and sang official anthem of the league. International futsal freestylers led by Sean Garnier will also showcase their skills and give the audience a glimpse of what to expect from the first edition of Premier Futsal.

Futsal is a form of football played indoors on a smaller fields with five players in a side for 40-minute duration.

Premier Futsal is a franchise-based tournament promoted by an entity formed by Indian entrepreneurs. It has Portuguese football legend Luis Figo as president and Indian cricket star Virat Kohli as ambassador.

The inaugural season kicks off in Chennai on Friday and move to Goa on July 18. The final will take place in Goa on July 24.

The first edition will see six franchises divided in two groups to battle it out over eight match days and 13 matches. Each franchise was assigned a marquee international football player, seven international and five Indian futsallers.

The six teams are split into two groups of three each, with Chennai, Mumbai and Kochi forming Group A and Group B featuring Goa, Kolkata and Bangalore.

The tournament is split up over two legs to be played in Chennai and Goa. There will be three days of futsal in Chennai, from July 15-17, featuring six matches with two being played each day at the Jawaharlal Nehru Indoor Stadium.
After a day's rest, the tournament resumes in Goa, at the Peddem Sports Complex in Mapusa. The remaining six group stage encounters will be played there from July 19-21, before another day's rest ahead of the knockout round. The semifinals and finals will be held in Goa on July 23 and on July 24.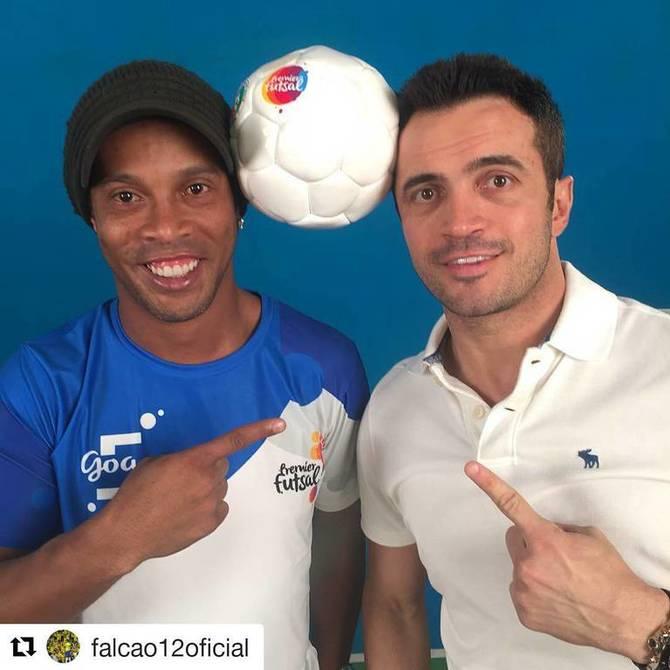 IMAGE: Ronaldinho with Brazilian Futsal player Falcao. Photograph: Premier Futsal.
At the pre-tournament press conference, Ronaldinho said he was feeling good to be back in India amongst a passionate and kind audience.

"It will be unique experience to be playing against the best futsallers and my friends who I have played against in the past. I am delighted to back in a playing capacity this time and I would like to thank Premier Futsal for bringing back my memories from childhood of playing Futsal back home," Ronaldinho said.

Chennai 5's captain Falcao, who replaced Portuguese Deco at last minute because of injury, said, "Especially for the 5 kids who are a part of each team – this could be a phenomenal learning experience. A lot of them would be playing alongside their sporting heroes and that should in itself be enough motivation to before to the best of their abilities and learn something from this Premier Futsal experience."

"I am honoured to sitting alongside this elite bunch of players and be playing against them in this debut season of Premier Futsal. This is a great concept and team have in mind to have legends from football, my colleagues from the Futsal world and these young Indian kids as a part of team," he said.
Mumbai 5's captain Ryan Giggs said Premier Futsal will be a different experience for me.

"I would love to see how I fare amongst the best in the business of Futsal. Several countries across the world are now embracing Futsal at the academy level to improve the game of kids at a very young age. I am delighted that entrepreneurs in India could think of this concept of Premier Futsal and manage to put together all these Futsal players and of course, all these legends who I have grow up playing with," said Giggs.

Paul Scholes, marquee player and captain of Bengaluru 5's said he was surprised at the number of people who turned up at the airport to welcome the captains of six teams.

"I was totally surprised at the number of people who turned up at airport to welcome us. I was told there are a lot of Manchester United fans here, but I was pleasantly surprised to know that it was beyond my expectations," he said.

"Through Premier Futsal, I hope we can showcase the importance of Futsal as a sport to the Indian fans. The thought of having the Indian players as a part of the playing team showcases the intent of the promoters to encourage the youth to take up Futsal. All of us here sincerely hope we can put together a season which will encourage more youngsters to come forth and pick up the sport as a profession."
© Copyright 2021 PTI. All rights reserved. Republication or redistribution of PTI content, including by framing or similar means, is expressly prohibited without the prior written consent.