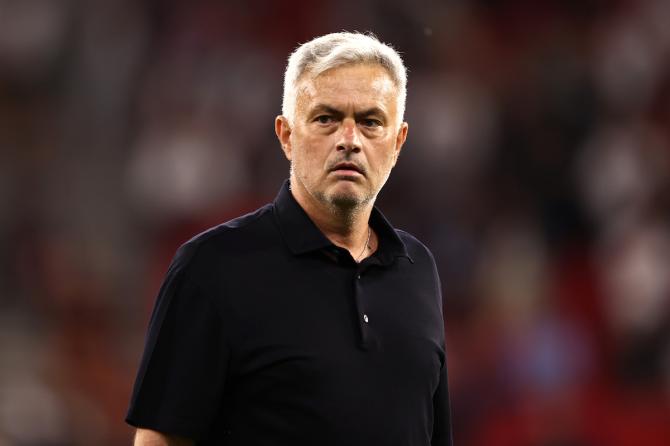 Jose Mourinho has been charged with using abusive language against a match official, governing body UEFA said on Friday after the Portuguese manager was filmed shouting at officials following AS Roma's loss to Sevilla in the Europa League final.
Referee Anthony Taylor attracted the ire of the Roma boss following the shootout loss to Sevilla in UEFA's second-tier final on Wednesday.
The match was tetchy with Taylor dishing out 14 yellow cards, the most ever in a Europa League game, and playing almost 30 minutes of stoppage time in total.
Mourinho, who yelled expletives at the officials outside the Puskas Arena, was also critical of the refereeing in comments after the game, saying, "it was an intense, masculine, vibrant game with a referee who seemed Spanish. It was yellow, yellow, yellow all the time."
The day after the match, videos circulated on social media showing English referee Taylor and his family being harassed by Roma fans at Budapest Airport.
In the video, fans of the Serie A club could be seen abusing the 44-year-old Taylor and his family, who required protection from airport security as they sought refuge in a safe area.
PGMOL, which oversees refereeing in English professional football, condemned the incident.
Both teams' supporters were also charged with setting off fireworks and throwing objects, while Roma's fans were alleged to have committed acts of damage along with other crowd disturbances.
Sevilla have additionally been charged over a pitch invasion by their supporters, who raced out onto the field after Gonzalo Montiel fired home the winning spot kick.