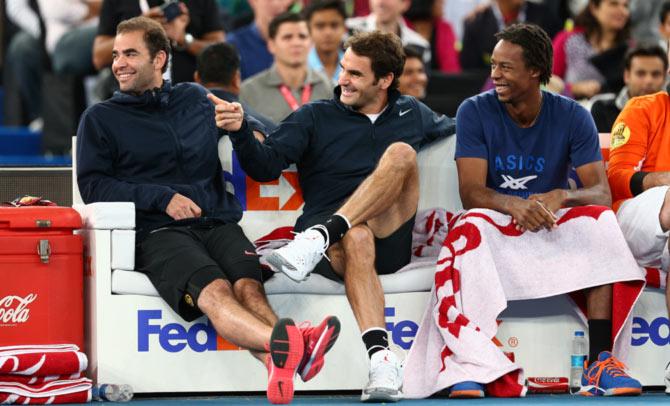 Roger Federer (centre) with his Indian Aces team mates Pete Sampras (left) and Gael Monfils. Photograph: Clive Brunskill/Getty Images for IPTL 2014
Swiss great Roger Federer gave a lukewarm response to the International Premier Tennis League (IPTL) after making his debut for the Indian Aces on Sunday.

"My mind was definitely scrambling trying to remember all the rules," a smiling Federer, a late replacement for the injured Rafael Nadal in the Indian team, told reporters in New Delhi.

With its emphasis on speed, fun and noise, an IPTL tie comprises five one-set shootouts in men's and women's singles, men's and mixed doubles and a past champions match with the team that wins the most games, not sets, declared the winner.

Additional features include a 20-second serve clock, a 'Happiness Power Point' in which a point is worth double once per set, no advantages, no lets, coaching timeouts and a five-minute shootout if a match is tied at 5-5.

Federer won his men's singles, doubles and mixed doubles against Singapore Slammers at the Indira Gandhi Indoor Stadium but the 17-times Grand Slam champion said he found some of the rules "strange" and others unnecessary.

"The one I think is most unnecessary here is like when you start the motion and let's say you miss the ball toss, that counts as mistake," he said.

"I think that's probably most unnecessary."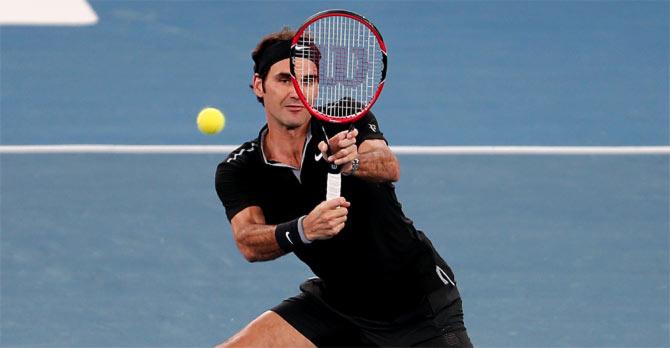 Roger Federer in action for Indian Aces. Photograph: Adnan Abidi/Reuters
Traditionalist Federer said he understands the drive to speed up the game but feels it put a lot of pressure on the players.

"The way it is right now, I don't think it will work as a Tour event," said Federer, who agreed to play only the Delhi leg. "Maybe there's something we could take away from this but at the end you know how I am.

"I'm very traditional and I like the way the game is on tour. I like the scoring system."

Federer, however, likes the team format of the league which has also attracted world number ones Novak Djokovic and Serena Williams and former Wimbledon champion Andy Murray.

"It's not going to replace how we play the tour but it definitely has a place in our sport to have more interaction, more fun, different rules," he said.

"You bend it, you customise it, it works for everyone involved. It's a very interesting concept."