Legend Rod Laver wishes Novak Djokovic luck with Grand Slam bid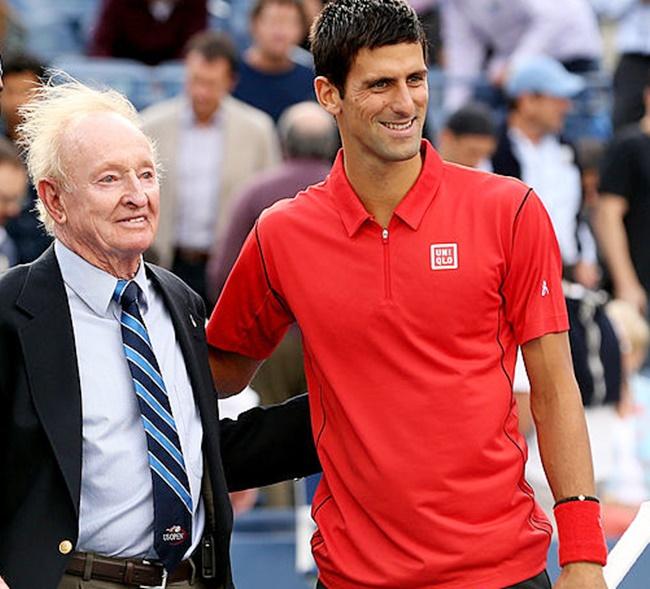 IMAGE: Novak Djokovic of Serbia pose next to former player Rod Laver. Photograph: Matthew Stockman/Getty Images.
Australian tennis great Rod Laver has wished Novak Djokovic luck in matching his feat of securing all four Grand Slams in a calendar year, a day after the Serb secured ownership of all four of the sport's major titles.
With his triumph at the Roland Garros, Djokovic became the first man since Laver in 1969, and only the third in the history of tennis, to hold the Australian Open, French Open, Wimbledon and US Open titles at the same time.
Laver, now 77, did it twice and both times inside a calendar year for the Grand Slam, an achievement Djokovic can match with titles at Wimbledon and the US Open later this season.
Djokovic said after his victory over Andy Murray that the feat, perhaps even augmented by an Olympic gold medal for the Golden Grand Slam, was possible and Laver was backing him all the way.
"Congratulations Novak on a great effort in winning all four major titles," Laver said in a brief video posted on the Australian Open Twitter account.
"And I just wish you all the best in the future with your matches in Wimbledon and the US Open."
Laver, who was unable to play most of the majors between his Grand Slams in 1962 and 1969 because he had turned professional, said in May that Djokovic and Roger Federer should be considered the greatest players of all time.