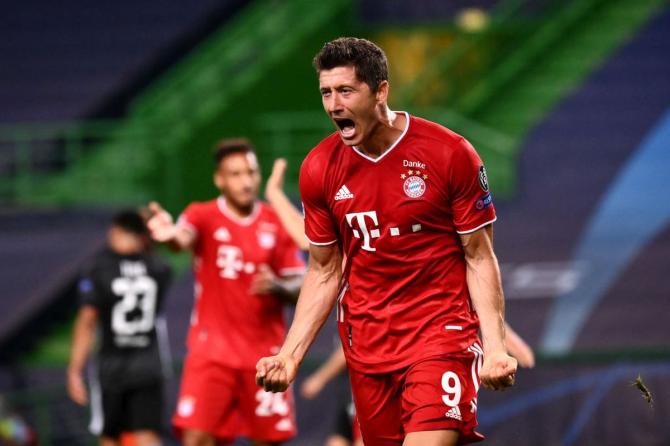 When France Football announced last month that this year's Ballon d'Or awards were cancelled due to the pandemic, Bayern Munich Chairman Karl-Heinz Rummenigge said the cancellation was 'not very fair' for Robert Lewandowski who 'might have' bagged the award.
'Robert Lewandowski is playing a fantastic season and he performed maybe the best season in his career,' Rummenigge, himself a Bayern legend, had said.
On Wednesday, Lewandowski added weight to that statement by scoring the 88th-minute winner against Olympique Lyonnaise to put Bayern through to the Champions League final.
The Pole rose to meet a Joshua Kimmich cross from a free-kick to head home his 15th Champions League goal this season.
The goal put Lewandowski in a special Champions League club alongside Cristiano Ronaldo.
Ronaldo has scored 15 or more goals in the European club competition on three previous occasions -- all in a Real Madrid jersey.
In 2013-2014, the five-time Ballon d'Or winner struck an unmatched 17 goals, while in the 2015-2016 season he scored 16 goals and in 2017-2018 he scored 15.
Lewandowski has also scored in nine straight UEFA Champions League games -- matching then Manchester United striker Ruud van Nistelrooy (who scored in nine consecutive games in 2003). Only Ronaldo (11) has a longer streak.
Bayern's star striker now has netted 55 goals in all competitions this season.
Lewandowski has the chance to match or surpass Ronaldo's feat in Sunday's final against Paris Saint-Germain.
'He won't think about that, he's happy that he finished our game. He works a lot for the team, that's very important,' Bayern manager Hansi Flick said.
'For me, he is the world's best centre-forward and I hope he scores against Paris too.'