'I want to win the MMA World championship.'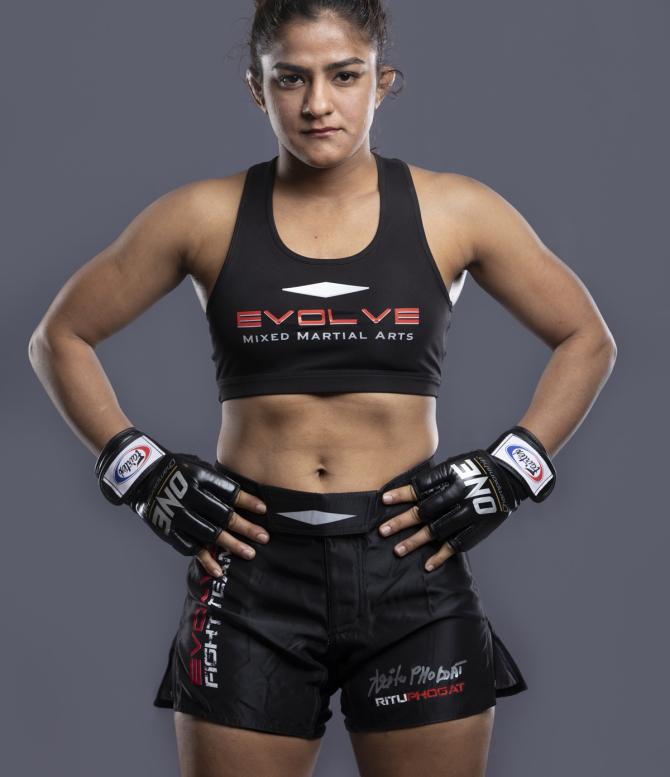 Wrestler-turned-Mixed Martial Arts fighter Ritu Phogat can't wait to get into the ring and show her improved self.
During a video call with the Indian media from Singapore, 26-year-old Ritu said she is excited to get into the ring and take on Nou Srev Pov of Cambodia in the ONE Championship on October 30. Laxmi Negi/Rediff.com listens in.
The daughter of legendary wrestling coach Mahavir Singh Phogat and younger sister of Geeta and Babita of Dangal fame, Ritu said being away from family has not been easy during these challenging times.
The forced lockdown did put her in a spot of bother, but it also brought out the best in this 2016 Commonwealth Wrestling Championships gold medallist.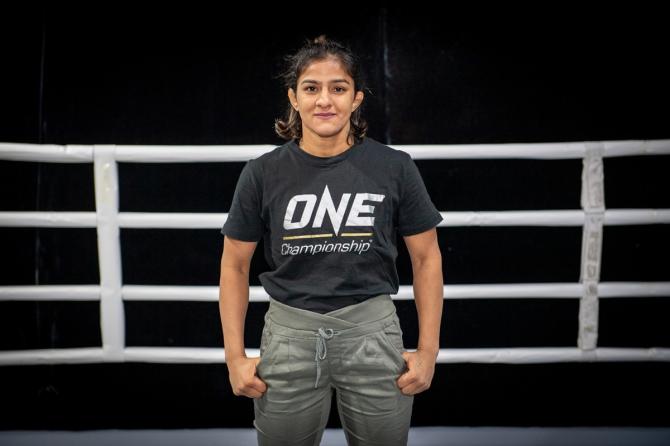 How was your training during the lockdown?
I was in India in the first week of February for a week. After I returned to Singapore, the lockdown was enforced and I was alone and helpless.
I wanted to start training at home, as the gym was closed, but since the sport is new to me I didn't know whether what I was doing was right.
Had it been wrestling, I would have asked my sisters or my father, but this sport is altogether new to me.
I bought a punching bag online, but didn't know if I was punching right. Our coach at Evolve came to my rescue and he started making videos for me and I used to send him my punching videos.
So, initially, we started virtual training. Finally, when gyms were open we could interact one-on-one, but still grappling was not allowed. But I can assure you that I have become a better fighter despite all odds.
How have you prepared for this bout against a formidable opponent?
I don't want to be simply known as a wrestler who is fighting in MMA and rely on grappling and ground moves.
I want to show that I can win a bout with striking too. I have worked hard and I can't wait to show everyone on 30th October how I have improved as a MMA fighter.
I want to surprise everyone with my punches too.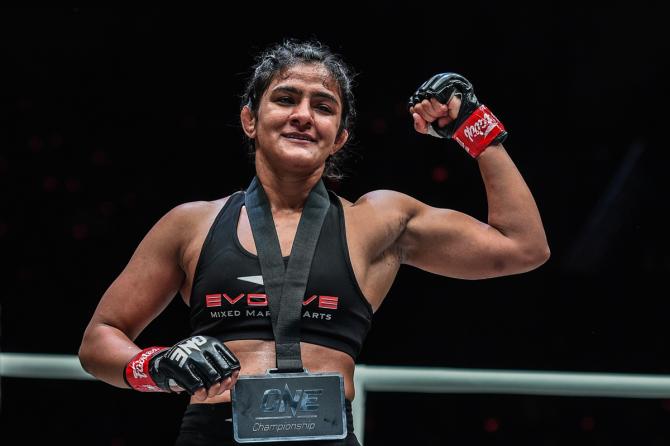 What will be your strategy in your fight against Nou Srey Pov?
Romanchak fight hogi! (It will be a thriller!)
It will be a tough fight as she is an experienced MMA champion. But I am confident and have worked extremely hard for this.
I am ready to go for a hat-trick of wins (Ritu has won both her MMA fights).
And as far as strategies are concerned, I am going to go for the knock-out punch.
My father (Mahavir Phogat on whose life the Aamir Khan character in Dangal is based) has always taught me that my punch should be so hard that my opponent shouldn't be able to get up.
If that doesn't work, please tune in to see what I do next.
How tough has it been for you to be away from your family?
I have been away from my family for the last eight months. This is the longest I have been away from home.
I miss my elder sister (Geeta) and her son. I miss spending time with him.
Here I am alone. When I am back from training, I have to cook and clean. Had I been home, everything would have been taken care of. I just had to focus on my training.
What do you miss most?
Desi food. I have been brought up on that, but here the coach has changed my diet and I have to take protein shakes and multivitamins which I has never consumed earlier.
But on Sundays I do indulge in kheer (rice porridge) or halwa (sweetmeat).
After been unbeaten in your first two fights there are high expectations from you. Are you nervous?
No, not really. High expectations eggs me on. It motivates me to train harder.
You wanted to be the first Indian to win a MMA world title. How close are you to that dream?
I am not far from my dream of bagging the World Championship title in MMA because I have been working hard for over a year.
One championship has also announced a Grand Prix tournament next year which will feature eight champions. It would be great if I got the opportunity of being chosen as one of those eight fighters in the Grand Prix.
Although my first focus is my upcoming fight. I want to make it my hat-trick of wins.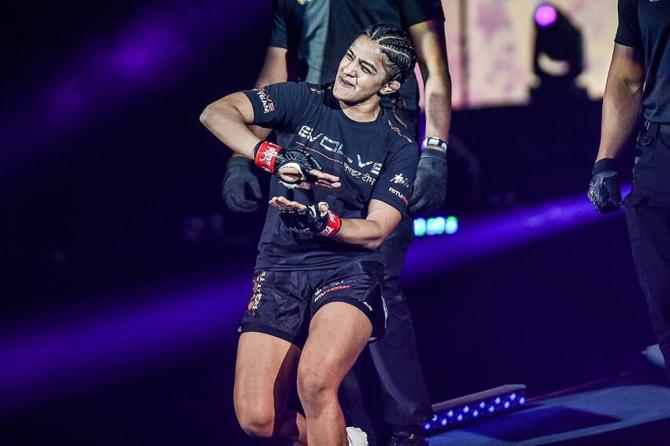 What advice did your father give you?
He was supportive and told me that I could follow any sport. But he asked me to be best in my chosen sport and keep the flag of my country always high.
Who is your inspiration?
My father and my sisters are my inspiration.
I am equally inspired by Virat Kohli. I like watching his training videos on social media. He never gives up and always gives his 100 percent on the field. I find that very inspiring.
Also, MMA star Khabib Nurmagomedov is very inspirational for me. I have been following him from 2013 and I try to emulate him in every possible way.
How did you choose the name 'Indian Tigress'?
During my wrestling days, many people used to say that I used to swipe at my opponents like a tigress. So that name stayed and I decided to call myself 'Indian Tigress'.
If there is a biopic made on your life, which actor would you choose to play your character?
I want to win the MMA World championship and then can think of such a feat.
But if there is a biopic on my life, I would like to play myself. I feel that since it is based on my life, I will be able to emote it well.