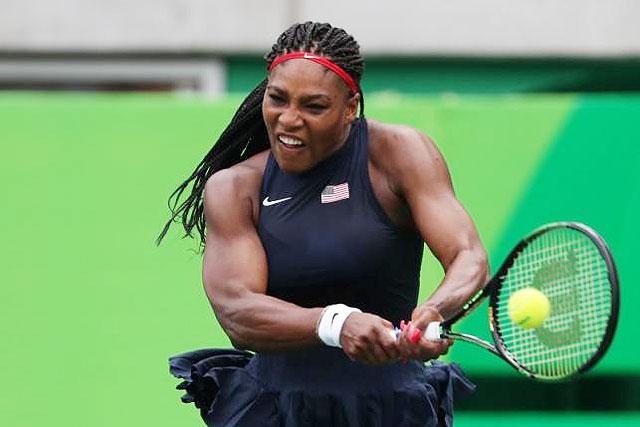 IMAGE: USA's Serena Williams hits a backhand to Daria Gavrilova during her singles first round match at the Rio 2016 Summer Olympics at Rio de Janeiro on Sunday. Photograph: Jeff Swinger-USA TODAY Sports via Reuters
World number one Serena Williams and second seed Angelique Kerber progressed through the first round of the Rio Olympics tennis on Sunday despite windy conditions that delayed play on most of the smaller tennis courts.
Williams won 6-4, 6-2 against Australia's Daria Gavrilova, ranked 42 in the world, but she was far from her best. The 34-year-old grew increasingly frustrated as the match wore on but was rarely threatened by Gavrilova on center court.
"The conditions definitely didn't make it easy," said Williams, the London 2012 Olympic champion and winner of 22 Grand Slams.
Germany's Kerber, who won the 2016 Australian Open, dispatched Colombia's Mariana Duque-Marino in two sets 6-3, 7-5 but also struggled with wind after a long delay to her match.
IMAGE: Great Britain's Andy Murray in action against Serbia's Viktor Troicki during their men's singles first round match at the Rio 2016 Summer Olympics on Sunday. Photograph: Kevin Lamarque/Reuters
London Games Olympic champion Andy Murray was the highest-ranking male player to pass the first round after a comfortable 6-3, 6-2 victory against Serbia's Viktor Troicki. Top seed Novak Djokovic was due to play later in the evening against Argentina's Juan Martin Del Potro.
A ripping wind delayed the start of most tennis matches on the second day, while even those playing on the more protected Centre Court fell foul to the conditions.
"That was first time of my life that I play in (such) terrible conditions. The wind was so fast and the match become so ugly," said Thomaz Bellucci, the top-ranked Brazilian who opened on center court.
"It was almost impossible."
Bellucci, ranked 55 in the world, scraped through into the second round after Germany's Dustin Brown rolled his ankle and had to retire despite leading 6-4, 4-5.
Gusts of wind also caused havoc with fans as their plastic cups went flying and umbrellas at food tables had to be lowered in case they overturned.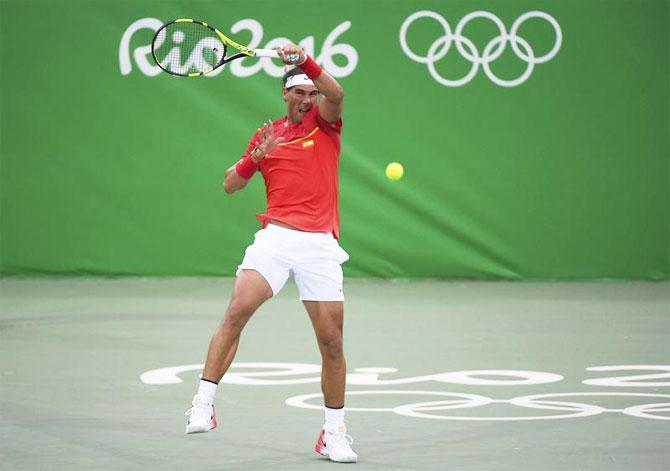 IMAGE: Spain's Rafael Nadal in action against Argentina's Federico Delbonis in their first round match on Sunday. Photograph: Toby Melville/Reuters
Spain's Rafael Nadal made a winning return to competition on Sunday at the Rio Games but the former Olympic champion conceded he was not fully fit after being sidelined over two months with a wrist injury.
Third seed Nadal was pumped up for his return and easily overpowered world number 43 Federico Delbonis of Argentina 6-2 6-1 in the first round but the 14-time grand slam winner admitted he was not at his best.
"The wrist needs little bit more time to be 100 percent recovered," said Nadal, who withdrew from the French Open in May with a wrist injury and then missed Wimbledon. "If there is not Olympic Games here I would not be here competing."
Nadal, the 2008 gold medalist who only confirmed his Rio participation last week, was supported throughout the one-sided match by a rowdy Brazilian crowd.
The 30-year-old Spaniard, who missed a chance to defend his Olympic title with a knee injury, said the pain of missing the 2012 London Games drove him to return to competition sooner than expected.
"It was tough for me to not compete in London, it was one of the toughest decisions in my career. I was close to not being here," said Nadal, who was Spain's flag bearer during Friday's opening ceremony.
"The feeling holding the Spanish flag is something that will stay in my mind for the rest of my life. It was an unforgettable thing for me."