'Max has proved himself not just once, twice, but three times in this competition'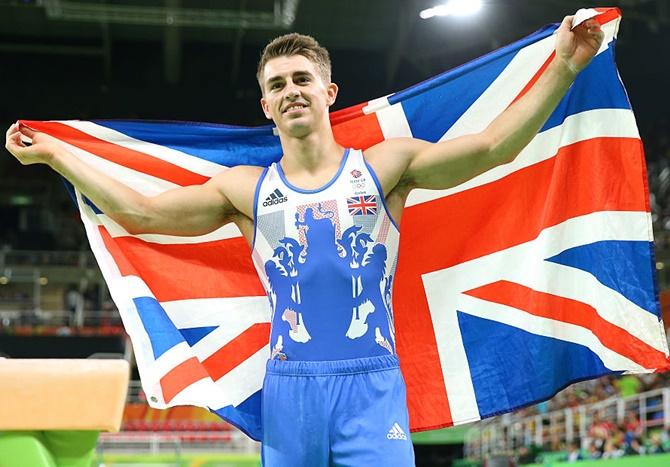 IMAGE: Andy Max Whitlock of Great Britain celebrates winning the gold medal after the Men's Pommel Horse Final. Photograph: Alex Livesey/Getty Images.
Gold medals for Britain in Olympic gymnastics are like London buses - you wait 120 years for one and then two come along at once - with Max Whitlock ending the long wait for a champion by claiming victory in the floor exercise and pommel horse finals.
While the two top prizes saw Whitlock match Kohei Uchimura's gold haul at the Rio Games, with the Japanese great failing to add to his team and all around triumphs as he missed out on a medal in the floor final, there was no stopping Simone Biles.
An anthem never played at an Olympic gymnastics arena was heard twice on Sunday as Whitlock first beat a field that included twice world floor champion Kenzo Shirai and Uchimura to win the floor gold before swivelling to the top of the podium again with a smooth and silky pommel horse performance.
Whitlock produced a series of gravity-defying tumbles on the floor to win gold with a score of 15.633.
Sentimental Brazilian favourite Diego Hypolito, 30, showed there were plenty of explosive tumbles left in him as the 2005 and 2007 floor world champion burst into tears on taking silver.
The man who failed to live up to expectations at the Beijing and London Games was left an emotional wreck on the podium as chants of "Diego, Diego, Diego" reverberated around the arena.
There was more joy for the home fans as Arthur Mariano picked up the bronze.
Less than two hours after earning Britain's first gold, Whitlock was again on top in his specialist pommel horse event with a score of 15.966. It was his third medal in Rio as he also won a bronze in the all around competition.
Louis Smith completed a one-two for Britain as he won a second successive Olympic silver in the discipline with 15.833.
"Max has proved himself not just once, twice, but three times in this competition" Smith said. "I'd rather lose to Max than anyone else."
'I look at Simone and I understand at the moment she's untouchable'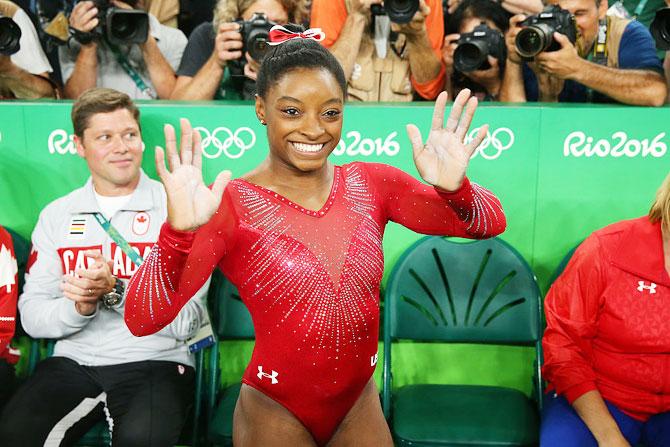 IMAGE: Andy Simone Biles of the United States celebrates winning the gold medal in the women's Vault final on Day 9 of the Rio Olympics at the Rio Olympic Arena on Sunday. Photograph: Alex Livesey/Getty Images.
The 19-year-old Simone Biles made it three golds from three finals as she beat world champion Maria Paseka of Russia with a score of 15.966 from her two soaring vaults.
After Biles picked up a global vault title for the first time, Paseka said: "I want to be first of course but I look at Simone and I understand at the moment she's untouchable."
Switzerland's Giulia Steingruber pipped India's Dipa Karmakar by 0.15 of a point to take bronze.
There were no medals for Uzbekistan's Oksana Chusovitina as she finished seventh in what organisers thought would be the 41-year-old's seventh and final Olympic outing.
A showreel highlighting her 24-year run in the Games got loud applause and she blew kisses after her hopes of becoming the oldest gymnast to win a medal ended with a forward roll on the crash mat after she over-rotated on her Produnova vault.
But she quickly dispelled suggestions that she would not be back for the Tokyo Olympics as a 45-year-old.
"I'd like carry out an experiment to see how long it will take before I've had enough," Chusovitina quipped after competing against rivals younger than her 17-year-old son.
Paseka's Russian compatriot Aliya Mustafina finally ended the American women's stranglehold on the gymnastics at these Games when she captured the asymmetric bars gold for a second successive Olympics with a routine full of grace and power.
Until Mustafina mounted the bars, the US had swept the board as Biles scooped the team, all around and vault golds.
In the only final not featuring Biles, her team mate and world champion Madison Kocian hoped to continue the American gold rush as she had earned the highest score in qualifying but she could not beat Mustafina's 15.900 and settled for silver.