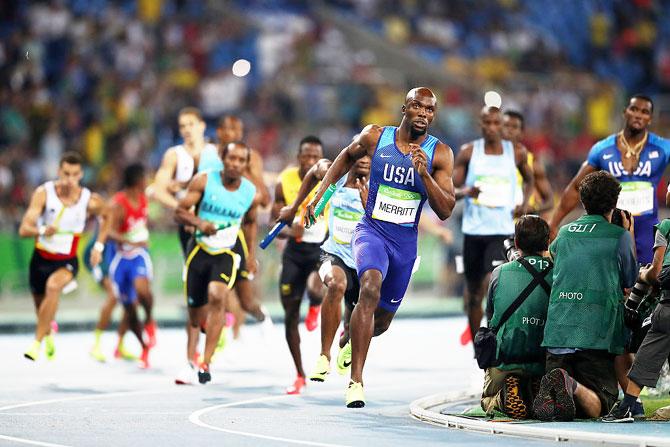 IMAGE: Lashawn Merritt of the United States competes during the Men's 4 x 400 meter Relay on Day 15 of the Rio 2016 Olympic Games at the Olympic Stadium on Saturday. Photograph: Cameron Spencer/Getty Images
LaShawn Merritt ran a blistering anchor leg to return the men's 4x400m title to the United States, and win his third Olympic gold medal, in the final athletics event of the Rio Games on Saturday.
Before Matthew Centrowitz's shock victory in the 1,500m earlier in the evening, the American men had been limited to one gold medal on the Rio track through Kerron Clement in the 400 metres hurdles.
The US have never gone two Games without winning the men's one-lap relay, however, and after being upset by the Bahamas in London four years ago, were determined to secure the title for a 17th time.
Arman Hall, Tony McQuay and Gil Roberts combined over the first three laps to give Merritt a two metre lead and the former 400m Olympic and world champion extended that to seven to win in two minutes, 57.30 seconds.
"This was about Team USA, a great bunch of guys that I work with," said Merritt.
"The guys made it easy for me. We wanted this gold, I've been running a lot but I was going to give that anchor leg all I had. Every man did his job and we're bring that gold back to the U.S."
Javon Francis stormed down the final straight to give Jamaica the silver in 2:58.16, while the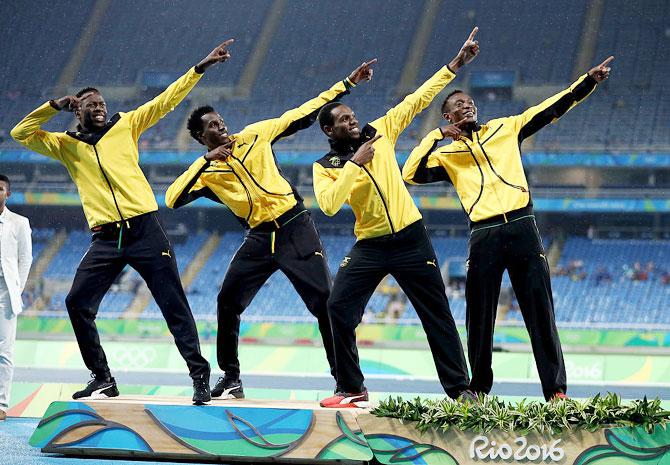 IMAGE: Silver medalists Peter Matthews, Javon Francis, Naton Allen and Fitzroy Dunkley of Jamaica stand on the podium during the medal ceremony for the Men's 4 x 400 meter Relay . Photograph: Patrick Smith/Getty Images
Bahamas ran 2:58.49 to pip Belgium, who ran a national record 2:58.52, for bronze.
"I have only good feelings," said Francis.
"I said to myself 'Usain Bolt did it' so I need to work for a medal."
Merritt, who arrived in Rio with hopes of an individual 400-200 double, will return to home with a second career 4x400m relay gold and a bronze from the one-lap event.
"For me, this is what the Olympics are all about, representing your country," he added. "I went for it every time I went on the track."
Chris Brown anchored the Bahamas team to win a record fourth medal in the event after a gold in 2012, silver in 2008 and a bronze in the 2000 Sydney Games.
Kevin Borlee, who was running in the Belgium team with his brothers Jonathan and Dylan, said it was tough to miss out on a medal by 0.03 seconds.
"It's hard now but in a couple of days I think there will be only good memories," he said.
"It's the Olympic Games, we had the chance to compete, we enjoyed it and hopefully we will be back."