Indian Judoka, Avtar Singh's parents take maiden flight to cheer son, who will go up against Pople Misenga from the Olympic Refugee Team. Read on about the intense and interesting story of both Judokas…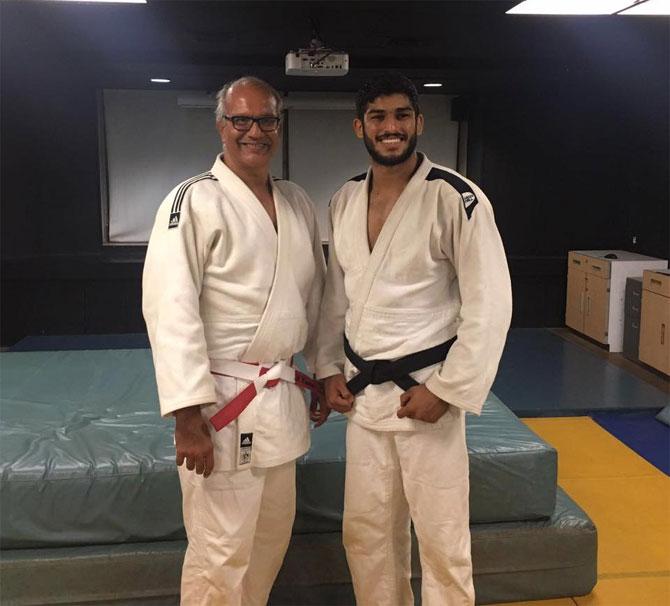 IMAGE: Avtar Singh (left)with India's veteran judoka Cawas Billimoria. Photograph: Avtar Singh/Facebook
They once cashed their fixed deposits to realise Avtar Singh's Olympic dream and the Indian judoka's parents are now in Rio de Janeiro to support him when he begins his Rio 2016 Olympic campaign at the Carioca Arena 2 in Barra da Tijuca on Wednesday.
A Class-4 employee in the health department, Avtar's dad Shingara Singh encashed a fixed deposit of Rs 4 lakh saved over 21 years to book Avtar's tickets to the Samsun Grand Prix in Turkey in April.
Avtar became the first Indian judoka to qualify for the Olympics since the 2004 Athens Games after the International Judo Federation confirmed his entry in the men's 90kg category as one of the two Asian judokas under the continental quota.
Four months later, thanks to sponsors, Shingara and wife Sukhvinder Kaur, who hail from Gurdaspur, Punjab, boarded their maiden International flight spanning more than 20 hours.
"It's a dream come true. To have my parents watch me from the hall would be the best thing I wanted. I will give my best and make my parents, country proud," Avtar told PTI ahead of his bout against Pople Misenga.
Misenga, originally from the Democratic Republic of Congo, one of the worst areas affected by the civil war from 1998-2003, has made Brazil his home and represents the debutant Refugee Olympic Team.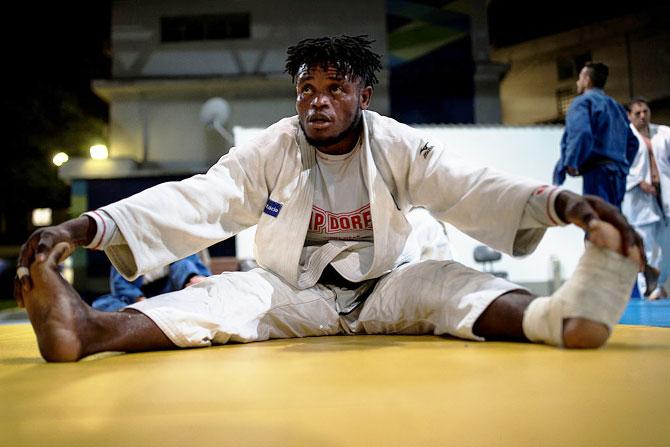 IMAGE: Refugee and judo athlete Popole Misenga to Democratic Republic of Congo looks on during a training session. Photograph: Buda Mendes/Getty Images
Misenga is ranked way below the 71-ranked Indian, but the latter's coach sees a tough bout for the assistant sub-inspector of Punjab Police.
"After moving to Brazil, Misenga has been training in Brazil with Olympic medallist judokas for more than three years. So it will be a tough challenge but Avtar is ready," coach Yashpal Solanki said at the GamesVillage.
"We will give our best, no excuse," Yashpal said, adding that Avtar was really moved by the pep-talk given by goodwill ambassador Sachin Tendulkar on Sunday.
"He is a motivation for others. He told him to give your best don't think about medals. Everybody talks about medals but Sachin did not, which was exceptional," he said showing their photo with the Indian cricket icon.
Misenga has already become a much talked about judoka after overcoming the odds in Congo. "I wondered sometimes how to live when so many people were dying. Even in Kinshasa, the military of our country comes to do only one thing -- kill. I have seen too much war, too much death. I do not want to get into that. I want to stay clean so I can do my sport."
The 24-year-old lost his parents as a child and managed to board a truck to Kinshasa and that's where he learnt judo and became champion in Dakar and other places in Africa.
"I tried to get away and now I have a chance to be a part of the Rio games and I am very happy, I'm going to fight for a medal."
On what Brazil means to him, he said, "I am living in Brazil. Brazil is my home. I have children here, a son and daughter. The people here in Brazil helped me. The people introduced me to a place for training judo because I had stopped.
"I didn't know where there was a gym for judo. Then I found the institute. I was happy. I learnt Portuguese. They gave me a chance to reach an Olympic Games and I am ready. I will demonstrate what I learnt there and that moment is coming."