It's farewell to Rio and look ahead to the Olympic Games in Japan in 2020.
But before we do that here are some of the stunning moments from the Rio Olympics that made everyone stand and cheer.
Incredible Phelps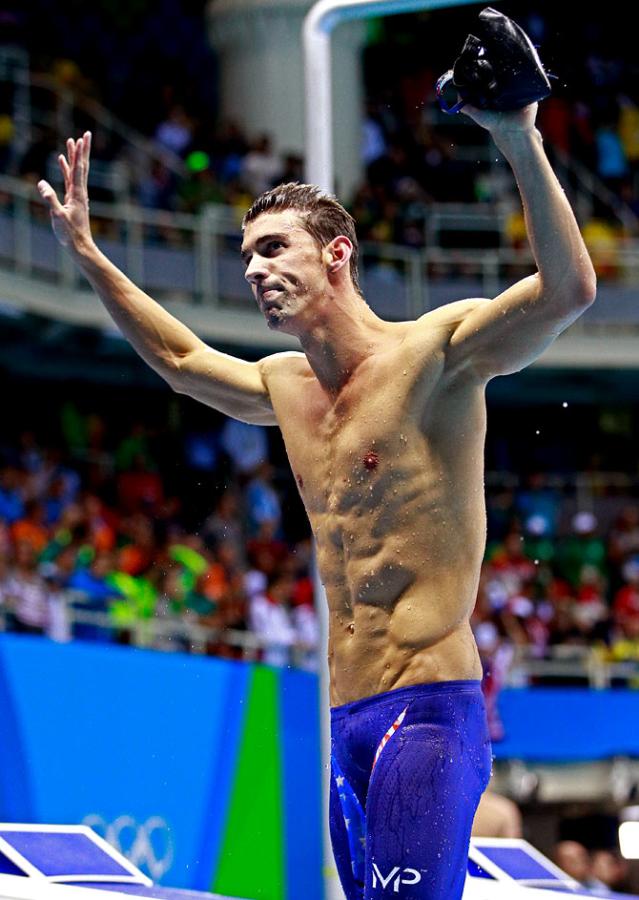 IMAGE: Michael Phelps celebrates winning gold in the men's 200m Individual Medley final on Day 6 of the Rio 2016 Olympic Games. Photograph: Adam Pretty/Getty Images.
Swimming legend Michael Phelps won his 23rd gold medal in the 4x100m medley relay in Rio and thus the medal machine lived up to expectations.
Phelps, who swam the third butterfly leg, ended the most successful Olympic career of all time with 23 gold, three silver and two bronze.
His baby boy Bloomer also made some fans with his adorable pictures.
Bolt strikes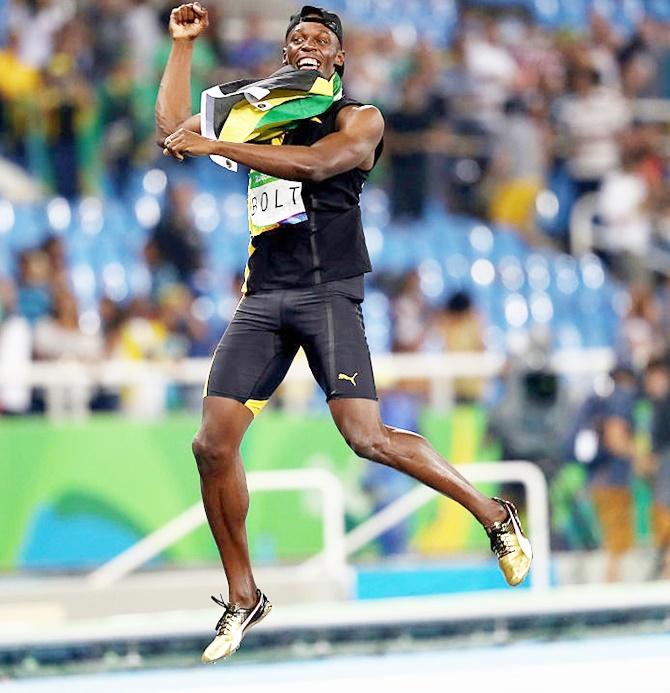 IMAGE: Usain Bolt of Jamaica celebrates. Photograph: Phil Walter/Getty Images.
Jamaican sprinter, Usain Bolt drew down the curtain on his brilliant Olympic career by securing a sweep of the sprint titles for a third successive Games and thus confirmed himself the 'greatest' athlete.
The superstar ran into the record books in Rio with his ninth Olympic gold medal.
His final glory came with victory in the 4x100-meter relay after finishing first in the individual 100m and 200m. He has repeated this astonishing feat at three successive Olympic Games -- a unique 'triple-triple' and in doing so, kept the fans entertained.
Olympic spirit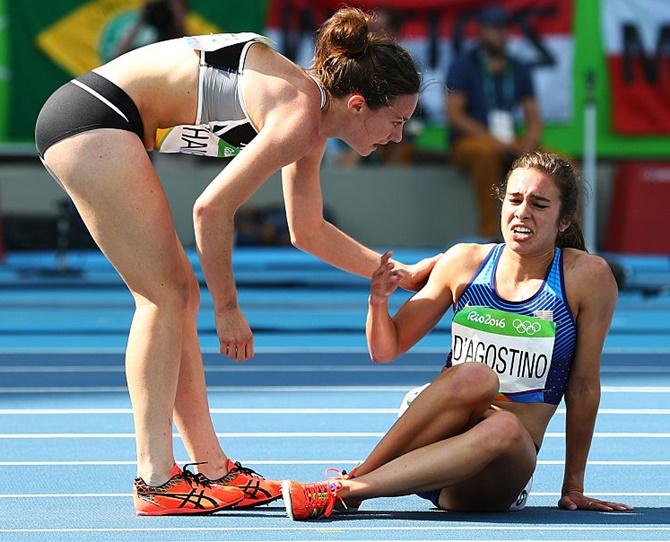 IMAGE: Abbey D'Agostino of the United States, right, is assisted by Nikki Hamblin of New Zealand after a collision during the Women's 5000m Heat 2 on Day 11 of the Rio 2016 Olympic Games. Photograph: Ian Walton/Getty Images.
Rio Olympics has been marred by accusations of doping, crowd hostility and ill-will between nations, but a New Zealand and US athlete have been praised for embodying Olympic spirit.
This was a moment that helped to restore faith in the ideals of sportsmanship.
New Zealand's Nikki Hamblin's touching display of sportsmanship in a women's 5,000-metre heat showed everyone what the Olympics should be about.
After colliding with American Abbey D' Agostino, Hamblin helped her up and encouraged her to finish the race.
Mo Farah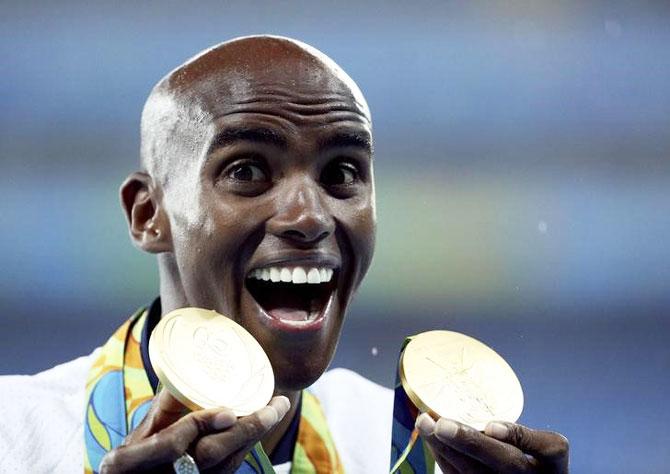 IMAGE: Gold medalist Mo Farah of Britain celebrates with his 10,000m and 5,000m medals. Photograph: Stoyan Nenov/Reuters .
Britain's Mo Farah made his own piece of history with a 'double-double'. Farah defended both his 5,000m and 10,000m Olympic titles in Rio.
Farah, who fought back from a stumble to win the 10,000m, said his 5,000m victory had been the most satisfying of the four golds.
Refugee athletes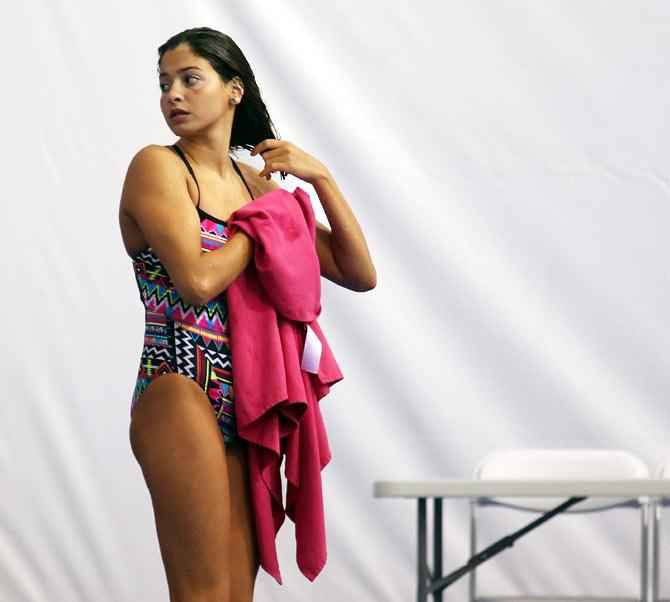 IMAGE: Olympic refugee team swimmer Yusra Mardini during training at the Olympic Aquatics Stadium ahead of the Rio 2016 Olympic Games on July 28, 2016 in Rio de Janeiro. Photograph: Mario Tama/Getty Images.
At the age of 14, Yusra Mardini swam for Syria at a world championship in 2012 but her home was destroyed in the ongoing conflict and she fled the country with her sister. She had to swim for her life when a boat capsized during her escape.
The 18-year-old, representing the first Olympic refugee team, won the first heat of the 100 metres butterfly.
Who can forget her beautiful smile?
Even Bolt stopped his celebration to congratulate Van Niekerk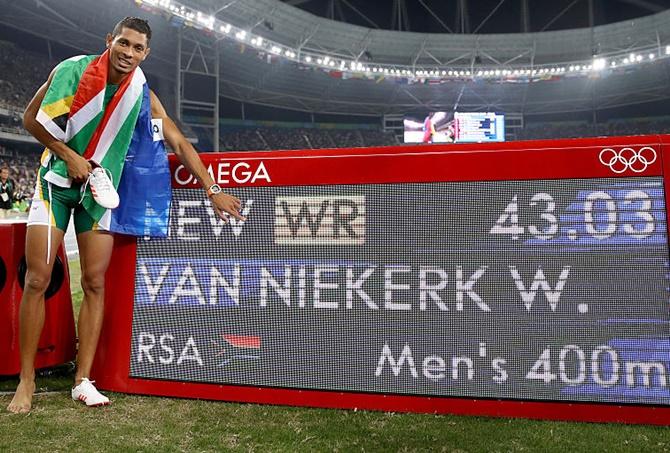 IMAGE: Wayde van Niekerk of South Africa celebrates his world record. Photograph: Patrick Smith/Getty Images.
South Africa's Wayde van Niekerk delivered one of the standout performances of the Rio Games when he broke the 400m record -- and from the difficulty of lane eight. It was Day 9 and Bolt was running 100m final But even the fastest man on earth acknowledged Van Niekerk's feat.
The time of 43.03 seconds shaved a little off the 1999 time set by American track legend Michael Johnson.
Golden girl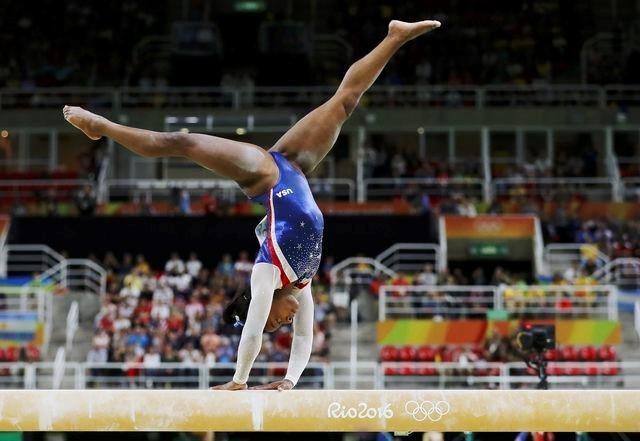 IMAGE: Simone Biles competes on the beam during the women's individual all-around final. Photograph: Damir Sagolj/Reuters .
Teenage sensation Simone Biles produced an almost flawless routine to land her fourth Olympic gold at Rio.
The American youngster is now the dominant force in women's gymnastics and underlined her status by winning golds in the team competition, all-round event, and the vault as well as the final contest in the floor exercise.
Cycling couple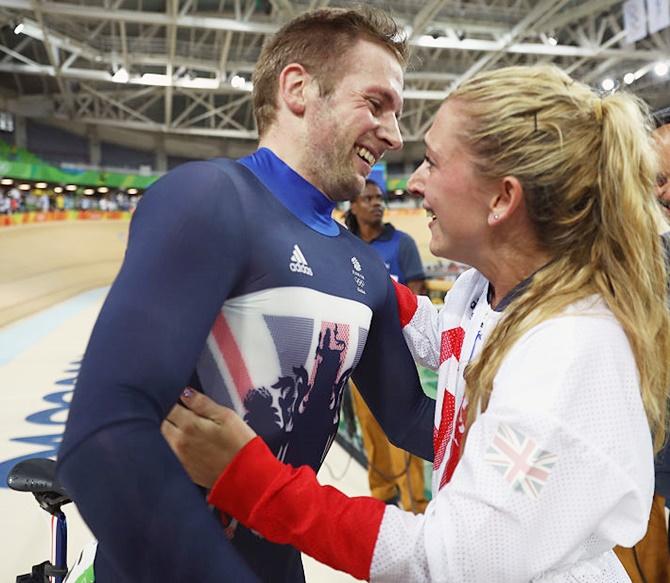 IMAGE: Gold medalist Jason Kenny of Great Britain celebrates with girlfriend, cycling gold medalist Laura Trott . Photograph: Bryn Lennon/Getty Images.
British cyclists Jason Kenny and fiancee Laura Trott have become the king and queen of the track -- winning five gold medals at Rio.
Trott became Britain's most successful female Olympian by adding two golds to the two she won at London 2012.
Kenny matched British track great Chris Hoy's six golds.
The couple, who get married next month, have been invincible on the Olympic track.
Brazil wins football gold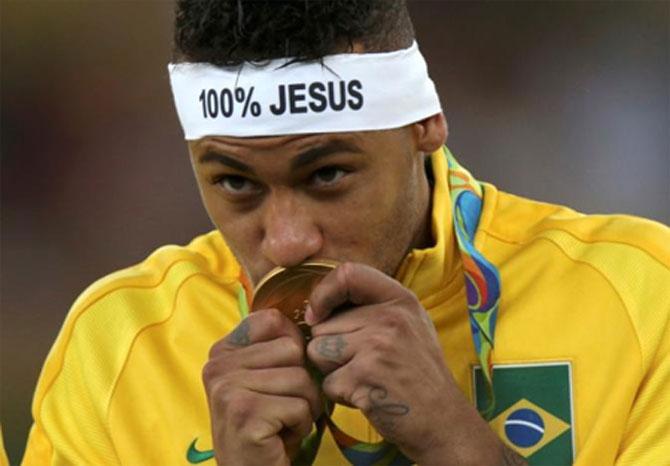 IMAGE: Neymar kisses his gold medal. Photograph: Ueslei Marcelino/Reuters .
If it's Rio, it has to be about football.
A packed house at the Maracana stadium when captain and ultimate star Neymar belted home the winner against Germany.
It was the perfect way for football-mad Brazil to end its gold-medal drought.