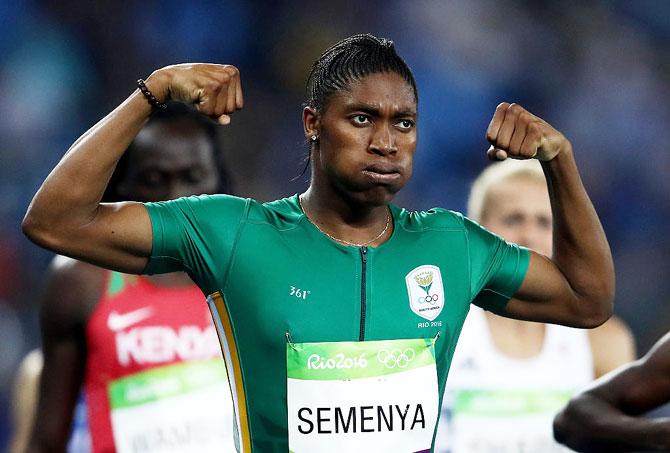 IMAGE: Caster Semenya of South Africa reacts after winning gold in the Women's 800 meter final at the Rio 2016 Olympic Games at the Olympic Stadium on Saturday. Photograph: Cameron Spencer/Getty Images
Caster Semenya of South Africa took the gold medal in the Olympic 800 meters on Saturday in a personal best time of 1:55.28 seconds.
Burundi's Francine Niyonsaba finished in 1:56.49 seconds to claim the silver, her country's second medal in any sport at the Olympics. Kenya's Margaret Wambui won bronze in 1:56.89.
Semenya has dominated the 800m this season and there had been speculation she could take down Czech Jarmila Kratochvilova's 1983 time of 1:53.28 seconds - the longest standing athletics world record, set in an era when eastern European doping was rife.
Staying with the pack for the first lap, Semenya let Niyonsaba lead the race up to the 600-metre mark before pulling ahead with an injection of pace to take the gold.
After winning the silver medal in London four years ago, the 25-year-old South African has recorded three of the four fastest times in the world this year.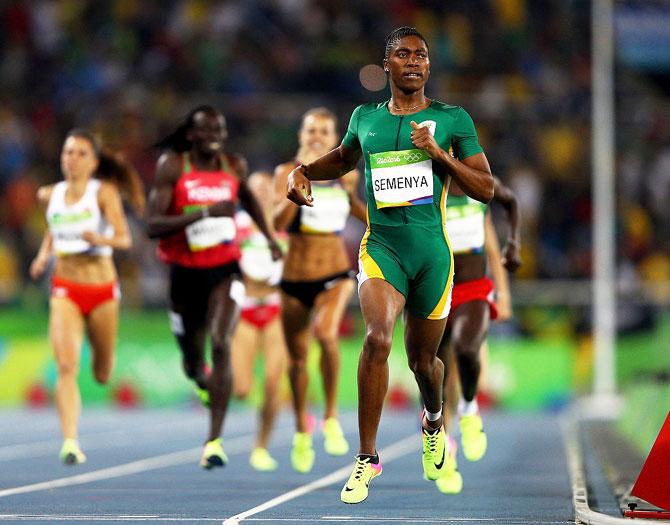 IMAGE: Caster Semenya of South Africa leads the field during the Women's 800 meter final. Photograph: Ian Walton/Getty Images
Racing in Rio, however, she was lacking key competition in the form of Russia's Mariya Savinova and Ekaterina Poistogova, first and third in London, who were barred from the 2016 Games following revelations of state-backed doping in Russian athletics.
Some observers have suggested Semenya is competing with an unfair advantage, albeit one she can do little about.
After winning the 2009 world title as a 19-year-old, tests reportedly revealed that she is hyperandrogenous, resulting in her body producing an abnormally high amount of testosterone, which makes her more powerful than her rivals.
An International Association of Athletics Federations (IAAF) rule limiting the amount of naturally occurring functional testosterone for female athletes appeared to have limited Semenya's prospects but the rule was quashed by the Court of Arbitration for Sport last year.