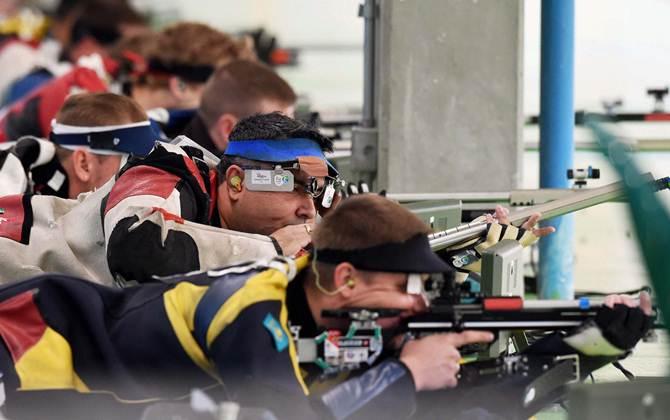 IMAGE: India's Gagan Narang, second from right, lines up with other shooters during the 50m Rifle prone position event at the Rio Olympics on Friday. Photograph: PTI
Seasoned marksmen Gagan Narang and Chain Singh flopped in the 50m Rifle prone position event at the Rio Olympics on Friday, finishing 13th and 36th respectively.
While Narang, who won bronze in 10m Air Rifle at the London Games, signed off with a total score of 623.1, Chain finished way down in the qualification round with a score of 619.6.
Narang was placed as high as fourth at one stage, but was erratic in the sixth and final series in which he registered his lowest score of 102.4.
His break-up of the series was 104.7, 104.4, 104.6, 103.0, 104.0, 102.4.
Chain was never in contention after poor scores in his second and fourth series, which fetched him scores of 101 and 102.4.
His series scores were 104.1, 101.0, 104.4, 102.4, 103.9, 103.8.
Both the shooters, however, have a chance to salvage their campaign on Sunday, the final day of shooting in the 50m Rifle 3 Position event.
Beijing Games gold-medallist Abhinav Bindra is India's best shooter thus far at the Games, having placed fourth in the 10m Air Rifle event, losing out on a bronze in the shoot-off with Ukrainian marksman S Kulish.
He was level with Kulish in third place with 163.8 points after 16 shots. However, he scored just 10.0 in the one shot shoot-off while his opponent got 10.2.