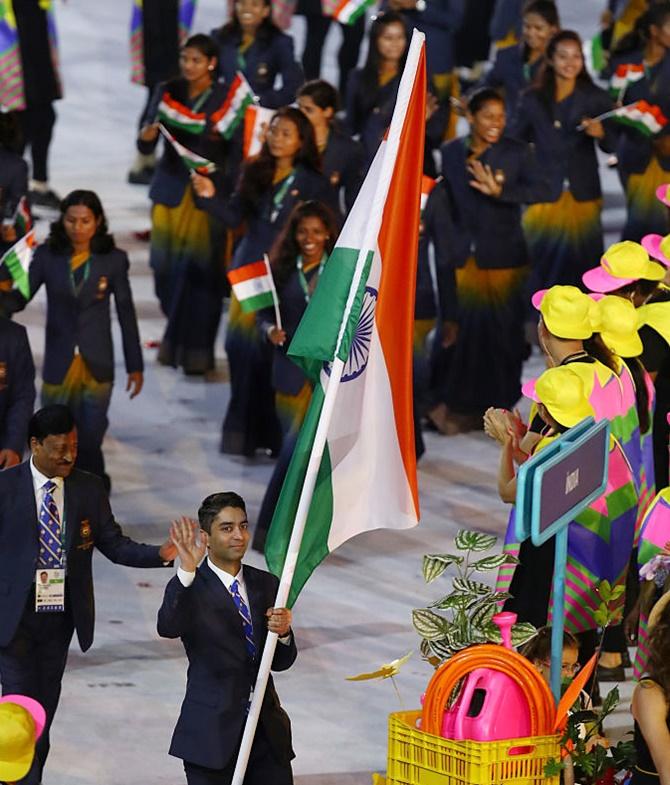 IMAGE: Beijing Olympics gold medalist Abhinav Bindra leads the Indian contingent at the Parade of Nations during the Opening Ceremony of the Rio Olympics at Maracana Stadium. Photograph: Clive Brunskill/Getty Images.
The third day of Rio Olympic Games on Monday turned out to be a heartbreaking one for India!
Beijing Olympics gold medallist Abhinav Bindra narrowly missed winning a medal which would have been India's first in the ongoing Rio Games. His miss was akin to two other such misses in India's Olympic history -- Milkha Singh's fourth place finish in the men's 200m race in the 1960 Olympics in Rome, and P T Usha's fourth-place show in the women's 400m hurdles final in the 1984 Games in Los Angeles.
The hockey team also fell short at the very end, as they conceded a goal with only four seconds remaining to go down 1-2 against defending champions Germany.
Despite competing with a damaged gun, Bindra did not resort to any excuses after he failed to win a medal in his last appearance in the Olympic Games, however, he did speak out when reputed author Shobhaa De took to Twitter to post a harsh and stinging message for the Indians at Rio Olympics.
The drama unfolded on Twitter when De tweeted late on Monday night, "Goal of Team India at the Olympics: Rio jao. Selfies lo. Khaali haat wapas aao. What a waste of money and opportunity" which translates to: "Indian team's goal at the Olympics -- Go to Rio, click selflies and come back empty-handed. What a waste of money and opportunity."
Needless to say, it did not go down well with many athletes including Bindra himself and sports fans around the country.
Bindra retorted immediately: "De, that's a tad unfair. You should be proud of your athletes perusing human excellence against the whole world."
Former India hockey player Viren Rasquinha and now COO of Olympic Gold Quest, gave it back to De on the same coin as he tweeted, "Ms. De, kindly run on the hockey pitch for 60 mins & hold a rifle like Abhinav and Gagan. Bit tougher than you think."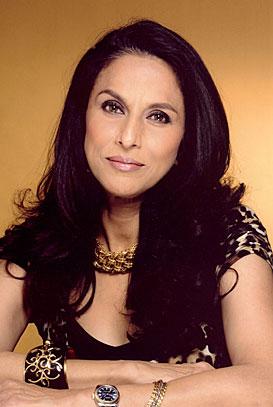 Badminton star Jwala Gutta, who is in Rio de Janeiro, didn't seem pleased either and tweeted, "Maybe things will change when the attitude of people like urself change! #Proudindian #proudsportsperson"
Actress and politician Gul Panag also lashed at De and tweeted" "And do so despite of and in spite of there being no infra & institutional support, and no sporting culture."
Politician Milind Deora also wrote on his wall,""Unsporting & crass for socialites to frivolously dis Indian athletes who have succeeded against all odds to get as far as Rio."
On Tuesday morning, unrepentant, De told a news channel, "I stand by my tweet. Players are entitled to their opinion, I was not referring to any particular player."
Image: Shobhaa De