'To all those people who feel daughters can't do well I will only say to them Narendra Modi's 'Beti Bachaon, Beti Padhao' slogan has gone a step ahead as 'Beti Khelao''
'After winning she told me that I fulfilled your wish and got the medal for the country, I was in tears'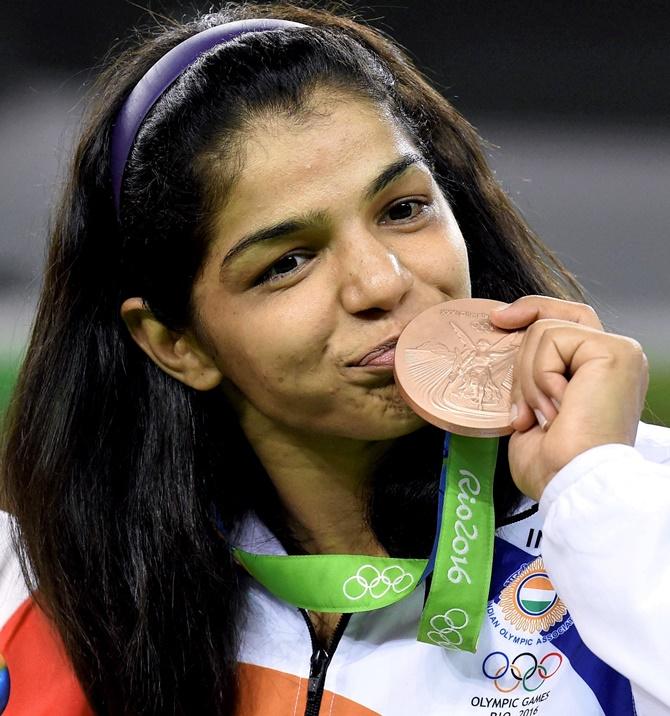 IMAGE: Sakshi Malik of India celebrates. Photograph: PTI.
Brimming with pride at their daughter's historic achievement at the Rio Olympics, female wrestler Sakshi Malik's parents, on Thursday, urged all fathers to encourage their daughters, who wants to take up sports, saying the grappler's feat should set an example for all and sundry.
Sakshi Malik wins bronze, India's first medal at Rio Olympics
Sakshi clinched a historic bronze medal in the 58kg class to end India's frustrating wait for a medal in the Rio Olympic Games.
"Parents support is very necessary and we have tried to give that to her in every way. When she won medals in Commonwealth Game and Asian Champions, people who in the beginning used to criticise us came up to us and said your thoughts were very nice then," a proud father Subir Malik said.
"I would like other girls to take inspiration from her, enter sports and do wonders. To all father who feels that their daughters should not enter sports field she should be an example and even the Haryana govt supports girls to enter sports," he added.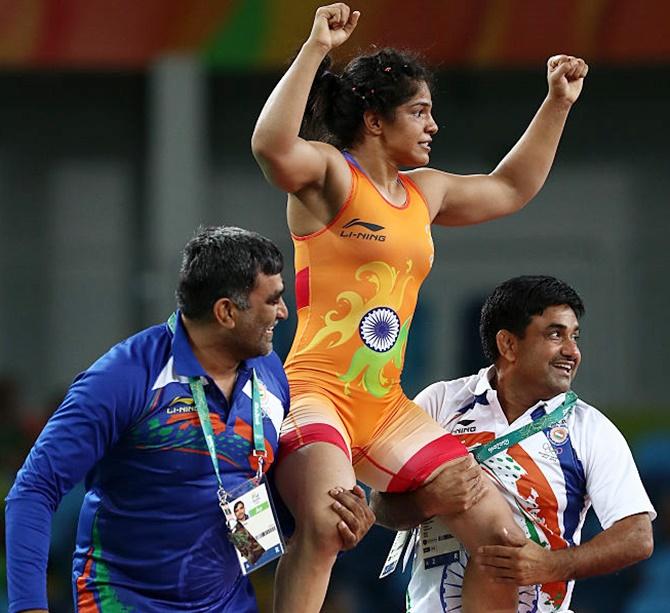 IMAGE: Sakshi Malik of India celebrates after defeating Aisuluu Tynybekova of Kyrgyzstan during the women's freestyle 58 kg bronze match on Day 12 of the Rio 2016 Olympic Games. Photograph: Lars Baron/Getty Images.
Subir said from childhood Sakshi was interested in wrestling and they had always backed her in her endeavour.
"Her grandfather was also a wrestler. She saw him and got motivated to enter this field. She never regretted her decision till date. After winning she told me that I fulfilled your wish and got the medal for the country, I was in tears. I want her to play at the Tokyo Olympics and win gold there," he said.
Sakshi's mother Sudesh Malik echoed similar sentiments.
"There were many people who used to tell me in the beginning that she is a girl and why are you putting her in wrestling, there is too much hard work but I supported her. When she started getting medals people stopped speaking," she said.
"To all those people who feel daughters can't do well I will only say to them Narendra Modi's 'Beti Bachaon, Beti Padhao' slogan has gone a step ahead as 'Beti Khelao'. Many daughters from our country should see her and get motivated to enter sports, choose a game and do well, give your best.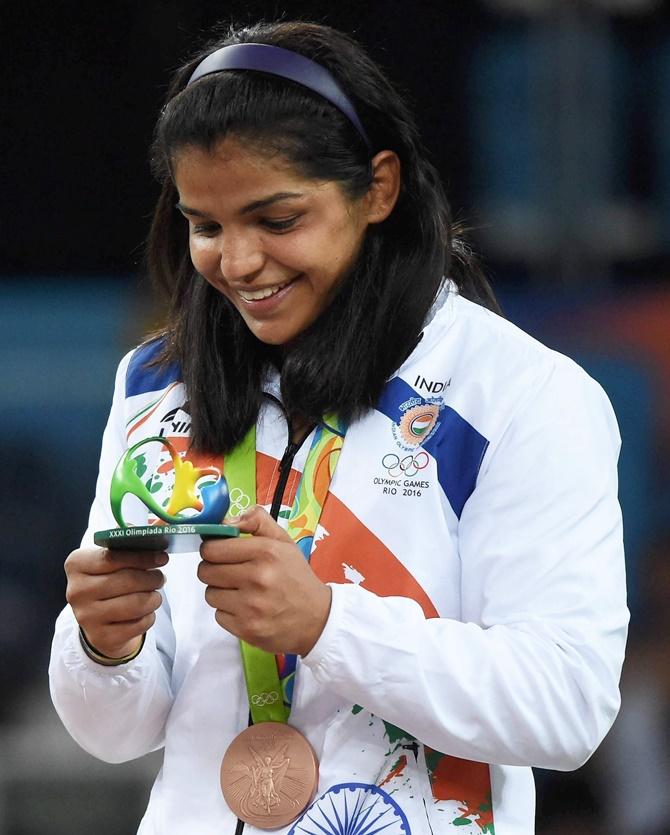 IMAGE: Sakshi Malik of India celebrates on the podium. Photograph: PTI.
"Her determination paid off and we were always there to support her. I want to see her winning a gold at the 2020 Tokyo Olympics and we will give her all the support she needs," Sudesh said.
Sudesh said as parents they feel proud that Sakshi was able to end India's long medal wait in Rio.
"Since 12 days India has not got a single medal and we are proud that she ended the medal quest. When she went to meet the Prime Minister along with other participants in Delhi even the PM told her that you are a wrestler and you will surely get a medal for India," she said.
"It is a joyous moment for all of us. We are proud of her and can't express our happiness in words. When she comes to Rohtak I will get her posters displayed all over the city and then I will take her to the village."
Sakshi ended the country's painful wait for a medal at the Rio Olympic Games on Wednesday night by clinching the bronze in the 58kg category, pulling off a sensational 8-5 victory over her rival in the play-off bout.
The 23-year-old from Rohtak became only the fourth woman athlete from India to win an Olympic medal as she earned the dramatic win after falling behind 0-5 in the do-or-die bout on day 12. She became the first Indian woman wrestler to have won a medal in the Olympics. Her bronze is the country's fifth medal overall in the Olympics.
Congratulate Sakshi Malik HERE!
© Copyright 2021 PTI. All rights reserved. Republication or redistribution of PTI content, including by framing or similar means, is expressly prohibited without the prior written consent.