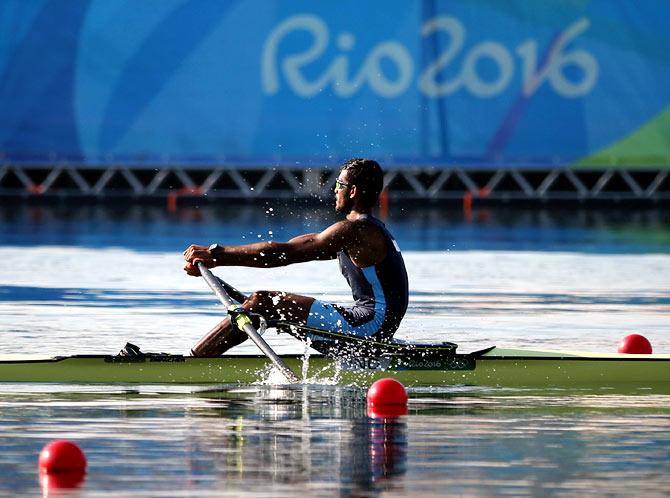 IMAGE: Dattu Bhokanal in action in the rowing men's singles scullts heat in Rio de Janeiro, on Saturday. Photograph: Carlos Barria/Reuters
India's rower Dattu Baban Bhokanal entered the quarter-finals of the rowing men's Single Sculls after finishing third in his qualifying round of the 2016 Olympic Games in Rio de Janeiro, on Saturday.
In the first heat of the day, Armyman Bhokanal finished the 2000m race with a timing of 7:21.67s behind Angel Fournier Rodriguez of Cuba (7:06.89s) and Mexico's Juan Carlos Cabrera (7:08.27s).
The 25-year-old armyman Bhokanal was in second place for the first 500 metres of the race but started to lag behind once the Mexican in lane 2 picked up the pace around the 700 metres mark.
The well built Cuban and the Mexican then increased their lead from the rest but Bhokanal maintained his third position although he was more than 13 seconds behind the second placed Cabrera.