China continued to put up dominating performances in the pool, this time taking gold in women's 10 metre synchronized diving on Tuesday.
Slovenian Judoka Tina Trstenjak became her country's second Olympic champion in the sport.
American gymnasts blow away opposition to win gold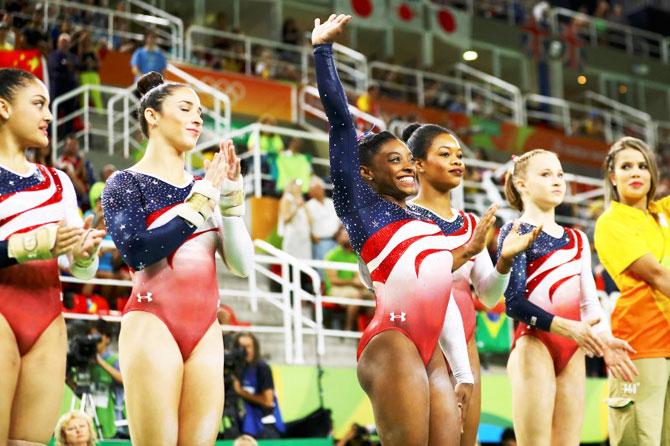 IMAGE: USA's Simone Biles (centre) and her teammates (from left) Laurie Hernandez, Alexandra Raisman, Gabrielle Douglas and Madison Kocian get introduced at the Artistic Gymnastics women's team final at Rio Olympic Arena, in Rio de Janeiro on Tuesday. Photograph: Mike Blake/Reuters
Simone Biles and her American teammates proved that they are an untouchable force in gymnastics as they blew away the opposition to win the women's team title at the Olympics on Tuesday.
There were a few wobbles here and there, even for Biles, but those imperfections did not stop them winning the title by a massive 8.209 points over second placed Russia. China were third.
Since the open-ended scoring system was introduced to the sport in 2006, it was the biggest winning margin of any global championships.
They put in such a commanding performance that Biles needed to overhaul a target of just 7.591 with her final floor performance to secure her first Olympic medal.
A score of 15.800 left her and her team mates, Gabby Douglas, Aly Raisman, Laurie Hernandez and Madison Kocian, whooping with joy. It was a second successive team title for the US.
South Korean Park Sang-young youngest fencer to claim gold
IMAGE: Park Sang-young South Korea celebrates after winning the Men's Fencing Epee Individual semi-final on Tuesday. Photograph: Adrees Latif/Reuters
South Korean fencer Park Sang-young came from behind in the final seconds to snatch gold from a man twice his age, upsetting 41-year-old Hungarian Geza Imre to become the youngest Olympic epee champion in over a century.
The silver finish for Imre, who took bronze in 1996 before Park was a year old, made the Hungarian the oldest Olympic fencer to take an individual medal since 1952.
Chinese lifter Deng wins gold with world record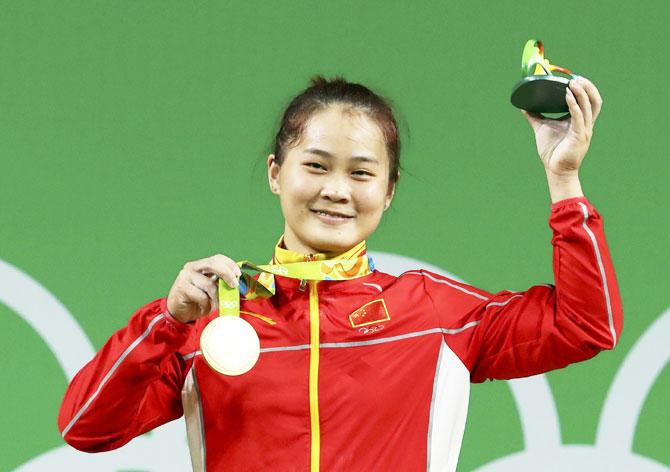 IMAGE: China's Deng Wei poses with her medal at the medal ceremony after winning her Women's 63kg wightlifting gold on Tuesday. Photograph: Yves Herman/Reuters
China's Deng Wei won the women's 63kg gold medal on her Olympic debut and broke the world record held by Taiwan's Lin Tzu-chi, who was withdrawn just hours before the event started.
The International Weightlifting Federation declined to comment on the reasons for Lin's withdrawal but a source close to the situation said the Taiwanese lifter failed a dope test.
Lin, who set the world record total of 261kg in winning the 2014 Asian title, was withdrawn by Taiwan's Olympic committee and then lost her world record when Deng Wei managed 262kg.
Lin, 28, is the third lifter to test positive in the past five days following Antonis Martasidis of Cyprus (85kg) and Tomasz Zielinski of Poland (94kg) who were sent home.
Deng Wei was the easiest winner of the week, finishing with a lift to spare. She beat her own clean & jerk world record by 1kg with 147kg on her second attempt to reach 262kg.
Deng finished 14kg clear of Choe Hyo Sim, the North Korean who has stood below her on the podium at the past two International Weightlifting Federation world championships. It was the widest winning margin of the six events to date.
The bronze was won by Karina Goricheva, 23, from Kazakhstan.
Khalmurzaev wins Russia's second judo gold at Rio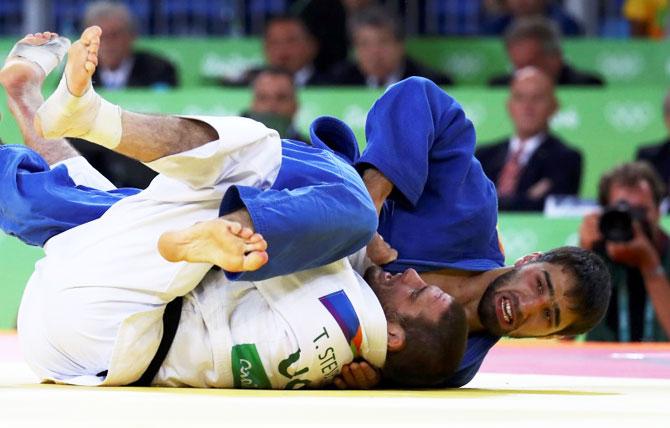 IMAGE: USA's Travis Stevens and Russia's Khasan Khalmurzaev are locked in as they compete in the men's 81 kg Judo final on Tuesday. Photograph: Kai Pfaffenbach/Reuters/strong>
Khasan Khalmurzaev earned Russia's second judo gold medal of the Rio Games on Tuesday, beating Travis Stevens of the United States for the top prize in the men's -81kg category.
Ending his campaign with a bang, the Russian won his final two matches by ippon -- judo's equivalent of a knockout -- over Sergiu Toma of the United Arab Emirates in the semi-final and then Stevens.
Stevens had been vying to become the first man from the United States to win gold in judo.
Despite settling for silver, it was third time lucky for the American after he had come home without a medal from the Beijing and London Olympics.
Takanori Nagase won Japan's sixth judo bronze medal so far in Rio. Toma won the other bronze.
China grab gold in women's 10 metre synchronized diving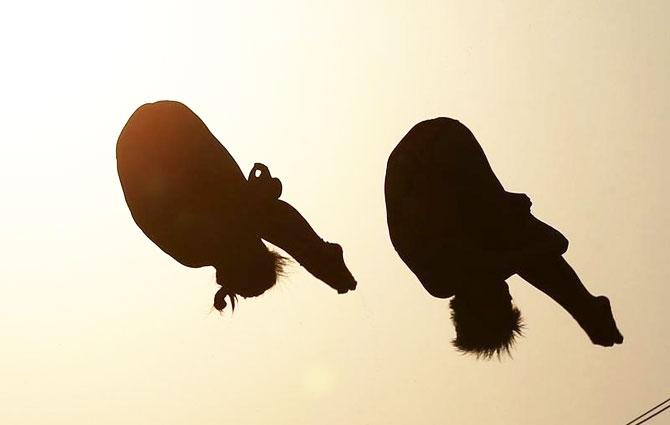 IMAGE: China's Liu Huixia and Chen Ruolin compete in the Women's Synchronised 10m Platform diving final on Tuesday. Photograph: Michael Dalder/Reuters
China's Chen Ruolin and Liu Huixia claimed gold in the women's synchronized 10 metre platform diving event at the Rio Games on Tuesday, with Malaysia and Canada respectively taking the silver and bronze medals as the venue's pool turned a bright green hue.
The duo logged a total score of 354.00 points.
The triumph also makes Chen a five-time Olympic gold medallist, and puts her on a par with compatriot Wu Minxia for the title of most Olympic diving gold medals in a career.
Silver medallists Cheong Jun Hoong and Pandelela Rinong delivered Malaysia's first medal of the Games with a score of 344.34, while Canada's Meaghan Benfeito and Roseline Filion took third place with 336.18 points.
Canoeing: France's Gargaud Chanut wins C1 gold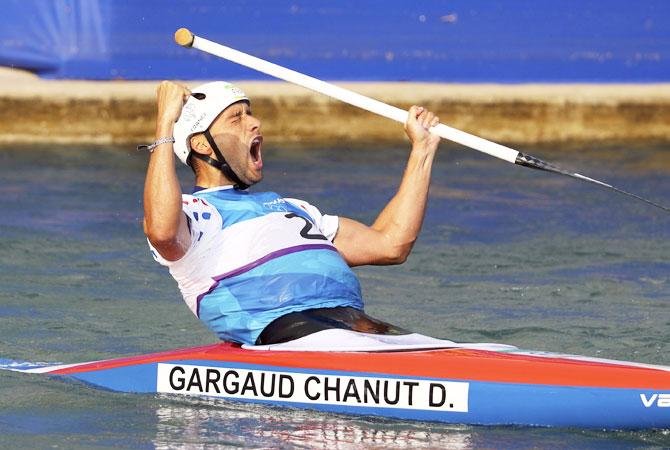 IMAGE: France's Denis Gargaud Chanut celebrates after winning the men's canoe single (C1) final for a gold at Whiteater stadium in Rio de Janeiro on Tuesday. Photograph: Lucy Nicholson/Reuters
French paddler Denis Gargaud Chanut won Olympic gold in the canoe slalom C1 final on Tuesday as world champion and favourite David Florence surprisingly failed to feature.
Gargaud Chanut smoothly negotiated the 24 gates along the churning 242m whitewater course to finish 0.85 seconds ahead of Slovakia's Matej Benus.
Japan's Takuya Haneda became the first Asian athlete to win an Olympic medal in canoe slalom as he finished third, 3.27 seconds slower than the flying Frenchman. Britain's Florence won silver.
Korakaki takes women's 25 metre pistol gold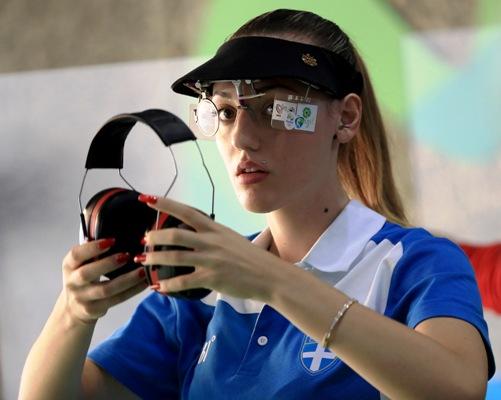 IMAGE: Anna Korakaki of Greece competes in the 25m Pistol competition on Day 4 of the Rio Olympic Games. Photograph: Sam Greenwood/Getty Images
Greek shooter Anna Korakaki took the gold medal in the women's 25 metre pistol event on Tuesday, two days after she won a bronze and became the first woman to win a medal in shooting for Greece.
The 20-year-old Korakaki prevailed over Monika Karsch, a 33-year-old from Germany, who mounted a late but ultimately unsuccessful rally after Korakaki established a strong lead. The two are first-time Olympians.
Heidi Diethelm Gerber of Switzerland won the bronze medal, beating world No. 1 and world champion Zhang Jingjing of China. The Swiss shooter is 47 and took up the sport at 33.
Slovenian judoka Trstenjak takes gold in the women's-63kg category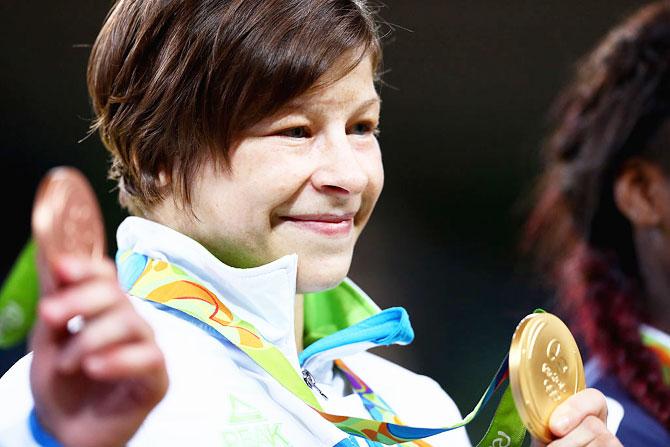 IMAGE: Gold medalist Tina Trstenjak of Slovenia poses on the podium during the medal ceremony for the Women's -63kg on Day 4 of the Rio 2016 Olympic Games at the Carioca Arena 2 in Rio de Janeiro on Tuesday. Photograph: Ryan Pierse/Getty Images
Slovenia's Tina Trstenjak defeated Clarisse Agbegnenou of France in the women's -63kg category at the Rio Games on Tuesday, becoming her country's second Olympic champion in judo.
Top seed Trstenjak handily beat Agbegnenou, by ippon, less than two minutes into the final.
Israel's Yarden Gerbi and Anicka van Emden of the Netherlands won bronze.

France takes first gold in team eventing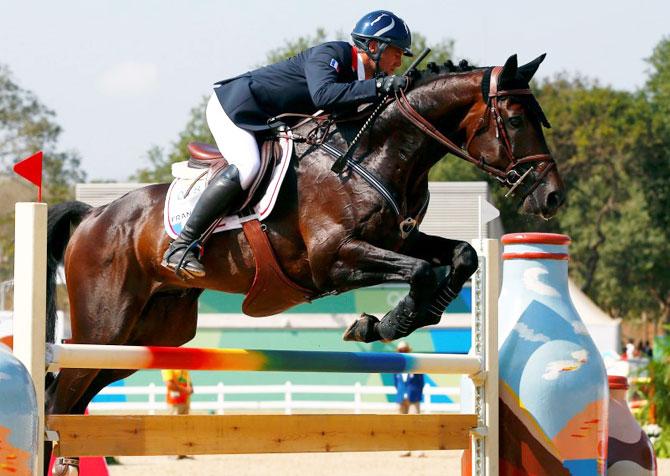 IMAGE: France's Karim Florent Laghouag riding Entebbe jumps during the eventing team jumping final at the Olympic Equestrian Centre in Rio de Janeiro on Tuesday. Photograph: Tony Gentile/Reuters
France won its first gold medal of the Rio Games in eventing on Tuesday in a dramatic show jumping final, rising two places from the cross country phase after riders from Australia and New Zealand knocked rails down.
Germany had to settle for silver as their Olympics' streak of two team titles ended.
Australia took bronze.
Germany's Jung claims second individual gold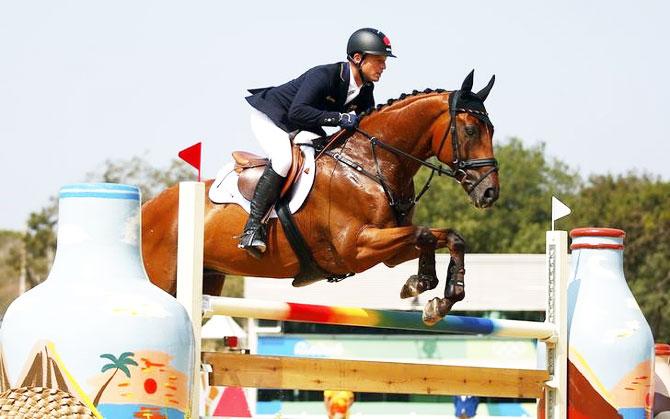 IMAGE: Michael Jung of Germany riding Sam jumps during the eventing team jumping final at the Equestrian event at Rio de Janeiro on Tuesday. Photograph: Tony Gentile/Reuters
Germany's Michael Jung claimed his second consecutive individual eventing gold medal on Sam after posting two clear rounds in the final show jumping phase on Tuesday.
France's Astier Nicolas took silver with one rail down and Phillip Dutton of the United States won bronze.