'I was injured so I was not playing'
'If (next week) in Dubai I feel I am not playing well and my body starts hurting, I will stop playing'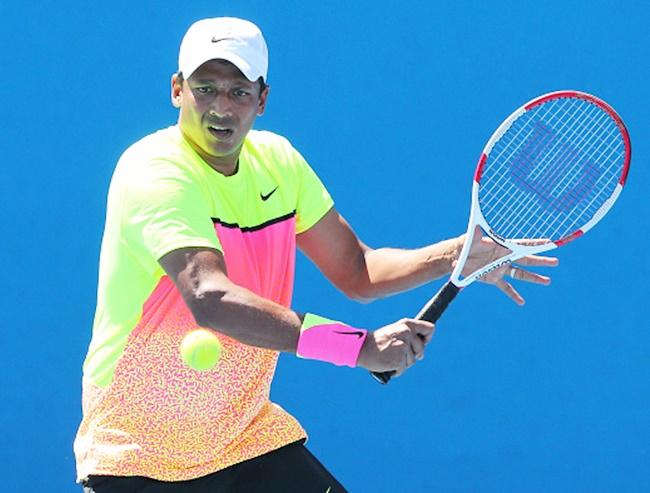 IMAGE: India's Mahesh Bhupathi plays a shot. Photograph: Scott Barbour/Getty Images
Indian tennis star Mahesh Bhupathi insists his consistent presence on the pro circuit shouldn't be considered as preparations for the Rio Olympics. He says he is only trying to get his rhythm after recovering from a knee injury.
Bhupathi is competing at the Delhi Open, an ATP Challenger circuit event, with country's top singles player, Yuki Bhambri. His participation in the tournament has raised speculation that he could be planning a comeback for the Olympic Games since he hardly played in the last two years.
The 41-year-old, though, sought to scotch the speculation, saying if he stops enjoying the game next week, he will stop playing tennis.
"Olympics is not on my mind at all. I am just enjoying out there. I am feeling healthy. I was injured so I was not playing. I have Protected Ranking now, so I am playing.
"As long as I enjoy, I will play. As soon as I stop enjoying, I will stop playing. If (next week) in Dubai I feel I am not playing well and my body starts hurting, I will stop playing. Luckily I have the luxury of making my own schedule," he asserted.
A player who hasn't been part of competitive tennis for six months due to injury can participate in nine tournaments or nine months (whichever is early) with Entry Protection. Protected Ranking (PR) is determined by the player's average ATP rankings position during the first three months of his injury.
The Entry Protection excludes wild cards and entries as a Direct Acceptance with his current position in the ATP Rankings.
Bhupathi may not be eyeing an appearance at what could be his sixth Olympics, but if he gets good results and improves his ranking he can actually stake claim to be considered for selection in the Indian squad despite not meeting the eligibility criteria.
The former doubles ace hasn't represented the country in Davis Cup since September 2011 and rules require a player to be nominated in the Davis Cup squad at least thrice in an Olympic cycle (four years) to be eligible for selection.
However, an ITF official said that a national association can appeal to the ITF Olympic Committee on behalf of a player who does not meet Davis Cup/Fed Cup eligibility criteria for his inclusion.
Bhupathi said he is not aware about the rules.
"I don't know the rules. But, physically, I am feeling good, which is the most important thing. Next week I am playing in Dubai with (Aisam-ul-Haq) Qureshi.
"I am just trying to get my rhythm back. The more matches I play, the better I feel. Compared to Chennai Open, I am feeling much better now. Three matches I played in Chennai, two in Bangkok, two in Australia, three in France and now one here. That's 10 matches. It's more than what I played in the last two years," Bhupathi said.
Asked when does he expect to return to his top game, Bhupathi said he 'can't say'.
"I am having fun out there; I want to play as much as I can. Let's see how it goes. I am not at that level (as of now)."
Rohan Bopanna, at number eight, is India's top-ranked doubles player now, followed by Leander Paes (No. 52), who is eyeing a record seventh Olympics appearance but struggling for form.
Bhupathi, who is world No 286 right now, has time till June 6 to improve his ranking since the world rankings on that day will be considered for entry to the Rio Games.