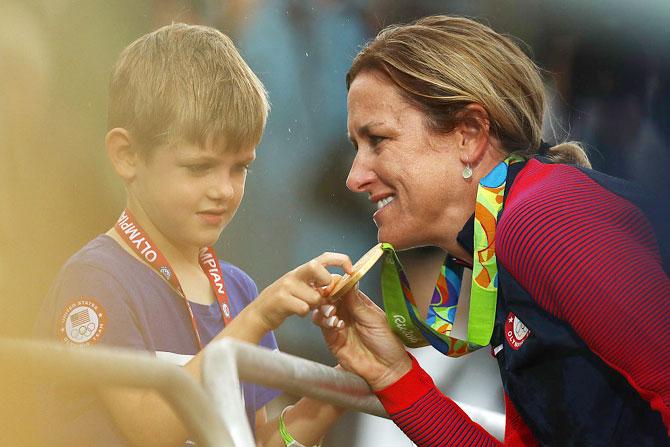 IMAGE: Gold medalist Kristin Armstrong of the United States shows her medal to her son Lucas William Savola after the medal ceremony for the Cycling Road Women's Individual Time Trial on Day 5 of the Rio 2016 Olympic Games at Pontal in Rio de Janeiro last week. Photograph: Bryn Lennon/Getty Images
A group of athletes in Rio has found the secret to enhanced performance and it has nothing to do with doping.
It's called aging -- a process by which athletes grow wiser, more focused and go on to win medals and hearts at the Olympics.
The elder set at the Rio Games is resetting the bar at these Olympics and turning over the hackneyed idea that high-level competition is a young man's or woman's game.
"For so long we have been told that we're finished at a certain age," said American cyclist Kristin Armstrong, who at 42 became the oldest woman to win Olympic cycling gold in the road individual time trial.
"Athletes are showing that this is not true."
While the average age of competitors at these Games is 26.97 years, up just slightly from 25.85 years 20 years ago in Atlanta, the International Olympic Committee says it sees older athletes doing better at the Games, even in those sports thought to be the preserve of young, more supple competitors.
"We do see, particularly in endurance sports, older athletes coming through much more than in the past," said Mark Adams, IOC spokesman. "And that's great. It's to be welcomed. It gives us all hope."
In one of the toughest endurance races, the 10 km marathon open-water swim, 36-year-old Greek Spiros Gianniotis on Tuesday reached the finish line at the same time as 24-year-old Ferry Weertman, but was slow to hit the touch pad and took silver.
"After five Olympics and 36 years old, I think it is the best way to retire," said Gianniotis.
Argentinian Santiago Lange, 54, the oldest sailor at the Games, took gold in the mixed Nacra 17 catamaran class. Now a veteran of seven Games, he lost half a lung to cancer last year and is an inspiration to his crew mate, Cecilia Carranza Saroli.
"Every time I hear Santi speak I get emotional, he transmits the values of effort and perseverance," Carranza said.
New Zealand's Mahe Drysdale, known as "Grandpa" in the rowing world, defied his nickname with a gold in single sculls at the age of 37 despite a history of injuries and arthritis.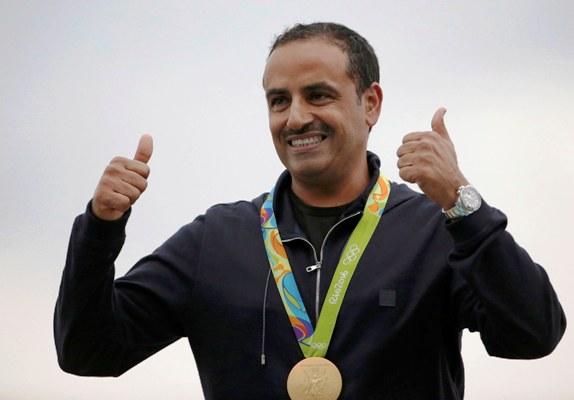 IMAGE: Fehaid Aldeehani of Independent Olympic Athlete poses with his men's double trap gold medal. Photograph: Edgard Garrido/Reuters
Britain's Jo Pavey, 42 and a mother of two, became her country's first runner to compete in five Olympics, though she did not win a medal.
"There are a lot of people who are half my age in the team," said Pavey.
"They inspire me with their enthusiasm."
Advances in training and preventative care have helped lengthen the careers of elite athletes, according to Dr Richard Budgett, the IOC medical and scientific director.
In the 1980s, athletes often trained alone, said the former rower. Today, they are surrounded by an army of nutritionists, psychologists, physiologists, strength and conditioning coaches, physiotherapists, chiropractors, osteopaths and masseurs.
"If you can remain well, and you prevent injuries -- and we are really, really prioritizing prevention of injuries rather than patching people up afterwards - then you can have a fantastically long career," he said.
The oldest athlete to medal in recent decades was Canadian equestrian Ian Millar, who took silver in 2008 at the age of 61.
The oldest athlete in these Games is 62-year-old equestrian Julie Brougham of New Zealand, and the youngest is Gaurika Singh, 13, a swimmer from Nepal.
Older competitors are more heavily represented in equestrian competition, archery, shooting and fencing -- sports that demand immense amounts of endurance and mental concentration.
In shooting, Kuwaiti Fehaid Al-Deehani won the double trap gold medal at 49. His countryman Abdullah Al-Rashidi won the skeet bronze at 52.
"I feel young because I run 6 km every day, I go to the gym," said Deehani. "Shooting needs a lot of experience. I think age is a positive thing, not a negative one."
Sometimes older athletes have more resources to pour into their training.
Swiss shooter Heidi Diethelm Gerber, who won bronze in the 25 metre pistol at Rio at 47, had decided she needed to quit her job if she was to make any progress from London 2012.
"For the last two years, I have only been shooting. I stopped working as a bookkeeper and did all for this medal in Rio," she said.
And yet, a healthy work-life balance makes all the difference for Armstrong, the American cyclist, who works in a hospital and is a mother.
"We are all quite physically similar as athletes," she said.
"Winning comes from between the ears."