'The Russians seem to swim so naturally. Their programme is fast and dynamic'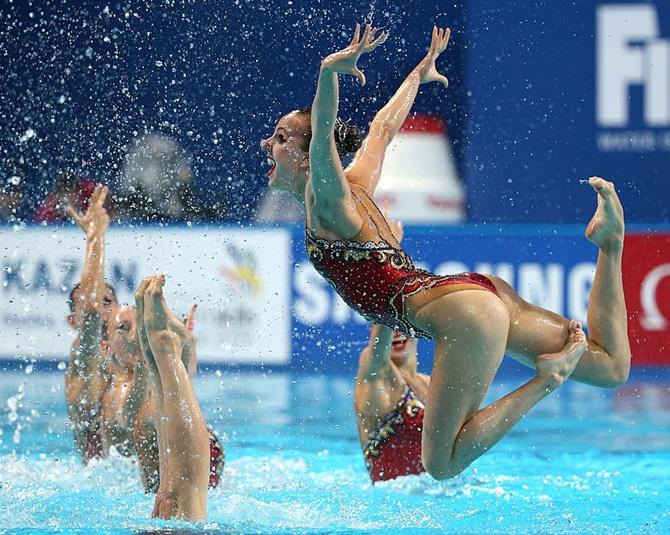 IMAGE: The Russia team compete in the women's free combination synchronised swimming final . Photograph: Streeter Lecka/Getty Images.
Two namesake coaches who have propelled Russian synchronised swimming to one medal after another hope to blow rivals out of the water once again at the Rio Olympic Games.
Head team coach Tatyana Pokrovskaya and duets coach Tatiana Danchenko have crafted creative and explosive routines ranging from a jaunty Marilyn Monroe-inspired performance to a Metallica-themed one.
Russia finished with eight of a possible nine golds at the World Aquatic Championships the country hosted last year, having dominated with seven golds from seven disciplines in the 2013 championships in Barcelona.
"They have a beautiful routine, with a high level of difficulty and a good execution," Brazilian team member Maria Eduarda Miccuci said.
"The Russian coach is very detail-orientated and very demanding. It will be difficult, but we'll fight for a medal," she added as the host team hope for a strong performance to help raise the discipline's profile in the soccer-crazed South American country.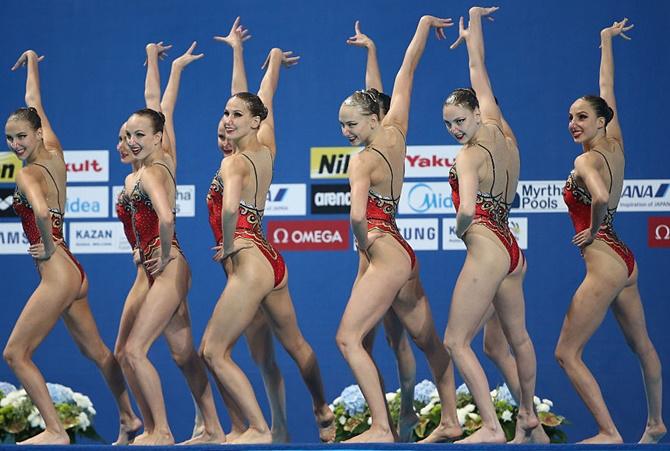 IMAGE: The Russia team compete . Photograph: Streeter Lecka/Getty Images.
Russia's dazzling synchro stars should provide a bright contrast to a doping scandal that has triggered a suspension of the country's track and field team.
They would, however, have been sweating on the International Olympic Committee's decision over whether the rest of Russia's team will be allowed to compete in Rio in the wake of the McLaren report into doping.
That decision, barring for those athletes who had served a ban, was passed on to the sports federations on Sunday and FINA issued a statement saying there was no indication in the report that Russia's synchronised swimmers "would be implicated".
Russian swimmers master fast and fun routines that have included robot-like dances in alien-themed swimsuits, quick twirls to the tune of "Pretty Woman," and a team technical "Kaleidoscope" in multi-coloured swim suits.
"It is hard to conceive that gold can escape Russian hands in Rio," the International Swimming Federation (FINA) wrote in a recent preview of the Aug. 5-21 Games.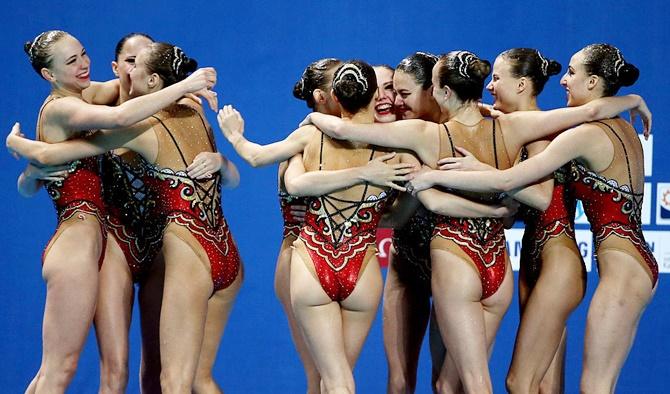 IMAGE: The Russia team celebrate. Photograph: Streeter Lecka/Getty Images.
In a close-knit team that one athlete said works out ten hours a day, much credit also goes to the swimming duet Natalia Ishchenko and Svetlana Romashina, whom FINA has called "two of the best athletes in history."
An official at Russia's Synchronised Swimming Federation said the team, famous for its work ethic and technical precision, was training and unavailable for interviews.
China, Japan and the Ukraine are also expected to have strong performances in Rio, while hosts Brazil are looking to make a splash in a sport renowned for its balletic moves and acrobatics executed in indoor pools.
Japan is excited about the return of Masayo Imura, known as the "mother" of Japanese synchronised swimming, who previously coached China and is known for her tough training methods.
Synchronised swimming has been an Olympic discipline since the 1984 Games in Los Angeles and is one of only two reserved exclusively for women, along with rhythmic gymnastics.
Still, with Russian athletes having won every duet and team gold since the Sydney Games in 2000, the country's shadow hangs over all the teams.
"The Russians seem to swim so naturally. Their programme is fast and dynamic," said Japan's Aika Hakoyama after last year's championships.
Russia's team, which last century ended the hegemony of the United States and Canada in the sport, said they keep their Olympic sequences under lock and key, demonstrating them only once - at a closed-door event back home.
"As soon as we show our programmes, there are elements that are taken and copied," Russia's star synchro athlete Romashina said.