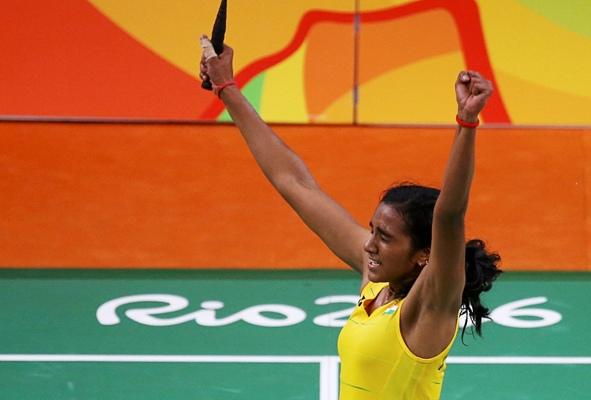 IMAGE: PV Sindhu celebrates after beating Nozomi Okuhara. Photograph: Marcelo del Pozo/Reuters..
Shuttler P V Sindhu scripted a new chapter in Indian Olympic history with unprecedented feat but the embattled Narsingh Yadav's dreams lay in tatters after being slapped with a four-year doping ban on a bitter-sweet day for the country at the Rio Games.
Sindhu made a historic entry into the final of badminton women's singles event, hours after Sakshi had nailed the country's first medal following 11 blank days.
With Thursday's brilliant show Sindhu, ranked 10th in the world, went one better than her senior Saina Nehwal, bronze medal winner in London four years ago, and became the first ever Indian to enter the summit clash of the shuttle game in the quadrennial sports spectacle.
Sindhu's heart-warming feat came a day after Haryana woman grappler Sakshi had won a bronze to end the medal drought for India in the Games on the 12th day of competition.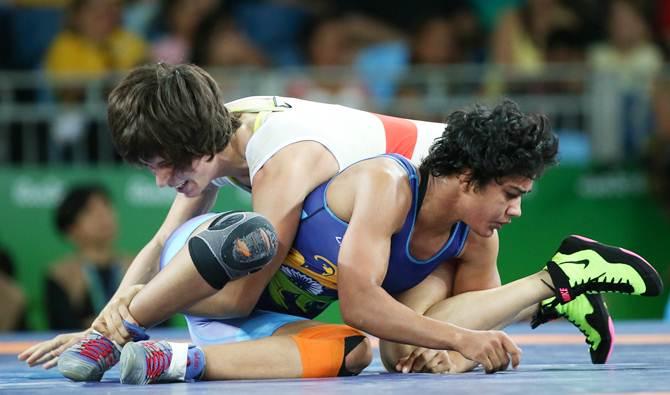 IMAGE: India's Babita Kumari and Maria Prevolaraki of Greece battle it out during their women's 53kg freestyle bout at the Rio Olympics on Thursday. Photograph: Toru Hanai..
However, another wrestler made a tame exit from the competition to end the women's campaign.
Babita Kumari lost her opening women's 53 kg category wrestling bout 1-5 against Maria Prevolaraki of Greece and got eliminated from the Games.
Much was expected of Babita, winner of two medals in past Commonwealth Games and bronze medallist in the World Championship in 2012, when she got on the mat a day after team-mate Sakshi's epoch-making first medal in women's wrestling.
But the 26-year-old grappler could not succeed against the tight defense put up by her Greek rival and lost points in both the periods of their pre-quarter final bout.
And when Maria too lost her quarter-final bout against Venezuela's Betzabeth Angelica Arguello Villegas 3-6, it spelt curtains for the Indian's slim hopes of replicating Sakshi and win a bronze through the repechage process.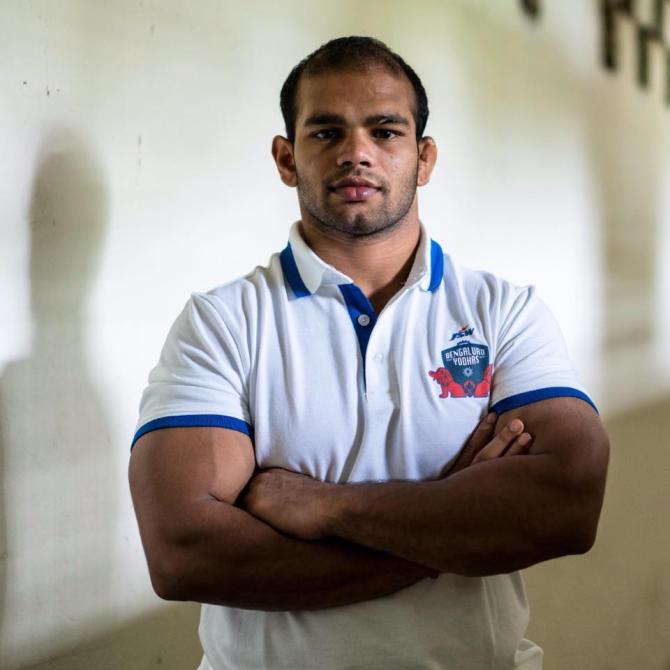 IMAGE: Indian wrestler Narsingh Yadav.
But in a massive disappointment for India, Narsingh's verdict marked a painful end to the sordid controversy which began with the wrestler failing a June 25 test.
The 27-year-old's name had appeared in the official Olympic schedule after he underwent the mandatory weigh-in. He was to take on France's Zelimkhan Khadjiev in the qualification round but the CAS verdict has dashed all his hopes.
In a stunning reversal of fortunes, Narsingh was ousted from the Games and slapped with a four-year ban for flunking a dope test after Court of Arbitration for Sports overturned the clean chit given to him by the National Anti-Doping Agency.
The World Anti-Doping Agency (WADA) had appealed against the NADA all-clear to Narsingh at CAS, three days ahead of his scheduled opening bout at the Olympics.
The embattled 74kg category grappler had maintained all along that his scandalous dope test was a result of conspiracy by rivals who spiked his food or drinks.