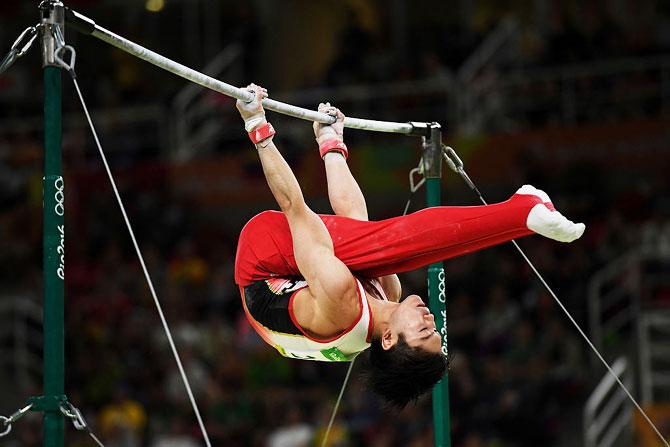 IMAGE: Kohei Uchimura of Japan competes on the horizontal bars during the men's Individual All-Around final on Day 5 of the 2016 Olympics at the Rio Olympic Arena on Wednesday. Photograph: Matthias Hangst/Getty Images
Kohei Uchimura left it late -- very, very late -- before a heart-stopping horizontal bar routine lifted him into the pantheon of greats as he became the first gymnast in 44 years to win back-to-back Olympic all around titles on Wednesday.
In the end, all it took was a razor-thin 0.099 of a point to separate triumph and disaster.
Going into the final round, it seemed as if the unthinkable would happen and the man who has been unbeaten in the event since picking up a silver in the 2008 Olympics would be knocked off his perch by Ukraine's Oleg Verniaiev.
In a high quality contest, Verniaiev led the standings from the third rotation and held a 0.901 of a point lead over the Japanese great ahead of the final apparatus, the horizontal bar.
When Uchimura, who fell from the bar during qualifying, earned 15.800 with his high-flying routine that drew a chorus of "oohs" and "ahhs" each time he performed one of his four release and catch manoeuvres, it left Verniaiev needing to overhaul a target of 14.899.
Verniaiev raised his fist after completing his dismount with a wobble and clutched the Ukrainian badge on his vest as he urged the crowd to cheer him as he waited for his score to flash up on the giant screen in the Rio Olympic Arena.
When a score of 14.800 denied him the top prize by the narrowest of margins, he gave a rueful smile and raised both palms upward as if to say "What more could I do?"
There is not much you can do when you run into a man who is fast running out of fingers to count the number of all around titles he owns.
"Six world championships and two Olympic wins in eight years is a great victory. I've raised the bar," said the champion, who unfurled eight fingers one-by-one to confirm his haul.
Verniaiev simply could not have done more.
"I am disappointed. I was so close to gold. I've never trained so hard for an event," the Ukrainian said.
"I said after the worlds I'd beat him in Rio. Now I say I'll beat him next time."
Uchimura became only the fourth man, and the first since his compatriot Sawao Kato in 1972, to win successive golds in the event that tests skills across six apparatus.
He won with a total of 92.365. Max Whitlock become the first British man in over a century to win a medal in the event after picking up bronze with a total of 90.641.