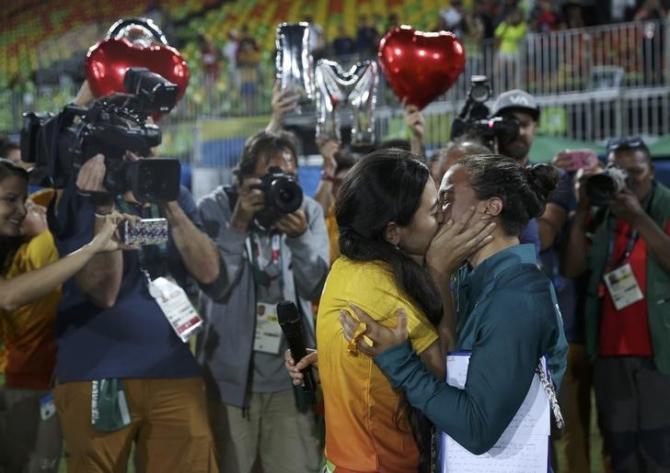 IMAGE: Rugby player Isadora Cerullo (BRA) of Brazil kisses Marjorie, a volunteer, after receiving her wedding proposal on the sidelines of the women's rugby medal ceremony at the Rio Games on August 9. Photograph: Alessandro Bianchi/Reuters
Dressed as a mermaid with shells covering his nipples, Brazilian Murilo Sousa voiced hope that the record number of openly gay athletes at the Rio Games would boost acceptance in his South American nation, amid a backlash over same-sex marriage.
Wearing a fishy tail made of silver fabric, Souza won a competition for the best mermaid at the Danish Olympic Delegation's pavilion on Ipanema beach on Sunday, a night of fun to celebrate diversity at the Games.
"The LGBT community in Brazil is going to have another face besides Carnival. Now we will (be identified with) sport which is healthy, constructive, educational," he said, expressing hope that homosexuality, a taboo issue in traditional Brazilian families, could now become a topic of dinner conversation.
"Right-wing politicians are attacking the LGBT community very hard," Sousa said.
Same-sex marriage had already made Games headlines after the stadium manager for the women's Rugby Sevens tournament proposed to her girlfriend, a Brazilian player, after the medals ceremony.
According to Outsports magazine in July, the Rio Games has set the record for the highest number of openly gay athletes participating with 49, double the number of London in 2012.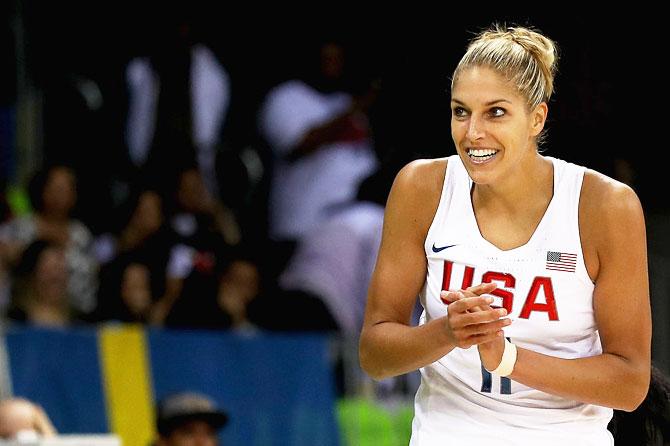 IMAGE: USA basketball player Elena Delle Donne is one of the many openly gay athletes at the Rio Games. Photograph: Rob Carr/Getty Images
The coming-out of world-class athletes, such as US basketball player Elena Delle Donne who announced her engagement to a woman days before the Games, raised the visibility of the gay cause, said Sousa, a visual artist.
Brazil's Supreme Court ruled in 2011 that same-sex couples in stable relationships had the same rights as heterosexual couples in regard to retirement benefits, inheritance and alimony.
But the conservative Congress, which has a strong Evangelical Christian lobby, has opposed legalisation for same-sex marriages. Evangelicals are instead backing a family bill that would define marriage as a union between a man and a woman.
The lesbian, gay, bisexual and transgender (LGBT) community hopes the high-profile example of Olympic athletes can help change attitudes in the majority Catholic nation.
"This mega event gives us this opportunity to have a bit of visibility," said Juno Griz, attending the mermaid competition with her girlfriend.
"It sends the message that we exist and we have a voice and we deserve a voice that cannot be denied."
Anders Garde Kongshaug, an organizer of the event, said Denmark's delegation wanted to promote openness and toleration.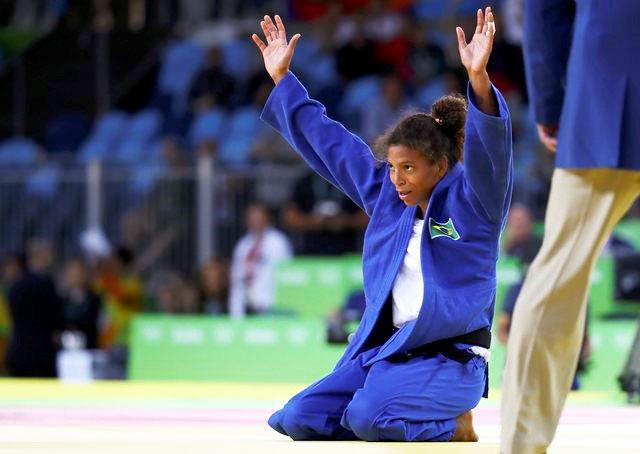 IMAGE: Brazil's gold medal-winning Judoka Rafaela Silva. Photograph: Kai Pfaffenbach/Reuters
"We want to contribute now to the Olympics, saying no matter what happens with the political situation, we believe in the human," he said.
Brazil's first gold medalist in Rio, women's judo winner Rafaela Silva, is in a same-sex relationship and has been feted as a national hero.
Two days after her flawless performance turned her into a national hero, the 24-year-old discussed for the first time in public her relationship of three years with her girlfriend.
Silva's girlfriend, Thamara Cezar, handles her public image on social media, cooks for her and looks after their three dogs, the athlete told Globo Sports television channel.
"She is here for me with everything I need in day-to-day life and so she was very important too in winning the medal," Silva said. "I don't know how to do anything except fight."
Brazilian rugby player Isadora Cerullo melted hearts last week when she accepted a marriage proposal from her girlfriend at the inaugural women's rugby sevens tournament.
International Olympic Committee (IOC) spokesman Mark Adams said the marriage proposal exemplified the IOC's efforts to promote tolerance and end discrimination in sport.
"This takes it even further. It's a celebration of that and it certainly made me feel good," he said.