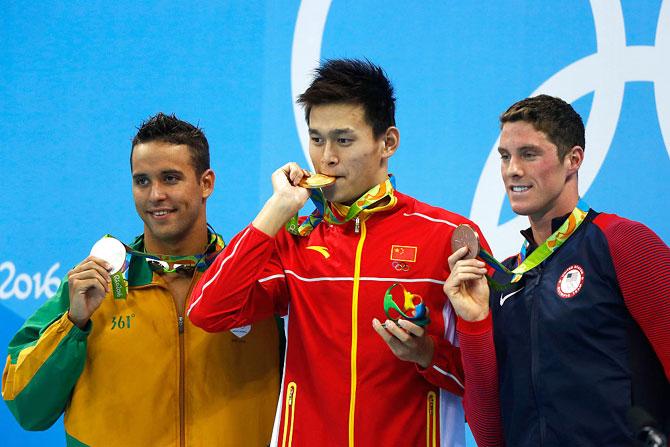 IMAGE: Silver medalist Chad le Clos of South Africa, gold medalist Yang Sun of China and bronze medalist Conor Dwyer of the United States pose on the podium during the medal ceremony for the Men's 200m Freestyle Final on Day 3 of the Rio 2016 Olympic Games at the Olympic Aquatics Stadium in Rio de Janeiro, Brazil, on Monday. Photograph: Clive Rose/Getty Images
A scarcity of gold medals in the first few days of the Olympics is leading China to reflect on its past obsession with finishing first, amid agreement that being champion is no longer everything.
The country, which four years ago finished second in the medal table to the United States with 38 golds, ended the first day of the Olympics without a single triumph and has had to settle for silver and bronze in such events as swimming, shooting and gymnastics which it dominated at previous games.
But whereas former Olympic gymnast Li Ning suffered vitriolic criticism after failing to win a medal at the 1988 Seoul Olympics after his six-medal haul in 1984, sports people such as swimmer Sun Yang and shooters Du Li and Yi Siling have this year been greeted with encouragement at home after not winning gold.
"As our attitude matures, and we know how to better appreciate competition, we will be able to openly applaud our rivals to reflect our great country's confidence and tolerance," said a Sunday post by state broadcaster CCTV, titled "When we are no longer obsessed with gold medals."
"While gold is still needed to boost morale, we also need to challenge and surpass ourselves," said the post on China's Twitter-like Weibo service, which was shared close to 12,000 times.
So far in Rio the country has won 13 medals, five of them gold.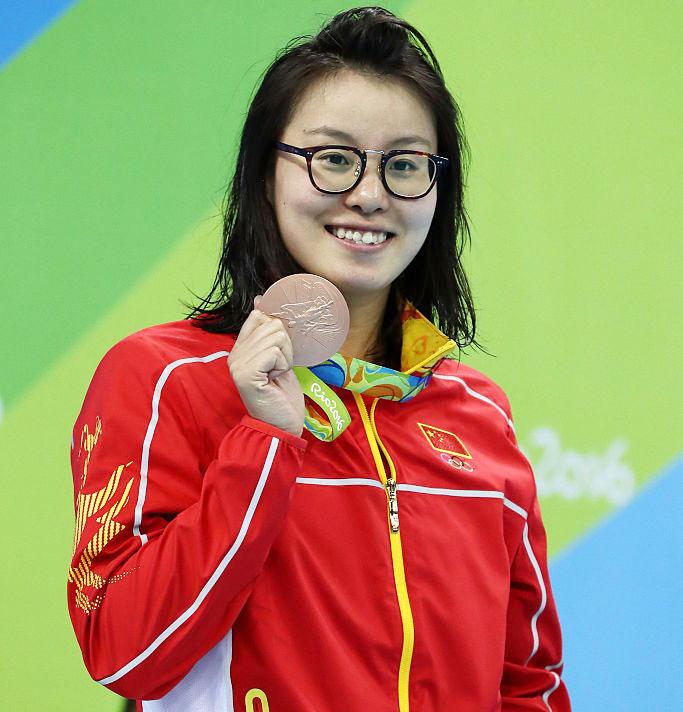 IMAGE: Bronze medalist Yuanhui Fu of China on the podium during the medal ceremony for the Women's 100m backstroke final on Monday Photograph: Al Bello/Getty Images
Reinforcing the changing attitude, swimmer Fu Yuanhui became an online sensation in China after she candidly reacted to her third-placing in Monday's 100 metre backstroke women's final with glee rather than a solemnity that has come to be expected of Chinese Olympians.
Fu, who had thought that she had failed to win a medal, gasped joyfully when told by a television reporter that she had actually won bronze, saying, "I think that that's not bad at all...even though I didn't win first place today I've already surpassed myself and I am happy with that."
"She is so popular because she is authentic, and also our sport has been kidnapped by an utilitarian and gold-medal-focused strategy," said user lianpeng on Weibo of Fu.
"Everyone already dislikes the false, empty and characterless 'thank the motherland' responses and don't want to put our athletes under more pressure."
Chinese athletes swept to the top of the gold medal table at the 2008 Beijing Olympics, a feat accompanied by a wave of national pride, the culmination of China's '100 year dream' to host the world's most prestigious sports event.
Previous Chinese gold medallists have enjoyed gifts of apartments and cars, as well as copious media coverage, while other medallists have faded into the background. In 2008, the sports ministry said it would award gold medallists $51,000 each and did not comment on whether others would receive anything.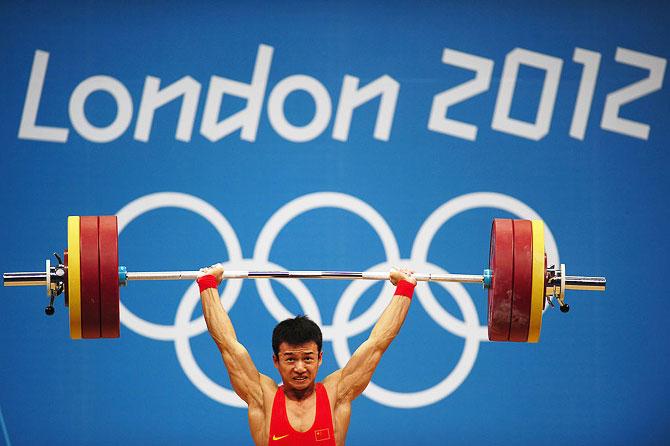 IMAGE: Jingbiao Wu of China competes in the Men's 56kg Weightlifting at the London 2012 Olympic Games. Photograph: Laurence Griffiths/Getty Images
Reflecting the pressure on these state-sponsored athletes, in 2012 Chinese weightlifter Wu Jingbiao apologised for "shaming the motherland" after winning silver in London.
But the country's leaders have urged its citizens to ditch the obsession with gold medals, saying that it encourages corruption in sports, especially within soccer which has been hit by match-fixing scandals. Still, while fans at home are pledging greater tolerance for worse-than-expected performances at this year's Olympics, the message is likely to take far longer to trickle down to the athletes, most of whom are completely financially reliant on the state and face great pressure to reach the top of their sport.
"It doesn't matter whether it's the silver or bronze medal," gymnast Liu Yang told Reuters after China lost their men's team gymnastics title to Japan and settled for bronze.
"As long as it's not the gold medal it's the same."