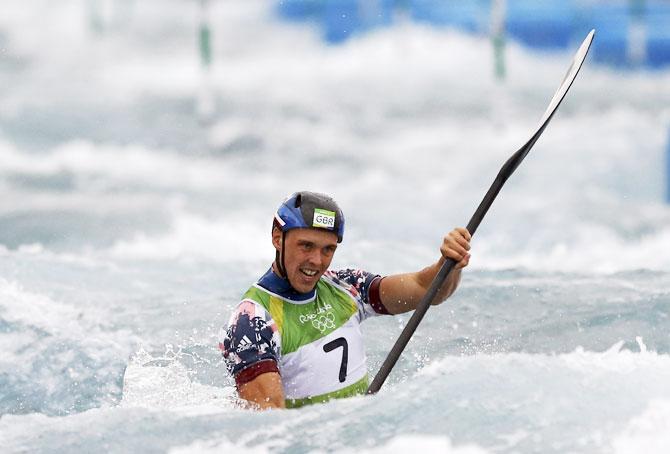 IMAGE: Joseph Clarke (GBR) of United Kingdom competes in the Men's Kayak (K1) semi-final at Whitewater Stadium on Wednesday. Photograph: Ivan Alvarado/Reuters
Dark clouds and drizzle were just what Britain's Joseph Clarke needed to make him feel at home and win gold on the frothy whitewater of Rio's K-1 slalom course on Wednesday.
Clarke, 23, was a long shot for the Olympic title as he came into the competition ranked 21st in the world, but the chill and gloom suited him well as he negotiated the 24 gates after several scorching days in Rio.
"Conditions today were fantastic," he said. "British weather (had) come."
Clarke won by a fraction of a second, completing the course in 88.53 seconds, over second-place finisher Peter Kauzer, 32, of Slovenia, who clocked in at 88.70 seconds.
The CzechRepublic's Jiri Prskavec, 23, took bronze.
"There's no specific area where I was amazing," Clarke told reporters after the competition.
"It's a sport (in which) time comes and goes."
Both Kauzer and Prskavec had been ranked higher in the International Canoe Federation standings, at fifth and 11th, respectively.
The athletes heaped praise on the Deodoro Whitewater Stadium, a bright spot in an Olympics that has been dogged by complaints over infrastructure and security.
Clarke called the venue "one of the best in the world".
Brazil's Pedro da Silva, 23, said he put in his personal best performance, finishing sixth in front of a wildly enthusiastic home crowd.
Talking to reporters, da Silva beamed and applauded his fellow competitors as they stepped onto the podium to accept their medals.
"The atmosphere is so good and I'm so happy," said da Silva.
"I'm really happy about this."