'Aggression is very important.'
'In the new scoring system the judges are more impressed if you land more punches and fight more aggressively.'
Shiva Thapa, the only Indian boxer to make it to the Rio Olympics, tells Harish Kotian/Rediff.com how he plans to make it count at the Games.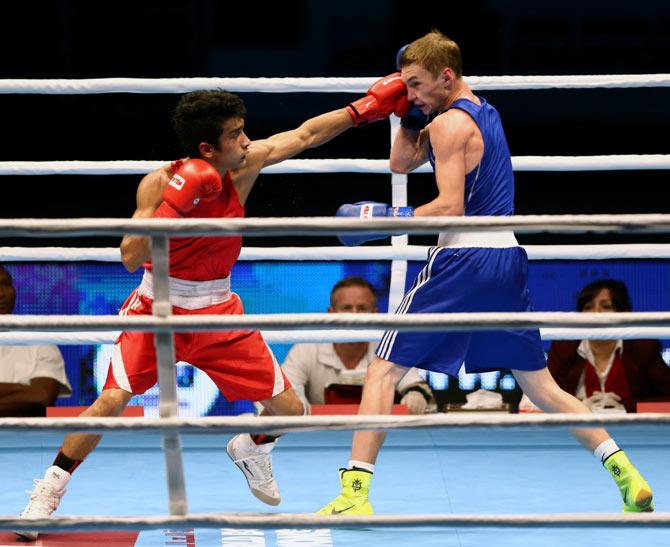 IMAGE: Shiva Thapa, left, lands a punch on Dzmitry Asanau of Belarus in the third place play-off in the men's bantamweight 56-kg category at the AIBA World Boxing Championships Doha 2015 in Doha, October 14, 2015. Photograph: Warren Little/Getty Images
Shiva Thapa is the only Indian boxer who will feature in the 2016 Olympics.
The 22 year old qualified for his second Games after finishing second in the Asia-Oceania Olympic qualifiers in China in April.
In 2012, Thapa became the youngest Indian boxer to qualify for the London Games. His Olympics debut ended in disappointment when he was beaten in the first round of the 56-kg bantamweight category by Mexico's Oscar Valdez Fierro.
The Assam-born lad is confident of a better performance at Rio.
Thapa proved his credentials by winning a bronze medal at the World Boxing Championships in Doha last year and then claimed a silver at the Asia-Oceania Olympic qualifiers in April. He is currently ranked No 6 in the world.
Thapa spoke with Harish Kotian/Rediff.com in Mumbai on Monday, May 30, after being felicitated by Olympic Gold Quest along with other Rio-bound athletes.
Was it a big relief securing qualification considering the problems the Indian Boxing Federation has gone through in the last couple of years?
It is a big relief that I qualified for the Olympics through the Asian Qualifiers. I was focussing on the Worlds, where I won a bronze medal (in October last year). I was very hopeful that I would have qualified at that time, but it didn't happen then.
Having won a medal at the world level I was very confident. I kept working hard in training to ensure that I do well at the next qualifying event, which was the Asia-Oceania Olympic Qualifier event.
I was aiming to qualify for the Rio Olympics at the Asian Qualifiers and was able to do that.
I worked hard on my mistakes at the World Championships and was happy to make it to Rio.
You were just 18 when you competed in the London Olympics. Can you share some experiences of that Games?
London was a very big thing for me in terms of gaining experience and learning. It was always a dream for me to compete in the Olympics, so to qualify for the Olympics was a big thing for me at that point. I learned a lot from that experience.
I lost in the first round in London, but apart from that disappointment I learned a lot from staying with the athletes in the Games Village, speaking to them and listening to their experiences of competing on such a big stage.

Four years have passed. Since losing in the first round at the London Olympics I have only got better and competed in other major events, like the Asian Games, Commonwealth Games and World Championships.
My target for this year's Olympics was to first qualify, which I achieved in the Asian Qualifiers, then prepare well and give it my best shot in Rio, which is not very far at the moment.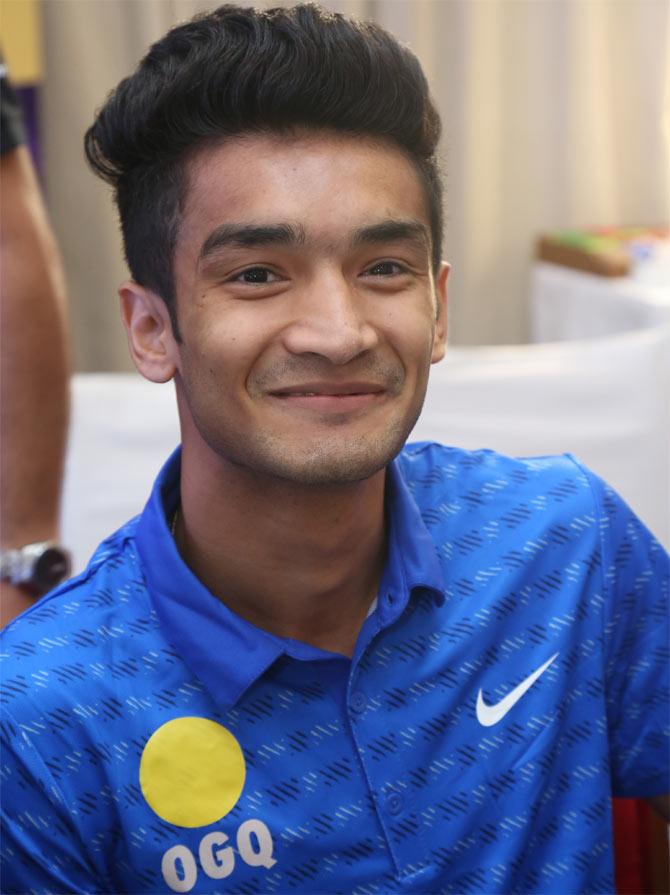 IMAGE: Shiva Thapa during the Olympic Gold Quest event in Mumbai, May 30, 2016.
I remember your tears when you lost in London. What did you learn from that experience?
It hurt a lot. Losing in the first round was a big shock. My family supported me a lot during the tough times, the coaches also helped me get back after that defeat.
My dad motivated me by saying qualifying for the Olympics is in itself is a big thing and to do it at the young age of 18 is something special.
He told me to learn from my failures and prepare well for the next Olympics. I have followed his advice and am training hard for Rio.
How did you blank your mind from the problems our boxers face because of the Indian Boxing Federation's suspension? How tough was it to train and keep your focus on the training?
After the London Olympics, things are different, but we athletes can only focus on making ourselves better every day.
If the problems were solved in time it would have been much better. The team would have got a chance to participate in more tournaments abroad in the last four years. I am hoping the issue is resolved at the earliest.
I am quite positive at the moment and just working hard on my boxing. The only thing on my mind at the moment is the Olympics.
How good is it to have an organisation like Olympic Gold Quest to take care of all your needs?
It is very important to have a support system in place. Olympic Gold Quest has supported me a lot, since I was a 16 year old, in 2010. They have given me a lot of assistance.
Before the World Championships they sent me to Kazakhstan. That training was very important and crucial for me, because after that competition I went to the World Championships and won a bronze medal.
It is very important to get support, something which I have got non-stop from Olympic Gold Quest in the last six years.
You have said you will work on your aggression ahead of the Olympics.
Aggression is very important because, as you know, in the new scoring system the judges are more impressed if you land more punches and fight more aggressively and not resort to counter-punching.
You need to keep throwing punches, but at the same time the punches should land on the target in a very aggressive fashion.
In the past, it was just on points and no matter how hard you hit, if you just landed a punch you used to get points.
Under the new scoring system of 9-10, you have to be very aggressive, and the punches also have to be aggressive and strong.
I am focusing on my aggression. If you noticed, at the World Championships there was a change and my punching was much the same in the Asian Qualifiers.
So I am improving in every competition, giving my best and looking to change my style as much as I can.
How do you plan to train for Rio? Will you be going abroad?
We recently trained in Kazakhstan, after that we took part in the World Championships followed by the SAFF Games.
Then we had a competition in China and after that took part in the Asian qualifying tournament followed by a three-week training camp for the Indian boxing team in Dublin.
In the next couple of months I will continue to focus on my training and look to improve myself.
What do you feel about the world body (AIBA) considering a proposal to include professional boxers in the qualifying tournament for the Rio Olympics?
I have heard that they might include pro boxers, but it has not been officially announced. I think this is something I cannot digest.