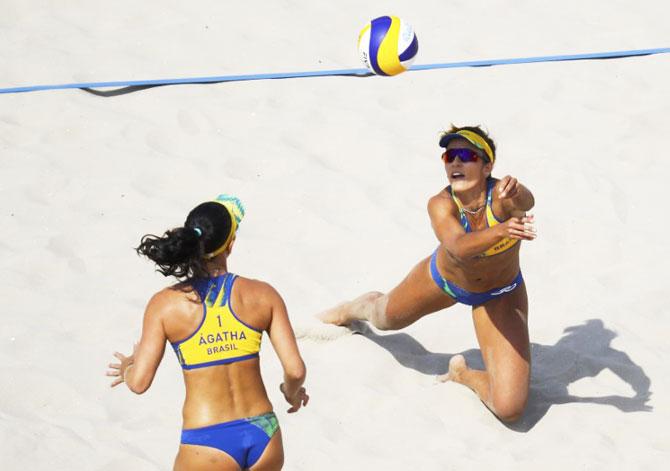 IMAGE: Barbara Seixas Figueiredo of Brazil and teammate Agatha Bednarczuk compete in their women's beach volleyball match on Monday. Photograph: Kai Pfaffenbach/Reuters
Brazil's male and female beach volleyball pairs enjoyed mixed results on Monday, with the men losing to Austria but the women crushing Argentina to book a place in the final 16.
Both pairs are considered gold medal favourites on their home sand, but male duo Alison Cerutti and Bruno Schmidt lost to Austria's Alexander Horst and Clemens Doppler 23-21, 16-21, 15-13.
Austria, reeling from a straight sets defeat against Italy on Saturday, fed off a hostile crowd to rumble the Brazilian pair with slick serving and confident spikes.
''Today we really enjoyed it... It was actually good that all the audience was against us. It was more motivation,'' said Doppler.
''We were fighting for every ball.''
Brazil's Cerutti gave full credit to the Austrians for disrupting their flow and said his duo would pick themselves up for their now must-win match against Italy.
Earlier in the day, Brazil's Agatha Bednarczuk and Barbara Seixas crushed Argentina in straight sets to qualify for the final 16, drawing on a lethal serve and the rapturous home crowd to seal an easy win.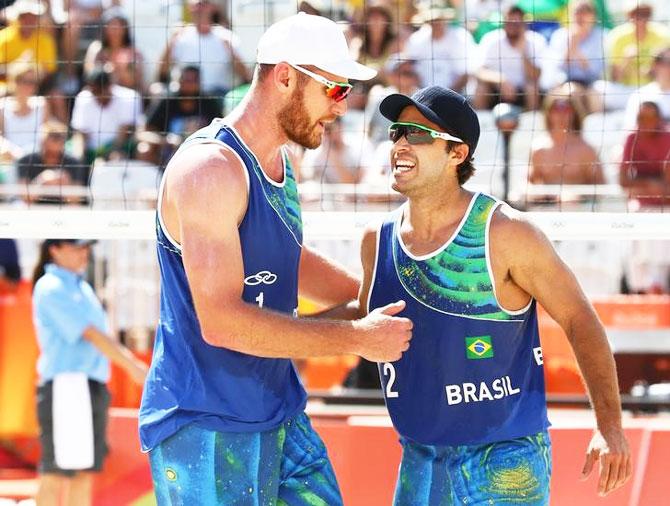 IMAGE: Alison of Brazil and Bruno Oscar Schmidt react during their match. Photograph: Ruben Sprich/Reuters
A huge spike from Seixas sent the sand swirling on the first point and set the tone for a 21-11, 21-17 victory in just 40 minutes.
Argentina's Ana Gallay and Georgina Klug fought hard in the second set, taking the lead early on. But a thunderous serve from Seixas to level at 9-9 shifted the momentum back to the Brazilians.
Seixas followed up with a sequence of aces that brought the crowd to their feet. ''I am Brazilian, with much pride and much love,'' they sang in full voice, with many waving the green and yellow national flag.
Another strong serve by Seixas finished the match. The Brazilian pair then waved kisses to the crowd before embracing fans in the front row and posing for selfies.
''We came into this game calmer... Barbara and I have played together for six years, there's great chemistry between us and we always know where the other is,'' Bednarczuk told Reuters after the match.
''We didn't want to give them a chance.''