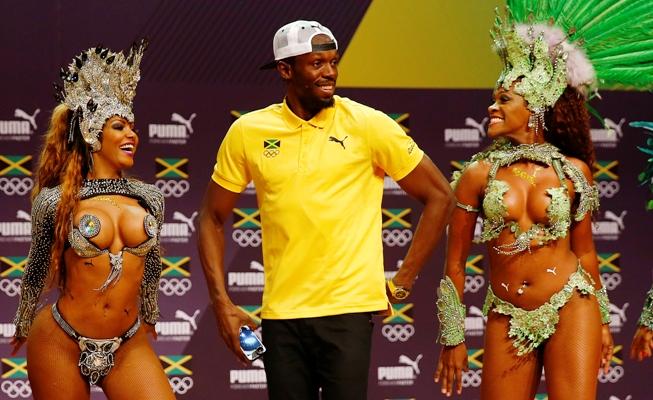 IMAGE: Usain Bolt dances samba at a press conference in Rio de Janeiro. Photograph: Nacho Doce/Reuters.
Usain Bolt has somewhat skewed the picture by making it look so easy but when it comes to retaining an Olympic athletics title, history shows that it is an extraordinarily difficult thing to achieve.
Four years ago Bolt became the first man to win back-to-back 100metres golds on the track (1984 champion Carl Lewis was awarded the 1988 gold after Ben Johnson was disqualified) then repeated the deal with the 200m and 4x100m relay.
He, along with compatriot Shelly-Anne Fraser-Price (women's 100m), Tirunesh Dibaba (women's 10,000m), Valerie Adams (women's shot put) Tomasz Majewski (men's shot) and Barbora Spotakova (women's javelin), will be seeking to make it three in a row in Rio, while several other 2012 champions will seek to retain their titles.
British athletics fans will forever remember 2012's "Super Saturday" when Jessica Ennis, Greg Rutherford and Mo Farah won gold within 45 minutes on a landmark night and all three are in Rio and could produce similar fireworks on Aug. 13.
Farah is bidding to become the second man after Finn Lasse Viren (72-76) to retain both the 10,000m and 5,000m titles but the figures suggest the chances of all three Britons standing on top of the podium again are slim.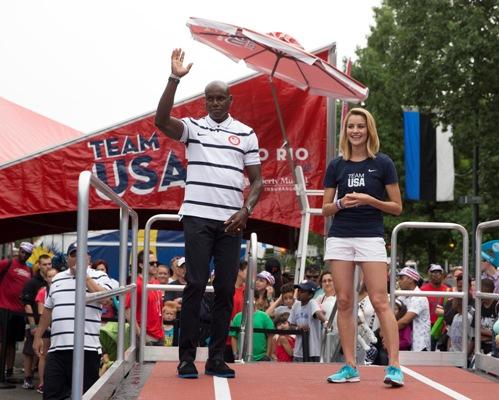 IMAGE: Olympic medalist Carl Lewis gives a quick lesson on how to long jump to Olympic medalist Tanith White during the Team USA Road to Rio Tour. Photograph: Mitchell Leff/Getty Images for the USOC.
Famed track and field statistician Mel Watman took a close look at the situation for Britain's Athletics Weekly magazine and revealed that since 1948 fewer than 10 percent of individual events have been successfully defended.
In that time there have been 58 back-to-back winners in 612 events (373 for men, 239 for women).
Lewis in the long jump (1984-96) and American discus thrower Al Oerter (56-68) are the only athletes to have won four in a row.
Soviet triple jumper Viktor Saneyev (68-76) and Polish racewalker Robert Korzeniowski (96-04) managed three but nobody has done it on the track.
In each of the Games of 1972 and 2004 there was only one successful defence, whereas in 2012 there were seven, with the six athletes responsible (two for Bolt) all gunning for a third in Rio. The figures are slightly thrown by the boycotts of 1976, 1980 and 1984, but the general message is clear -- it is not easy.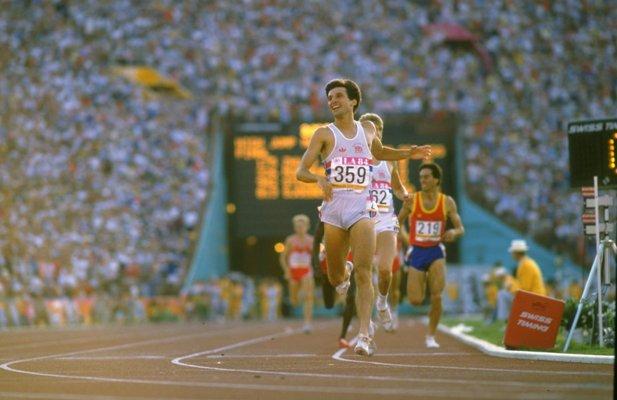 IMAGE: Sebastian Coe crosses the finishing line to win the gold medal in the 1500 Metres at the 1984 Olympic Games in Los Angeles. Photograph: Steve Powell/Allsport.
One man who knows how tough it is, because he achieved it, is IAAF president Sebastian Coe, who won the 1,500m in 1980 and again in 1984.
"There will be some great defenses here but it is extraordinarily tough," he told Reuters. "You have to retain your form and your health.
"For someone to complete a treble you are effectively talking about eight years or more at the top and that's what makes the difference between the good and the great.
"Daley Thompson (who won back to back Olympic decathlons in 1980 and 84) was undefeated from 1978 to 1987. That is gripping it by the throat and making the event your own."