- 'Brazil isn't all about lack of planning, overpricing and with no commitment to dates and times. There is a part of Brazil that operates properly.'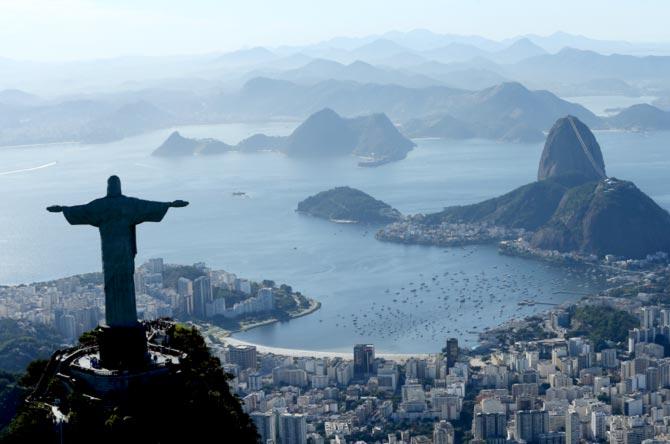 Image: Aerial view of Christ the Redeemer, Flamengo Beach, the Sugar Loaf and Guanabara Bay with one year to go to the Rio 2016 Olympic Games. Photograph: Matthew Stockman/Getty Images
Brazil's economy is heading for recession, the President is threatened with impeachment and a huge corruption scandal has engulfed the nation but Rio de Janeiro is riding a wave of confidence in its preparations to host the Olympics next year.

The Games start on August 5, 2016 and most of the work will be completed on time, Pedro Paulo, the man coordinating the city's Olympic projects, said.

"Nothing is behind schedule when it comes to the Rio de Janeiro Olympics," Paulo said. "City hall has prepared to host the Games from an economic and fiscal point of view."

That claim, while impossible to verify, is welcome because of the contrast with the soccer World Cup, held last year in Rio and 11 other Brazilian cities.

Work on most of the stadiums was behind schedule and some of the promised infrastructure and transportation projects were never completed.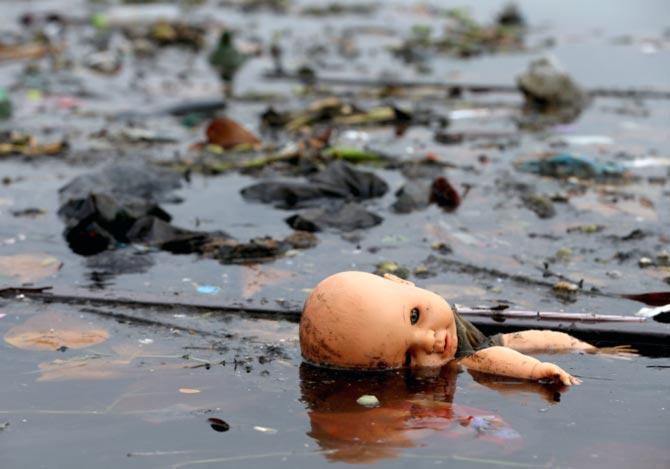 Image: Pollution floats in Guanabara Bay, the venue of sailing events for the Rio 2016 Olympic Games. Photograph: Matthew Stockman/Getty Images
The debacle cast doubts on Brazilian organisation but rather than suffer, Rio appears to have learnt valuable lessons.

The Olympic village is 84 percent complete, and the swimming pool, media centre and the three arenas that will host six indoor events are all more than two-thirds ready, according to numbers released by the Foreign Ministry.

Among the venues where most work is needed are the velodrome and the hockey pitches, which are only half completed.

Work on temporary venues for the rugby and beach volleyball is still to begin, as are final alterations to the track and field stadium and the Maracana, where the opening and closing ceremonies and the soccer finals will take place.

A new metro line out to Barra da Tijuca, where many of the events will be held, is on schedule as are new bus lanes, officials say.

"Brazil isn't all about lack of planning, overpricing and with no commitment to dates and times," Mayor Eduardo Paes said. "There is a part of Brazil that operates properly."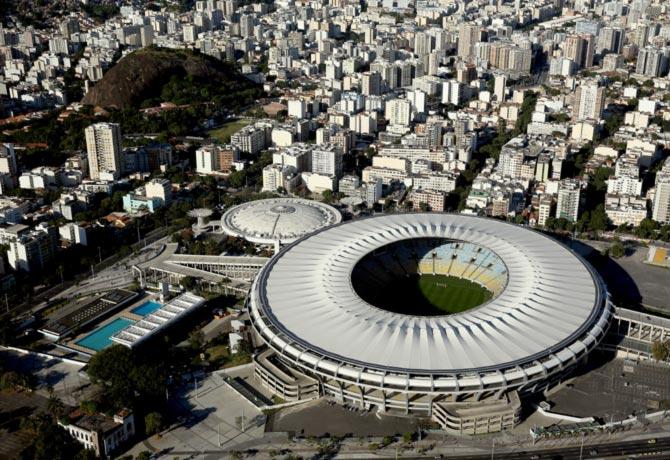 Image: The Maracana Complex is shown with nearly one year to go until the Rio 2016 Olympic Games, on July 21, 2015. Photograph: Matthew Stockman/Getty Images
The biggest issues now surround water and possibly money.

The waters off the Atlantic coast have been filthy for decades and Rio promised to reduce pollution by 80 percent in the bay where sailing, triathlon and open water swimming will take place.

But independent studies released last week showed dangerously high levels of viruses and bacteria and officials admit they will not meet that target.

Money, meanwhile, is not yet an issue but could be as Brazil's economy stalls. Accentuating matters is a huge corruption scandal known by the code name 'Car Wash' that has put some of the country's biggest construction bosses in jail.

At least five of the companies are working on Olympic projects and credit lines have dried up as uncertainty swirls around their future.

City officials said they have acted like a bank, advancing cash to affected companies to prevent a slowdown, but stressed the problems will not affect the 38 billion real ($10.96 billion) spending.

"There is no 'Car Wash' here," said Paulo. "Our projects are on time, the price is set, there are no projects that cost twice what they were at the start."

Despite the confident assessment, there are several reasons to question the sunny optimism.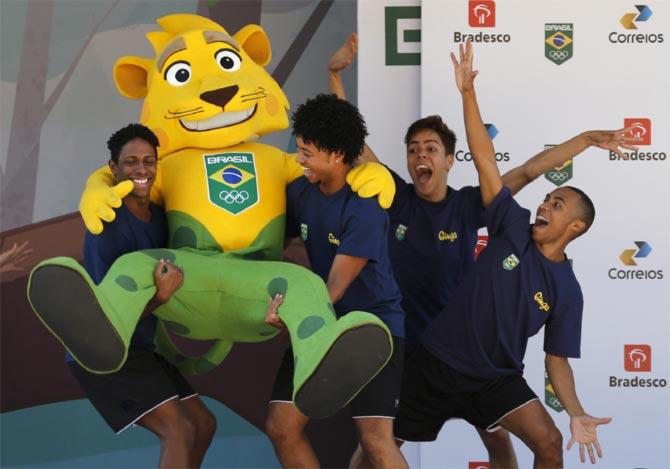 Image: Dancers carry Brazilian olympic team mascot, Ginga, during the celebration of Olympic Day at the Maria Lenk aquatic center in Rio de Janeiro, on June 23, 2015. Photograph: Sergio Moraes/Reuters
Rio vowed to build 54km of metro lines, a city ring road and a new state highway when it hosted the 2007 Pan American Games but none of the roads were built and not one km of metro line was added.

The Olympic Public Authority in charge of coordinating spending on the Games did not respond to questions about how much of the total work had been finished but it is almost certainly less than for the London Olympics four years ago.

Paes said he would only release updated numbers on Wednesday which marks exactly one year to go before the Games begin.