Coach credits a gruelling speed rubber training regimen for Dutee Chand's two silver medals at Asian Games.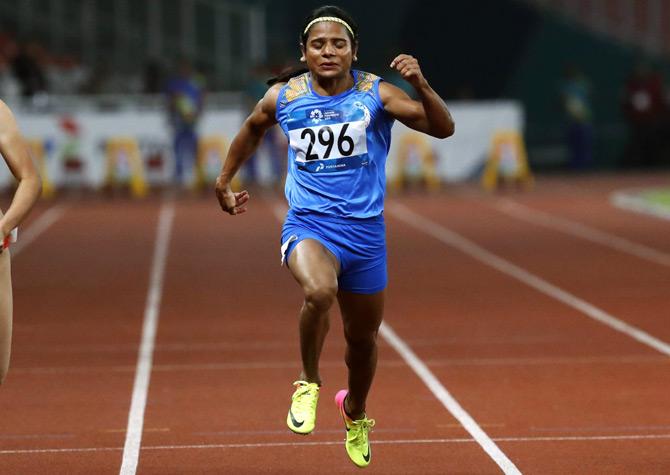 She may be short in stature, but India's sprint queen Dutee Chand makes up for the deficiency with quick strides.
The 5'3" sprinter from Odisha finished a creditable second in the 100 and 200 metres at the Asian Games, her 100m silver being India's first in 20 years.
The triumph on the track healed some of the psychological wounds she suffered while fighting for identity in the hyperandrogenism case at the Court of Arbitration for Sports (CAS).
Her coach, N Ramesh, credits a gruelling speed rubber training regimen for the two silver medals at the Games in Jakarta.
"Her start is natural; she has got very good frequency (of steps), so we worked hard on the first 30-40 metres. This season I asked Dutee to practice with the speed rubber to enhance speed," he said.
The regimen involves wearing a band just above the knees to increase resistance while performing training drills and work-outs. The drill is believed to enhance muscle power and agility which in turn helps the sprinter accelerate.
"If you do it regularly, it helps you run with the same intensity in the competition.
"It's not easy to maintain balance when you run with rubber tied to your body. It is very technical training. First you perform drills, then easy running and then high speed," he added.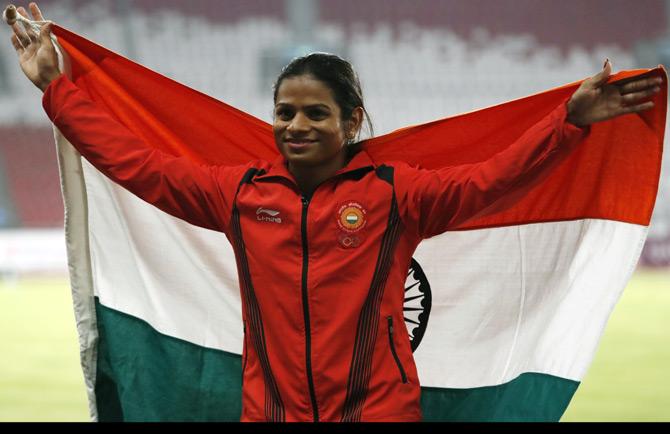 The 22-year-old from Bhubaneshwar started practicing with the rubber after the Guwahati Nationals in June this year.
"Before she started using rubber, she would cover 40 metres in 4.95 seconds and after using it, it came to 4.80s. In sprints like 10 metres it is crucial time," explained Ramesh.
The coach also stressed on the need to refrain from overdoing it.
"Hamstring conditioning is very important before you use it. The warm-up is very crucial. The athlete should also be intelligent enough to endure and manage the pressure.
Ramesh is proud of his ward. He says she has immense fighting spirit.
"When India's 100 metres history sheets will be looked at, it will show that before her medal there was just one silver and two bronze in 17 editions since 1951 (It is actually two silver and bronze). This medal has come after 20 years. Full credit to Dutee! She fought on the track and in her life too."
Dutee holds the National record of 11.29 seconds. Ramesh is now targeting a sub-11 time in the run-up to the Tokyo Games.
"She is only 22; maturity will come. That's our aim; before Tokyo we want sub-11. With that time she will make the finals, at least."
Talking about the period between 2014 and 2018 when she was banned from running, he said, it was challenging for both of them.
"My role was crucial. If kids fail exams, the parents try to motivate them. Payoshni Mitra (Dutee's lawyer) supported her and took the case to CAS. That phase was challenging. I have seen failures and success of many athletes. There is a saying that a champion either wins or learns but never loses. She is that champion."
© Copyright 2022 PTI. All rights reserved. Republication or redistribution of PTI content, including by framing or similar means, is expressly prohibited without the prior written consent.