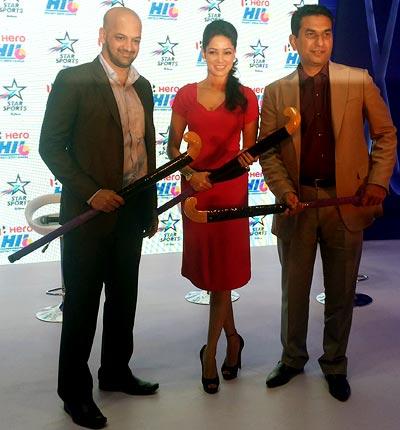 India and Pakistan must resume bilateral hockey ties as it will help in development of young players in the two countries, says Tahir Zaman. Harish Kotian reports.
Former Pakistan captain Tahir Zaman believes the resumption of hockey ties between arch-rivals India and Pakistan will prove beneficial to both countries and will also be a big boost for revival of the sport.
"I think resumption of ties will benefit both countries. I am trying to talk to both federations so that hockey ties can resume not only at the senior level but also at the junior level and also at other levels," Zaman said in Mumbai on Thursday.
Zaman, who was part of Pakistan's World Cup winning team in 1994, believes that regular matches between India and Pakistan will also make the players mentally strong as there is a lot of expectations from both sides whenever the two teams play.
"I think whenever India and Pakistan play there are a lot of expectations on players from both the teams and this helps boost their confidence if they perform well. The players are under a lot of pressure in these games and it helps to make them strong psychologically, which proves beneficial when they play against the other big teams in the world. So that is why I think we should resume matches," he added.
Meanwhile, Indian hockey is set for a massive windfall as Star India on Thursday committed to invest over Rs 1,500 crore in the sport for the next eight years.
Star Sports has entered into a partnership with Hockey India and the International Hockey Federation to promote the sport by hosting one FIH event every year in the country for the next eight years, including the 2018 Hockey World Cup.
"Sports broadcasters in India have traditionally invested only in cricket but shied away from committing such heavy investments in other games. We believe hockey has potential for growth but needs certain key ingredients to come together," Nitin Kukreja, head of sports business, Star India said in Mumbai.
Star Sports, who will telecast the second edition of the Hockey India League, has invested Rs 100 crore in the promotion and production of the tournament, which begins on January 25.
Former India hockey captain Viren Rasquinha believes such a huge investment will prove to be a boon for the sport, not just in India but across the world.
"A lot has changed in Indian hockey in the last two years post the introduction of the Hockey India League and a lot of money which has come in which is welcome news. Earlier, Indian players used to scout opportunities to play overseas for different clubs but now the reverse is happening," he said.
Image (Left to right): Viren Rasquinha, HIL anchor Vidya Malvade and Tahir Zaman.
Photograph: Harish Kotian/Rediff.com