Former Indian hockey team captain Dhanraj Pillay feels that resuming of India-Pakistan hockey test series should help both countries in regaining their foothold at the international level.
Pillay was in Kolkata along with other Olympians like Dileep Tirkey, Leslie Claudius, Gurbux Singh, Keshav Dutt, Bir Bahadur Chetri, Baljit Singh Saini among others.
The former Olympians came together to inaugurate country's first multi-sport synthetic turf in a school and played a friendly six-a-side match against the school with Pillay scoring a hattrick in a 3-3 draw.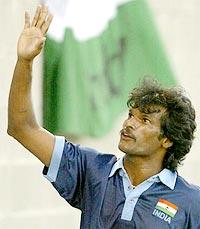 The Khalsa English High School side was led by New Zealand international Blair Hopping, a Tiger Turf official who laid the artificial surface.
Remembering about the once popular series, Pillay said, "Both the countries governments should take inititatives to resume the Test series. It will lead the revival of the sport in both the countries and they will gain the competitive edge that is essential if the two countries wish to regain their status in international hockey."
Pillay also gave his vote for the newly appointed India coach Harendra Singh and captain Arjun Halappa.
Pillay, who had openly shown interest in coaching the Indian hockey team, said, "I hope the team will do well under him (Harendra). Our aim will be to qualify for the Olympics and the performance upcoming tournaments will be important."
On Halappa, he said, "He is an experienced player and has the ability to lead a side that has huge responsibilities and great expectations."
Tirkey, who retired last year, said the Indian side is a young bunch and hoped that they will do well in the Azlan Shah Meet.
"This (Indian team) is basically a young side with a few seniors staying back. We can hope for a good performance from the side which is essential for the success in future," Tirkey said.