'Graham Reid's resignation is his personal decision but at the end of the day somebody has to take the blame for this awful show.'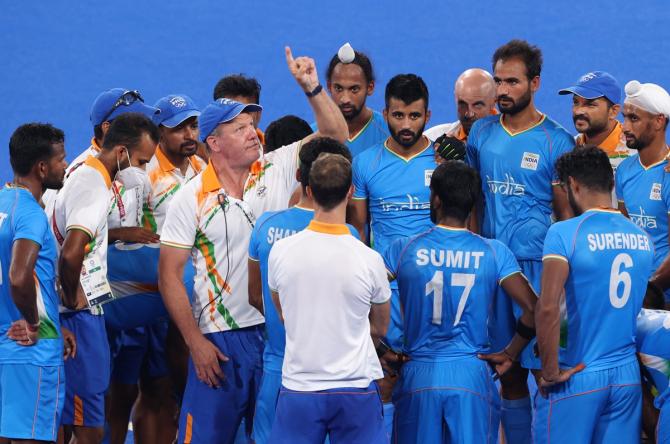 Legendary Ajit Pal Singh feels Graham Reid's resignation as chief coach will be good for the Indian men's hockey team as "change" was required after the home team's disastrous outing at the just-concluded World Cup.
Reid on Monday resigned from his position following India's early ouster from the showpiece, jointly hosted by Rourkela and Bhubaneswar.
The 58-year-old Australian submitted his resignation to Hockey India president Dilip Tirkey, a day after the conclusion of the World Cup in Bhubaneswar, where Germany beat Belgium in a penalty shoot-out to emerge as champions.
"Graham Reid's resignation is his personal decision but at the end of the day somebody has to take the blame for this awful show," Ajit Pal told PTI.
"Being Olympic bronze medallist, there was high expectations from India in this World Cup but we were just below-par in all departments. We finished a lowly ninth and I don't think we could have fallen any further. It is the worst performance from the team.
"Change is always for good and I feel Reid's resignation will be good for the Indian team. I feel we now want a person with new ideas, who can gel the team together once again," added the captain of India's only World Cup-winning side.
India, led by Harmanpreet Singh, eventually finished a disappointing joint ninth along with Argentina after defeating Japan 8-0 and South Africa 5-2 in classification matches.
Reid, who was appointed India coach in April 2019, led the team to a historic bronze medal finish at the Tokyo Olympics in 2021.
Reid's term was till next year's Paris Olympics.
Besides Reid, the team's analytical coach Greg Clark and scientific advisor Mitchell David Pemberton also tendered their resignations on Monday morning.
Ajit Pal, who led India to a maiden gold medal in the 1975 World Cup in Kuala Lumpur, also blamed the selectors for the shoddy performance.
"The selectors also should take some blame because the boys looked tired and fatigued in the World Cup. I feel there was no need to change the crux of the Olympic winning team," he felt.
"Where was the need to change the captain as well?"
Former India captain Sardar Singh, who is also a national selector, however, feels Reid's resignation came at the wrong time.
"Definitely Reid's resignation didn't come at the right time because we have the Asian Games this year and then Olympics next year. It now remains to be seen what Hockey India does. I hope Hockey India has a better person in their mind to replace him and take the team to the next level," he said.
"I don't know what's in Hockey India's mind, they might have had something in their minds before accepting Reid's resignation."
The former ace midfielder said the players also have to take some blame for the shoddy show.
"A coach is as good as players. The coach can only train you and make strategies but it is the players' responsibility to perform on the turf," Sardar said.
© Copyright 2023 PTI. All rights reserved. Republication or redistribution of PTI content, including by framing or similar means, is expressly prohibited without the prior written consent.