Outgoing Formula One champion Sebastian Vettel and Australian team mate Daniel Ricciardo were sent to the back of the grid at the season-ending Abu Dhabi Grand Prix on Saturday after stewards ruled Red Bull had used an illegal front wing.

FIA technical delegate Jo Bauer had referred the matter to the race stewards after post-qualifying checks indicated the cars were not in compliance with technical regulations.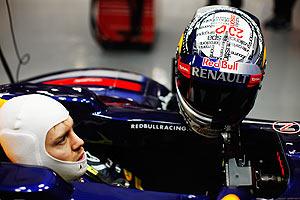 He reported that the front wing flaps were designed to flex under aerodynamic load, in a breach of the rules.

The stewards summoned a Red Bull representative and subsequently ruled that the cars should be excluded from the qualifying results.

Neither
driver is in contention for the title but Ricciardo is the only driver other than Mercedes pair of championship leader Lewis Hamilton and team mate Nico Rosberg to have won this season.
Ricciardo had qualified fifth, with Vettel sixth.
Sunday's race will be Vettel's farewell to Red Bull, with the quadruple world champion joining Ferrari next season.
Mercedes have already made sure of both championships, with Hamilton and Rosberg fighting for the drivers' crown on Sunday and starting on the front row.
Red Bull said they would accept the decision but were disappointed to have been "singled out" for punishment.
"It is clear that other teams are interpreting the rules in a similar fashion," they added in a statement.