Real Madrid's revenues exceeded 500 million euros for a second consecutive season in 2012-13, rising 1.3 percent to 520.9 million (436.7 million pounds), the world's richest club by income said.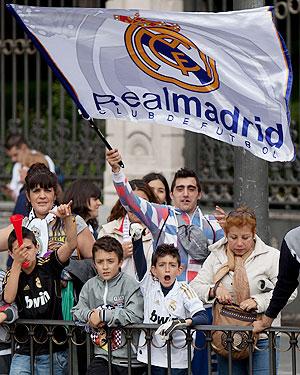 The La Liga giants made a net profit of 36.9 million euros, up from 24.2 million the previous season, Real said on their website.
Real topped Deloitte's annual ranking of the world's richest soccer clubs for an eighth consecutive year on the accounting firm's list for the 2011-12 season published in January.
Under president Florentino Perez they became the first sports club to exceed the threshold of half a billion euros, said Deloitte, who exclude player transfer fees, VAT and other sales-related taxes from their calculations.
Real's La Liga rivals Barcelona, the Spanish champions, were second with revenue of 483 million euros and English Premier League champions Manchester United were third with 396 million.
"Real have led the way in the phenomenal level of revenue growth enjoyed by the sport's top clubs over the past two decades," Deloitte said.
Photograph: Pablo Blazquez Dominguez/Getty Images