'Sport has the power to advance humanity and to help connect people, from individuals to communities to nations.'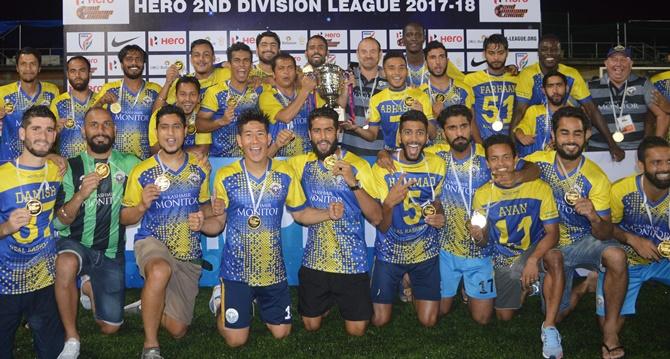 Real Kashmir FC on Thursday attended as a special guest a Football for Peace (FFP) event in London under the patronage of Albert II, Prince of Monaco.

The event is being held at London's Copper Box Arena in the Queen Elizabeth Olympic Park on Thursday.

Real Kashmir FC received the invitation for their work amidst social unrest.

A non-governmental organisation headquartered in London and supported by the United Nations Office on Sport for Development and Peace, FFP is a grassroots football movement with diplomatic impact, which brings people together and creates understanding through the beautiful game.

"It is my distinct pleasure on behalf of our co-founders FIFA and Chilean legend Elias Figueroa, an international footballer, Kashif Siddiqi - being 'Champions for Peace' under the high patronage of HRH Prince Albert II of Monaco, to deliver this letter to your honourable attention," FFP Chief Executive Officer Jay Jadeja said in the letter addressed to owners Sandeep Chattoo and Shamim Meraj.

Both the owners are attending the event.
"We would like to cordially invite you to attend our 'City for Peace' national celebrations as a special guest to see firsthand our contribution through football to offer an alternative to division."

Chattoo co-owns the club, the first from Jammu and Kashmir to play in the I-League, with Shamim Meraj.

"Sport has the power to advance humanity and to help connect people, from individuals to communities to nations.

"We are convinced FFP can be at long term service of peace and respectfully hope that you will be able to join us by accepting this invitation to attend the event where you will see and hear the impact firsthand of our work through our new young leaders' own personal journey," the CEO said in the letter.

The RKFC story began when Meraj came up with the idea of helping kids from his locality recover from the trail of devastation left by the floods in 2014.

They pooled some money together and bought a thousand footballs with it, and that is when the idea to start a football club struck Meraj. Overcome numerous issues, besides dribbling past opponents on the field, RKFC realised their dream last year what they made the top-flight.

The RKFC story goes well with FFP's philosophy.

"We believe football is uniquely placed to transcend the differences of nationality, ethnicity, religion and gender. We are living in a time, which has never been so connected and yet, ironically, has rarely been more divided.

"Fear of one another's culture, customs and beliefs have led to misunderstanding and isolation, leaving communities disenfranchised, facing pre conceptions and negative stereotyping," the FFP letter stated.