India's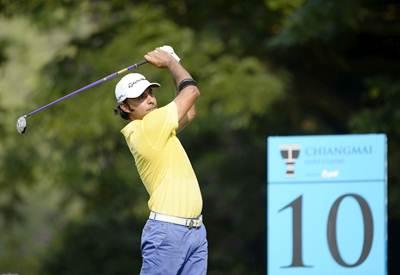 charged into contention with a flawless seven-under-par 65 to seize a one-shot lead at the half-way stage of the US $750,000 Chiangmai Golf Classic in Thailand on Friday.
The 2002 Asian Tour number one birdied the last two holes from close range for an 11-under-par 133 total, which was one shot ahead of local talent Thanyakon Khrongpha, who matched Randhawa's 65 after rolling in a 15-foot eagle on the last hole.
Scott Barr of Australia and Rashid Khan of India signed for matching 69s to share third place on 137 while Major champion Jason Dufner fired a 69 to trail the leader by five shots at the picturesque Alpine Golf Resort Chiangmai.
"I played too good. This is the best I've played in a long, long time. I fired on all cylinders today. My driving, second shots and putting were good. I only had one missed putt and the rest were a great round of golf," said the 42-year-old Randhawa.
A well-rested Randhawa, an eight-time Asian Tour winner but not since winning the 2009 Thailand Open, was excited to be in contention after taking a two-week break to recover from a 'tennis elbow'.
"I'm more focused now and what I've been training in the year-and-a-half is now falling into place. I got a tennis elbow and I rested it for two weeks. The rest has helped. Golf is a funny game and anything can happen. I'm just happy that I'm there for the fight," said Randhawa.
The lanky 24-year-old Thanyakon, who is aiming for a first Asian Tour win, said his round of six birdies and one eagle 'exceeded his expectations'.
"I used to feel discouraged when I don't play well but now my mental game is much stronger. My round exceeded my expectations. I had expected to hit about 10 fairways but I hit 14 instead which really helps because of the thick rough this week," said Thanyakon.
Australia's Barr made a small change in his swing earlier in the week to accommodate a minor hip injury to give himself a fighting to win a first Asian Tour title.
"My hip gets a bit tired. It gets very stiff and the way I was swinging put a lot of pressure on my right hip. The pain comes and goes so I made a change earlier in the week and it is starting to help. This is how I want to swing in the future," said Barr.
Playing in his fourth straight week after recovering from a neck injury, Dufner, the 2013 PGA Championship winner, was one-over after four holes but bounced back brilliantly with two birdies in each half.
"I struggled with my putter a little bit because of a combination of bad speed. When you can't judge the speed, you kind of second guess on the greens. A low score is out there if you can keep the ball on the fairways," said Dufner, who is making his debut in Thailand this week.
Image: Jyoti Randhawa
Photograph: Asian Tour