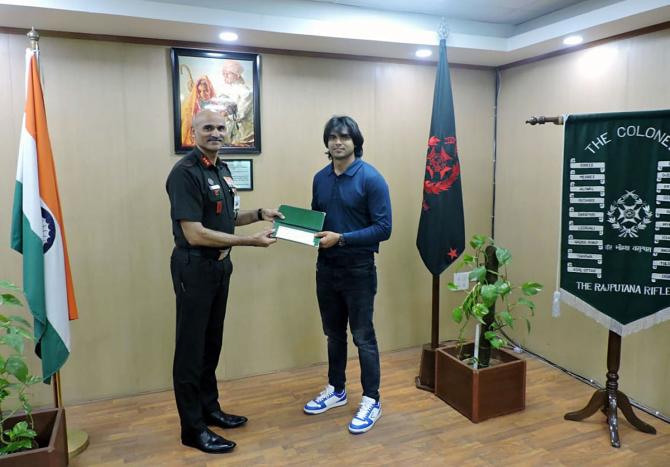 Olympic javelin champion Neeraj Chopra was felicitated by the Rajputana Rifles Regiment following his historic feat at the Diamond League Finals last month.
Neeraj became the first Indian to win a prestigious Diamond League Finals title in Zurich on September 9.
He began his event with a foul, but rose to the top spot with a throw of 88.44 metres -- his fourth career best -- in his second attempt, which turned out to be his winning effort.
He cleared distances of 88.00m, 86.11m, 87.00m and 83.60m in his next four throws.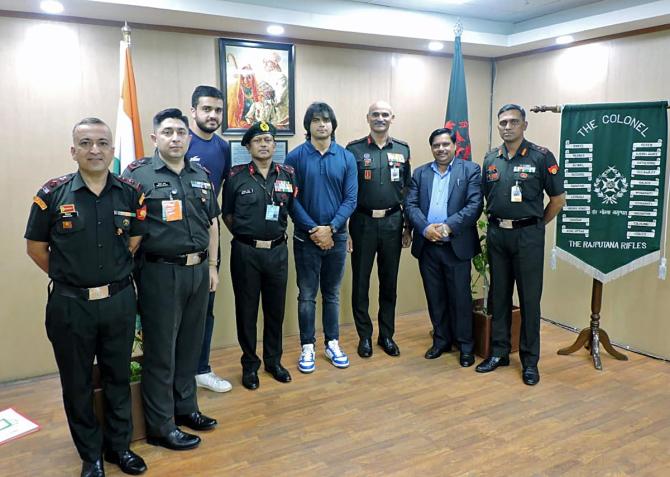 Like Lieutenant General Codanda Poovaiah -- Colonel of the Rajputana Rifles Regiment -- who felicitated him, Neeraj too joined the Indian Army as a soldier in the 4 Rajputana Rifles, one of the Indian Army's oldest regiments.
Unusually, Neeraj was accorded the rank of naib subedar when he enlisted in the 4 RAJ RIF in 2016, a rank junior commissioned officers in the Indian Army ascend to after 20 years of service.