Former India skipper Rajpal Singh has been named the captain of Wizcraft-owned franchise Delhi Wizards in the World Series Hockey (WSH), starting in Chandigarh on Wednesday.
"I am honoured to lead the Delhi Wizards. I hope to live up to the confidence shown in me by the franchise and give our fans an exciting season of hockey," said the Arjuna awardee, who led India to the silver medal at the Commonwealth Games, bronze at the Asian Games and gold at the Asian Champions Trophy.
- Halappa, Rajpal omitted from Olympics probables
"I look forward to the valuable inputs from my team. My aim will be to get the best out of a very talented squad and I am confident that by doing so we will have a great chance of doing well in the tournament," he added.
Rajpal, who was surprisingly dropped from the Indian squad that won the Olympics qualifier in Delhi on Sunday, will be involved in all aspects, like team strategy and helping  guide the young talent in Delhi Wizards.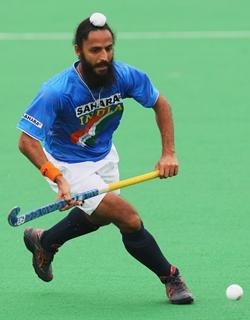 Sabbas Joseph, Director Wizcraft International Entertainment Pvt. Ltd, said: "We are delighted to announce Rajpal as captain. He epitomises all the values of the Delhi franchise with his true grit and never say die attitude. We hope all Delhi fans will get behind Rajpal and the team in the upcoming tournament."
- Photos from the Olympics qualifier final
Meanwhile, defying the Pakistan Hockey Federation's directive, top players of the country left for India to play in the unsanctioned but lucrative series.
Top players Rehan Butt and Shakeel Abbasi, who were named in the probables list for the London Olympics camp that begins on Wednesday in Islamabad, obtained visas to travel to India.
"We have decided to take part in the World Series Hockey after much thought because it is the future of our families that we have to put first," Butt said.
The senior forward will lead the Chandigarh franchise in the US $2 million league that begins in Chandigarh later Wednesday night.
Besides, Rehan and Shakeel, other Pakistani players who have decided to play in the league include seniors Zeeshan Ashraf, Mohammad Imran, Waseem Ahmed and Imran Warsi.
Butt, who was a member of Pakistan's Beijing Asian Games gold medal-winning team, said playing for the country always comes first for him, but WSH offers hockey players an opportunity to strengthen their financial stability.
Butt requested the PHF to reconsider its decision of not allowing players to participate in the month-long league to be be held in different cities of India.
"Look, this is the most we can earn in our long careers and I think we deserve this chance because we have to keep in mind the welfare of our family," he said.