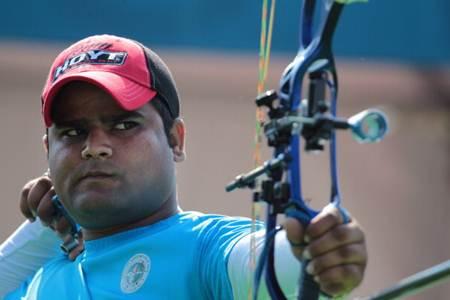 Rajat Chauhan ensured India a medal by making the final in the compound section, while Laxmirani Majhi advanced to the bronze medal play-off in the women's recurve, at the World Archery Championships, in Copenhagen, on Thursday.
The 2014 Asian Games team gold medalist thrashed Camilo Cardona of Colombia 143-138 in a one-sided contest to set up a clash against local challenger Stephen Hansen in the final, which will be on Saturday.
Laxmirani gave India hope of a second medal in the individual section as she will take on Misun Choi of Korea in the bronze medal play-off in recurve.
After her teammate and former world No 1 Deepika Kumari crashed out in the first match of the day, Laxmirani kept the Indian flag flying high.
She secured a straight-set win over Kristine Esebua of Georgia in the fourth round before upsetting fifth seed Alejandra Valencia of Mexico in a tense quarter-final shoot-off which she clinched 9-8.
However, top seed Shih-Chia Lin of Taipei denied Laxmirani a berth in the final by securing a 6-4 victory.
Locked 2-2 after second set, Lin shot the bull's eye in the third to clinch it 28-26 and open up a decisive 4-2 lead which saw her through.
Image: Rajat Chauhan
Photograph: Dean Alberga/World Archery Federation via Getty Images