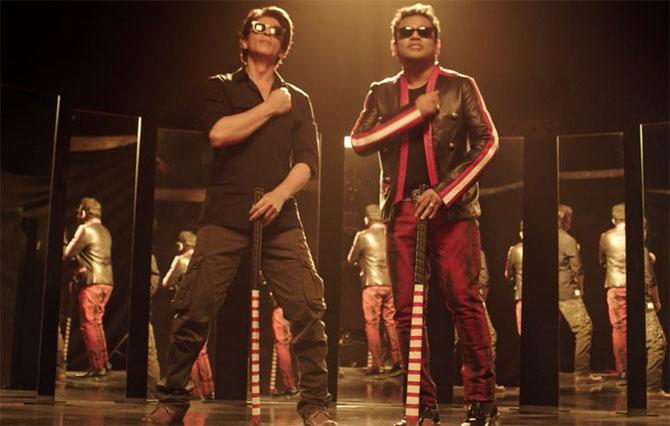 The 2018 Hockey World Cup is just round the corner and here's your chance to learn a few smart dance moves while catching up with your favourite sport.

Creating a nationwide buzz, India's music icon A R Rahman on Thursday shared the teaser video which features Bollywood superstar Shah Rukh Khan and him doing the 'Hockey Hook Step'.

He also issued an open challenge to his fans to do the hockey step. And two lucky winners, who manage to ace 'The Hook', will get a chance to be on stage with SRK and Rahman at the opening ceremony of the upcoming Hockey World Cup in Bhubaneswar on November 27.
'Here it is! The Hook Step Challenge by @iamsrk & me! Get swanky, wear a smile, turn on your camera, face the light & post your entry on my Facebook. The best ones join us at the #HWCOpeningCeremony on 27th Nov!,' Rahman tweeted.

The 'Hockey Hook Step' sees Rahman and SRK hold a hockey stick and pump it into the ground and then pump their hearts in a gesture that says out loud -- Mera Dil Hockey ke liye dhadakta hai (my heart beats for hockey).

Rahman says he was inspired by the sound that the hockey stick makes as it hits the ground and that gave Jai Hind India the beat, and from there emerged the step.

The Hockey World Cup's official song titled Jai Hind India, in itself has pulsating rhythm composed by Rahman with lyrics penned by Gulzar.

The music video will showcase the new India and have visual elements from the contemporary and urbane to grassroot India even as it has as its core hockey and Team India.

The 2018 Hockey World Cup will be played at the Kalinga Stadium in Bhubaneswar from November 28 to December 16 and will feature 16 teams.

Hosts India are placed in Pool C along with Belgium, Canada and South Africa. India plays its first match against South Africa on November 28 at 1900 hours IST.