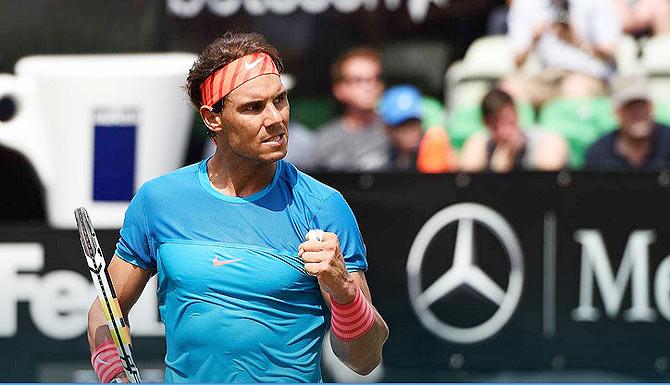 Rafael Nadal has said he will sue the former French government minister Roselyne Bachelot after she alleged that the Spaniard's lengthy absence from tennis in 2012 was due to a positive doping test.
Nadal, who beat Gilles Muller 6-2, 2-6, 6-4 in the second round at Indian Wells on Sunday, has never failed a drugs test and responded angrily to the allegations made by Bachelot, who served as sports minister between 2007 and 2010.
"I'm going to sue her, and I'm going to sue everyone who [is] going to comment [on] something similar in the future, because I am tired of that," the former World No 1 was quoted as saying by the British media.
'There is a couple of times I heard comments like this … this is going to be the last one, because I'm, going to sue her.
"I am tired about these things. I let it go a few times in the past. Not more. A minister of France should be serious. This time is the time to go against her."
Bachelot made allegations last week after Maria Sharapova's revelations about failing a druf test. The former echoed comments made in 2011 by the former French Open champion Yannick Noah, saying: "We know that Nadal's famous seven-month injury was without a doubt due to a positive [drug test]. When you see a tennis player who stops playing for long months, it is because he has tested positive and because they are covering it up. It is not something that always happens, but yes it happens more than you think."
Following Bachelot's outburst, Real Madrid manager Zinedine Zidane had backed Nadal saying: "I feel bad for Rafa Nadal because he is a gentleman, a person that has shown the values he has and that everyone loves. He is a professional and I know him a little. I feel bad for what they have said. He has to leave all this to one side and think that everyone who loves sport, loves Rafa Nadal, whether they be French, Spanish or American."
When asked about Sharpova's failed test last week Nadal had said: "I really don't know anything about the doping and I am a completely clean guy. I worked so much during my whole career and when I get injured, I get injured. I never take anything to get back quicker. I believe in the sport and in the values of the sport."