'I don't understand Spain without Catalonia. I don't want to understand or see it'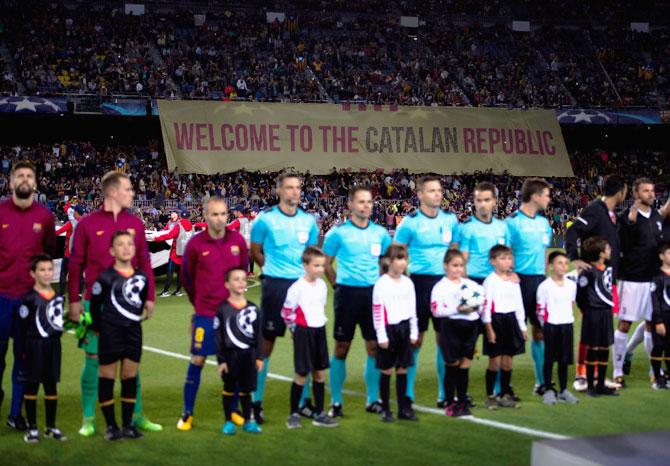 IMAGE: Fans display a banner as the teams and officals line up prior to the UEFA Champions League Group D match between FC Barcelona and Juventus at Camp Nou on Tuesday. Photograph: Alex Caparros/Getty Images
Sports and politics should never be mixed, that is a popular opinion held by many.
But we have reasons to believe that it's not a thought supported by Catalonians.
In the opening match of the UEFA Champions League group stage between FC Barcelona and Juventus in Barcelona on Tuesday, a section of the fans at CampNou got cheeky and displayed massive banners hinting at Catalan independence.
While one read "SOS Democracia" another one was more controversial: "Welcome to the Catalan Republic", it stated.
Catalonia's pro-separatist government has called for a referendum on October 1.
According to AFP, the referendum is deemed illegal by the Spanish government and the country's Constitutional Court.
And, voicing a strong opinion against the impending referendum is World No 1 tennis player Rafael Nadal.
The Spaniard, known for his drab post-match comments, usually straying from controversy, did not mince his words as he criticised plans for the independence referendum.
"I think what is happening on October 1 ought not to take place because, from my point of view, everyone should respect the law," Nadal told Spanish newspaper El Mundo on Tuesday.
"The laws are what they are and one can't skip the laws because you want to skip them. I can't run a red light because that traffic light doesn't seem right to me."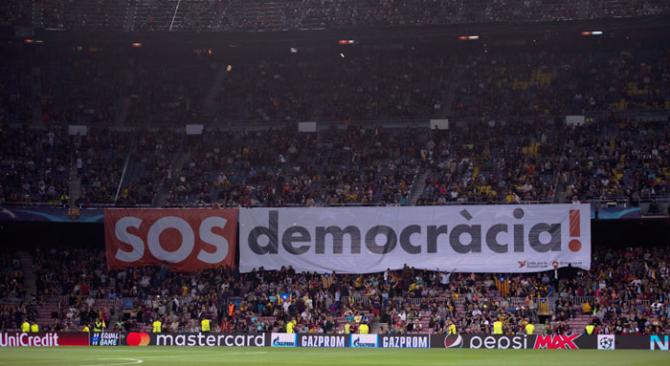 IMAGE: Fans display a banner during the UEFA Champions League Group D match between FC Barcelona and Juventus on Tuesday. Photograph: Alex Caparros/Getty Images
It is interesting to note that Mallorcan Nadal is also a Catalan speaker.
"I feel very close to the Catalans and I feel very Spanish as well," Nadal added.
"I don't understand Spain without Catalonia. I don't want to understand or see it.
"I believe that together we ought to be able to understand each other and I think we have to make an effort to reach an understanding because I think we are, without any doubt, stronger together than separated.
"Spain is better with Catalonia and Catalonia is better with Spain from my point of view."
Earlier this year, the centre court at Barcelona's Royal Tennis Club that hosts the Barcelona Open was renamed the Rafael Nadal Court.
In the 2015, UEFA had fined Barcelona €30,000 (£21,250) after fans displayed pro-Catalan independence flags at the Champions League final between Juventus and FC Barcelona in Berlin.
UEFA had announced the decision following a meeting of its Control, Ethics and Disciplinary Body, saying Barça had breached article 16 (2) (e) of the regulations.
The article prohibits "the use of gestures, words, objects or any other means to transmit any message that is not fit for a sports event, particularly messages that are of a political, ideological, religious, offensive or provocative nature".
Only time will tell if these banners will invite another ban on the Spanish football giants.