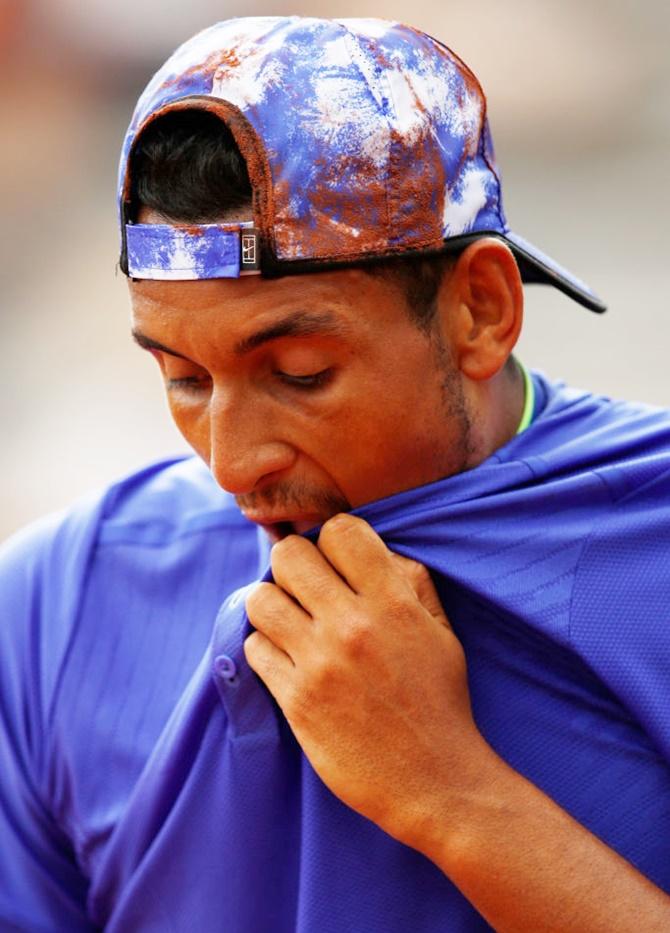 IMAGE: Nick Kyrgios of Australia reacts during the men's singles second round match against Kevin Anderson of the United States. Photograph: Adam Pretty/Getty Images
Australian number one Nick Kyrgios said the disruption to his training schedule caused by the death of his grandfather had left him ill-prepared for the French Open, which he exited in a fit of petulance on Thursday.
Kyrgios started well against South African Kevin Anderson before crumbling mid-match and crashing out of the second round 5-7, 6-4, 6-1, 6-2, taking out his frustration on his rackets, one of which he smashed to pieces on a courtside cooler.
The 18th seed, who time and again failed to convert break points on Anderson's booming serve, looked resigned to his fate in the fourth set and asked a spectator to get him a beer.
"Get me a beer now," the 22-year-old reportedly said.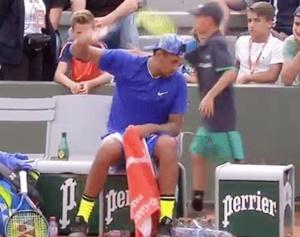 When a spectator responded "You're kidding", Kyrgios said: "I don't think so."
When all was said and done for Kyrgios, he headed to the locker room while doing what we all do the second we get a free moment: He checked his phone.
Kyrgios , who has also been battling hip and shoulder injuries, pulled out of the Estoril Open in late April to return to Australia after the death of his grandfather, Christos.