Sher-e-Punjab won the inaugural World Series Hockey title with a convincing 5-2 win over Pune Strykers at the Mahindra stadium in Mumbai on Monday.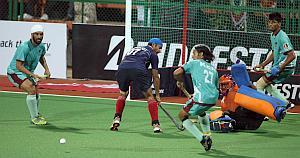 Pune took the lead early as the fifth minute through Tyron Pereira. Punjab though responded in the next minute, VS Vinaya driving home from a rebound following their first penalty corner.
Bikash Toppo looked to have put Pune ahead early in the second quarter. The goal, however, was disallowed, much to the dismay of the partisan crowd.
The 'insult' was followed by an injury. Well, literally.
Toppo was stretchered off soon after. With three minutes to go to half-time, Punjab took the lead courtesy a spectacular goal by Deepak Thakur. It would have been worse for Pune had goalkeeper Gurpreet Guri not denied Mandeep Antil.
Punjab though extended their lead early in the second half, courtesy an impressive reverse hit by Prabhjot Singh.
Toppo was denied a second time soon after, the ball having hit his foot before he drove it in.

Prabhdeep Singh put the result beyond doubt early in the fourth quarter, striking home from what was Punjab's seventh penalty corner.
If the Pune fans expected a miraculous comeback, akin to what had happened a day earlier, they were left disappointed.
Prabhjot's second, four minutes from time, sealed a memorable triumph for Punjab before Simrandeep Randhawa pulled one back for Pune in the dying seconds.